Outdoor mosaics must be made on concrete or stone or masonry, but that doesn't mean you have to pour a concrete slab or do some other form of heavy construction.
Flagstones (flat paving stones) and concrete stepping stones are readily available at building material stores and lawn and garden centers. The flagstones are great if you want a natural irregular shapes, and the molded stepping stones are great for square and rectangular shapes.
Of course, thinset mortar must be used to attach the tiles, but that isn't difficult to do, especially if you lay your mosaic up in advance on mosaic mounting tape or mounting paper.
If that seems complicated, it isn't. I wrote some instructions for using packing tape and contact paper to lay up a mosaic design.
The last section of this article explains why you shouldn't use plywood, Hardibacker, or (sometimes) even concrete backer board.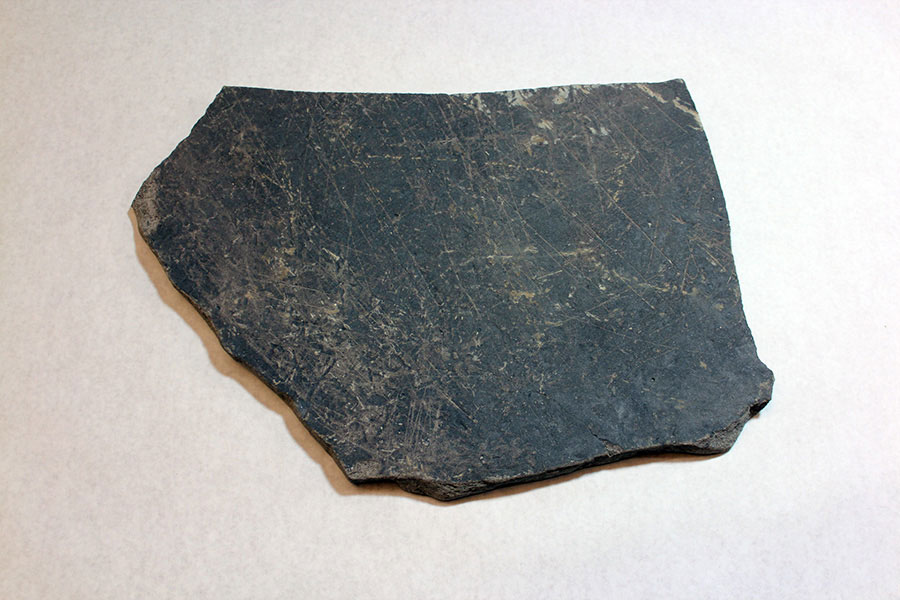 Flagstones
Flat irregularly-shaped flagstones are perfect for making a mosaic "relic" such as fragment of an ancient Roman floor mosaic.
The only potential problem is for the stone to break if it is very large. This problem can be solved by cementing a piece of expanded metal or several plies of hardware cloth (metal mesh) to the backside of the flagstone.
You can even laminate several flagstones together to make a thicker "tombstone" that could stand vertically without breaking. This would be done simply by putting thinset mortar between them to make a sandwich. If possible, I would include a few plies of hardware cloth in that sandwich, but the thinset by itself is probably strong enough.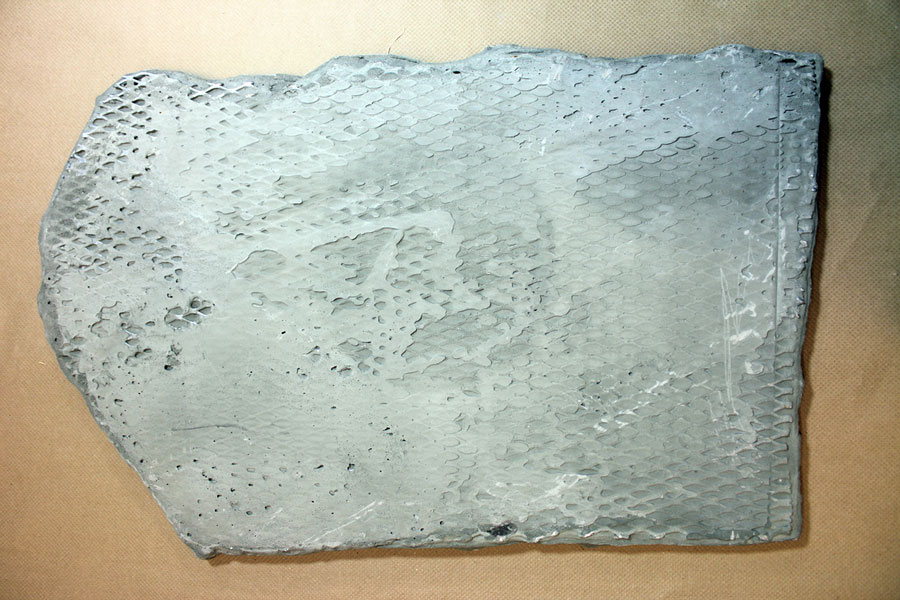 Tip for selecting flagstones:

Avoid thinner stones and types of stone that tend to break easily. (Of course that means slate is probably a poor choice.) You can get a feel for what varieties break easily by paying attention to the piles of flagstone at the lawn and garden center.
Stepping Stone Bases
If you prefer a square base with straight edges, these are perfect, although they also come in circles and rectangles and other shapes. I prefer square because you can make different mosaics on different stones and then put them together in a "crazy quilt" pattern similar to what Victor Kobayashi did for his mosaic patio.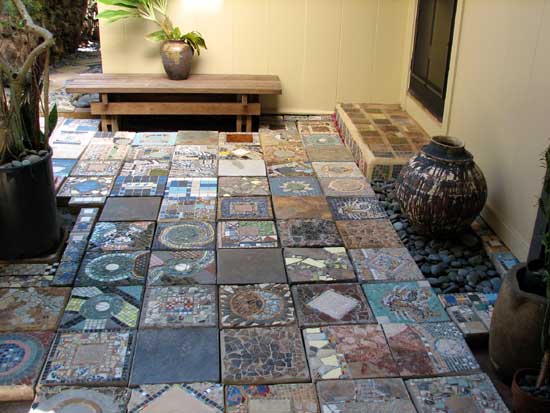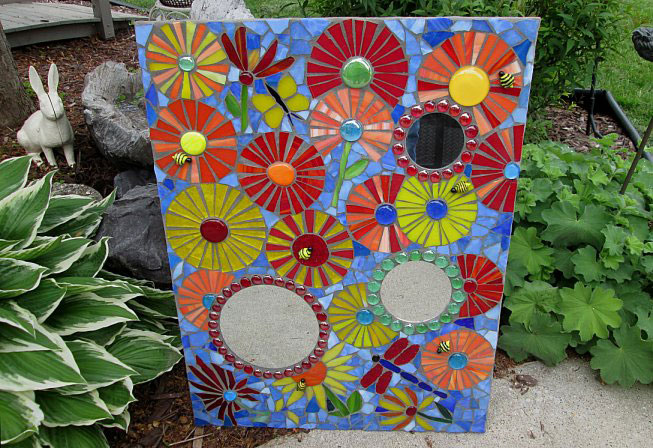 A Case Study
Cindy from Wisconsin made this very colorful mosaic for her garden using a piece of Hardibacker as the base. This presents two problems: The vulnerability of the Hardibacker to mold and moisture being the first problem, and how to support the mosaic.
One way to minimize the risks of mold and freezing rain would be to seal the sides and back with multiple applications of a tile and grout sealer, but outdoor paint might be even more effective since paint is an actual coating. I would also install the mosaic in a way that allowed moisture to drain away from the backer.
There are many ways to install and support a mosaic such as this, and the simplest way might be merely to lean it against a fence with the bottom of the mosaic resting on a couple of bricks to ensure that it wasn't sitting in damp soil. Other options include stacking bricks or fieldstone to form a support the mosaic could lean against.
BUT, all of these would require some clever use of vegetation or stones or something to make the mosaic look integrated with the garden and less like a board with nothing behind it. That is why I prefer flagstones as bases for steles and "tombstones" and other freestanding vertical mosaics.
What Not To Use And Why
Plywood, Hardibacker, and even concrete backer board each have problems that prevent them from being used as backers for outdoor mosaics.
Plywood cannot be sealed well enough for it to be used as a backer for an outdoor mosaic. Humidity will eventually make it warp and crack grout and pop tiles off. By eventually, I mean surprisingly soon unless you live in a desert.
Hardibacker is great for indoors, but it does contain cellulose fibers that would be vulnerable to mold and moisture wicking. (When installed indoors, the sides and bottoms aren't exposed to moisture, and that is why Hardibacker is a great backer for inside tile work but not for outdoors.)
Regular concrete backer board is durable outdoors if sealed to prevent penetration by freezing rain, but its edges are crumbly, and it will sag and warp if not supported.