Putting a mosaic on a metal mailbox is problematic because either the metal is painted and you risk the mosaic not adhering well, or because the the metal is bare, and then the thinset mortar is likely to oxidize (rust) the metal over the years.
Note: My neighbor put a pique assiette mosaic on her galvanized steel mailbox, and it has lasted for years with no obvious signs of rusting. It can be done.
Fortunately, there is an alternative that makes more sense for mosaic, and that is to build a column of field stones or bricks or cinder blocks and then plaster over that with mortar and put the mosaic on the smoothed surface. In this design, the mailbox can be mounted on top of the column or built into a niche in the column near the top.
Artist Linda Robertson recently emailed me some pictures of her mosaic mailbox, and it is a good example of an alternative mosaic mailbox that avoids putting the mosaic on the metal itself.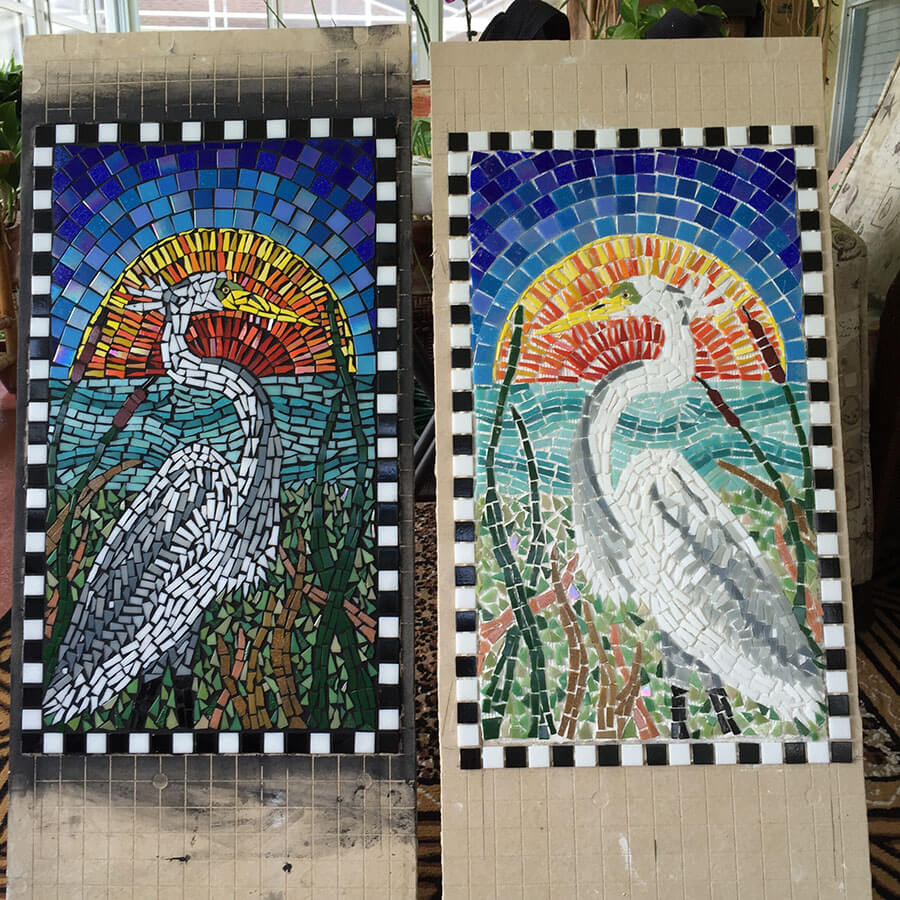 Black Grout
I have written many times about using black grout to make colors more intense and how problematic white grout is for making colors look bleached out. I have also written about how black tile can also be used to make colors more intense.
Linda Robertson's photos of her egret mosaic before and after grouting make my case. Many people might disagree, saying something like, "I would prefer that the body of the egret be more white and not have the dark grout lines in it."
My response would be to use a smaller grout gap, which is the surest way to minimize the color impact of grouting. If the egret's body were grouted in white, then the individual white tiles might not be distinctly visible, and the mosaic effect would be lost.
Note the grass and vegetation and see how solid it looks with black grout. The un-grouted mosaic on the right gives a good idea how washed out the vegetation would look if it were grouted with white. If you prefer that the vegetation not be as dark, then use a smaller grout gap so there is less black,
I should say that I like mosaics to look like mosaics in a conspicuous way, and so I like the heavy black grout line.
A Technical Point
We sometimes recommend concrete backer boards and foam-core tile backers for outdoor and wet use, but the Hardiboard that Linda used is not recommended for outdoor use by the manufacturer because it contains cellulose fibers, which are a potential point of vulnerability to moisture and mold. I don't think this is an issue for Linda's mosaic because it is encased in plaster and tile and grout. If the whole column is sealed with a tile and grout sealer, then moisture can't get to the backer.