Art Therapist Ellis Eisner sent me some photos of her client's mosaics and her own work, and I wanted to share them with you and use them to illustrate several points.
Mosaic the Gateway Medium
Mosaic holds a special place in art education and art therapy in my opinion.
Often all that is required to get that process started is let people play with some tiles and a backer.
People who say they have no artistic ability will suddenly find that they are sliding tiles around to form simple pictures and shapes and designs.
Sorting a pile of small colorful objects is even more elemental than doodling with pen. It's something animals do.
Handling objects is less abstract than drawing. It matters that the tiles are objects with weight and not paper-thin, not merely 2-D shapes.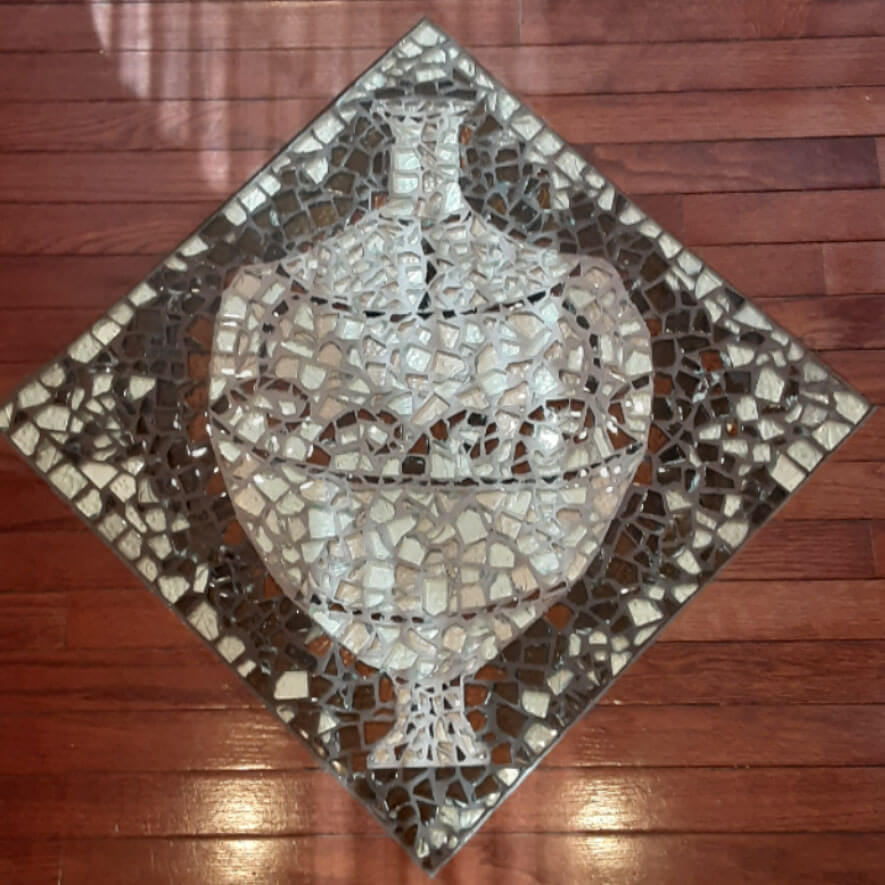 Can't Draw?
People who say they have zero ability to draw sometimes find they have a gift to render better than they thought if they become serial mosaicists. By the time they have completed three mosaics they will have resorted to making rough lines on the backer to help plan things or line something up.
And it's a slippery slope from there if the "can't-draw" student attempts more and more sophisticated mosaic designs.
Drawing a pattern is faster than making the mosaic, and using a pencil to mark critical lines of tiles evolves into sketching the whole pattern if the person keeps at it over time.
I have seen "can't draw" students progress to the point where to the point where they routinely draw multiple versions of a pattern before they place the first tile.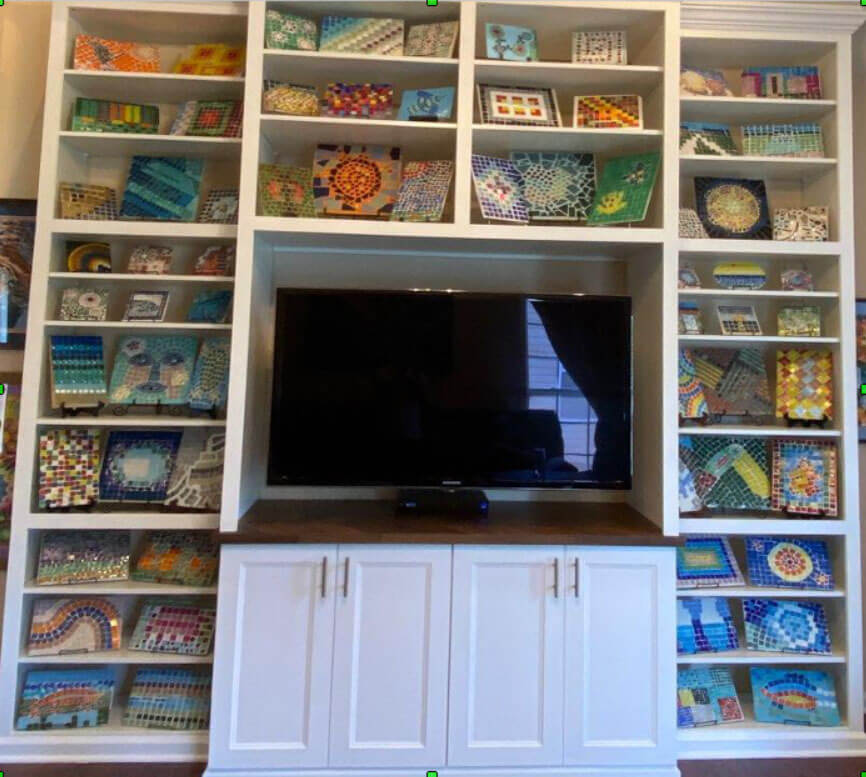 Accessibility
Mosaic (and collage) CAN be options for people dealing with aging issues or impairments of some kind that make drawing difficult or impractical. Rendering with whole tile can be possible when controlling a pencil isn't.
Mosaic Quilt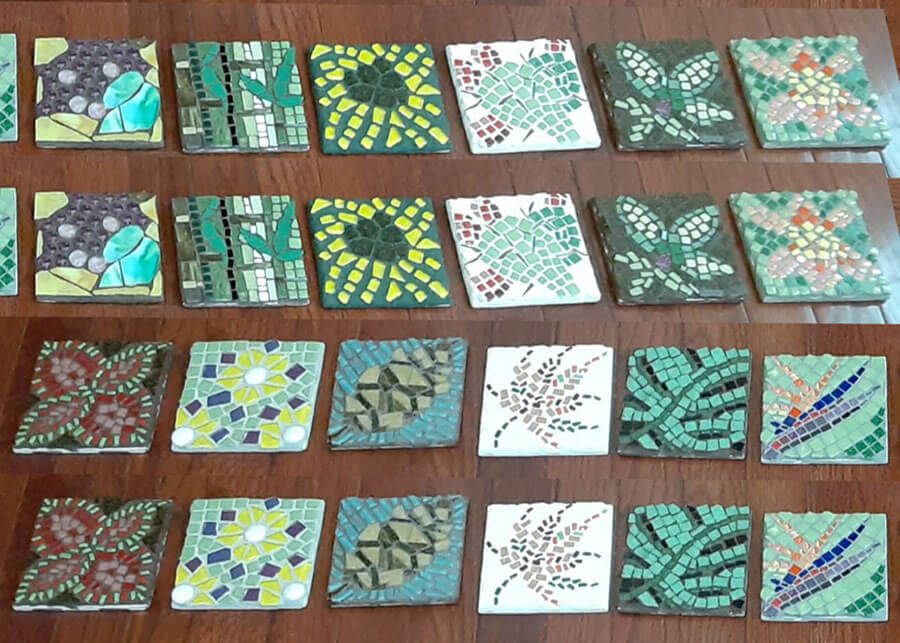 Art education and art therapy should always be about the experience more than the results.
That means small projects and simple designs are probably best, but that doesn't mean the results can't be impressive.
Many small mosaics displayed together in a "crazy quilt" is hard to beat in terms of guaranteed success because a collage of panels made by many different artists is intrinsically multicolored and filled with visual interest
I recommend school mosaic projects where each child gets to design their own mosaic plaque or stepping stone for a crazy quilt instead of working on one large group project.
I think this quilt approach lets children experience art more fully, and the results displayed together are multicolored and filled with visual interest.
I also though this was worth sharing:
Glass-On-Glass Mosaic
We recommend GE Silicone II for glass-on-glass mosaic. GE Silicone II is available at most building material and hardware stores. Black grout can be used to mimic the lead channel used in stained glass windows.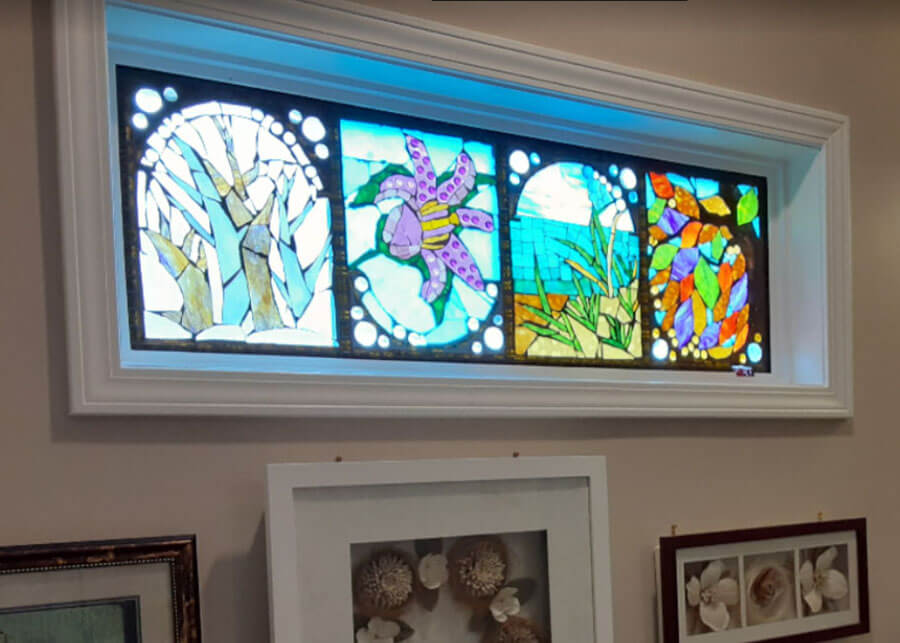 I like how frosty cool the winter panel looks: