Artist Marilyn Keating makes wonderful whimsical mosaic sculptures, and she recently completed a mixed-media mosaic mural as part of her residency at Morris-Union's Warren, NJ Developmental Learning Centers (DLC), which provide public school programs for students with autism or autistic-like behavior.
I wanted to show pictures and talk about this mosaic because it was made with the help of young autistic people, and it is a good example of a design that is appropriate for a group project with people with different levels of focus or skill or ability to follow instructions, which is a relevant concern for most group mosaic projects no matter what the ages or issues involved.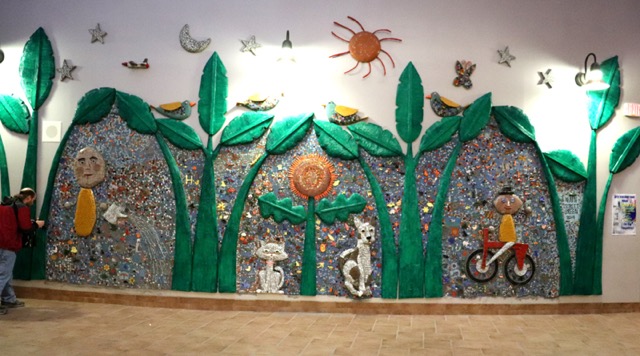 Age-Appropriate Art Projects
All too often, we receive an email with a photo of some classical mosaic masterpiece from someone asking how their fifth-grade class can make the same mosaic from the same materials in two one-hour sessions.
I don't know, how about hiring a team of mosaic masters with years of experience to make it for them and giving them an extra week or two to do all the work? (LOL, you should see some of the highly-detailed mosaics people expect their elementary school students to make in an afternoon.)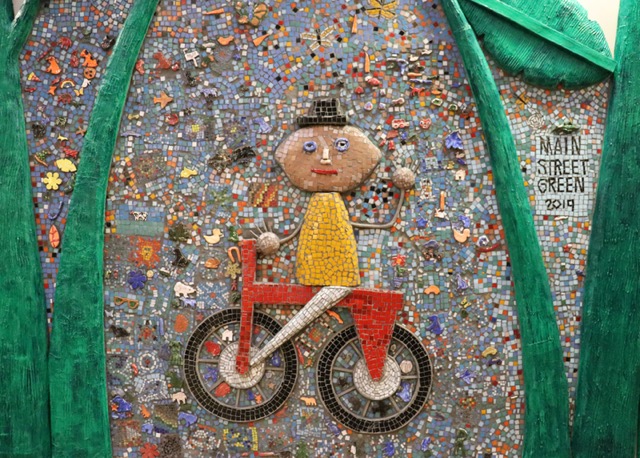 It is vitally important that the design for a group art project such as a mosaic mural be age and skill and time appropriate.
The simple truth is that executing on a mosaic design selected by a teacher is usually less about the children experiencing art and more about the finished product, and it usually requires more tedious work than is age appropriate.
When children get to make their own designs, the project becomes an art experience in the highest sense of the word "art" and not merely the learning of a particular craft or skill in a project that is more work than art and not likely to inspire a future artist.
TIP: The best group mosaic project for young children seems to be a crazy quilt where each child gets to do whatever design they want on a small square backer, and then those small mosaics are arranged together based on maximum color contrast in one large mosaic mural. The end result looks colorful and free and expressive.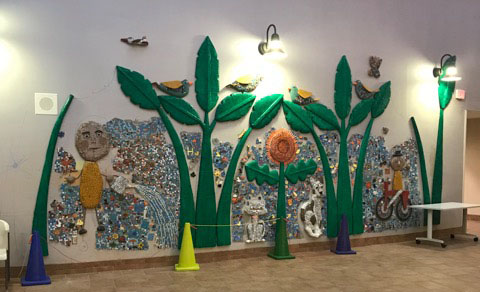 All that being said, you can come up with mural designs that are integrated scenes but are still age and skill appropriate.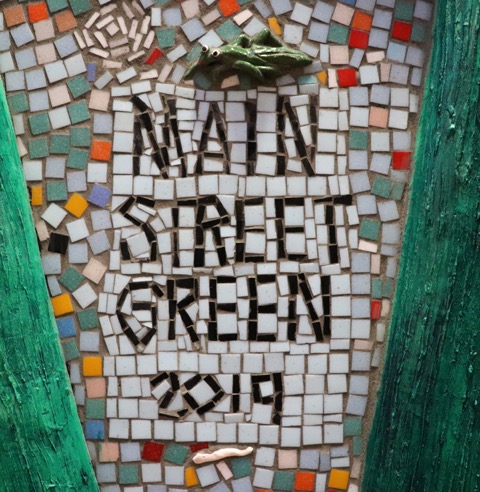 Marilyn addressed the problem of age and skill and focus by coming up with a mixed-design that incorporated non-mosaic bas relief elements for most of the figures. This allowed the children to focus on tiling the background in a way that was not only appropriate for their level of skill and focus but also created a lot of colorful visual interest.
Surrendering Control
Marilyn says that she had to make peace with a certain level of chaos and a loss of control, and I suspect that would be particularly challenging to most visual artists accustomed to working alone. Keep that in mind if you supervise a group mosaic project, even if children aren't involved. Marilyn said that it was all that she could do sometimes merely to keep people from gluing the tiles upside down.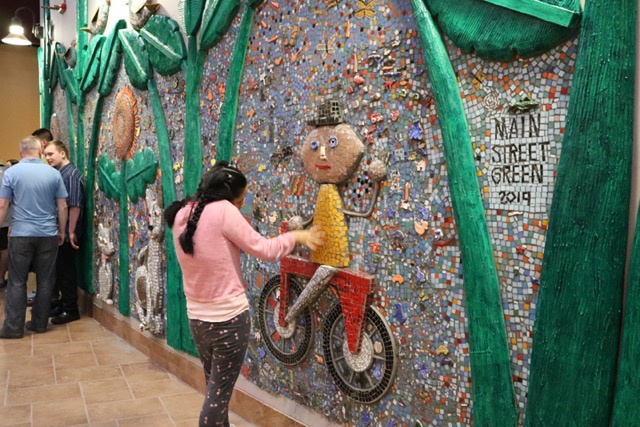 Bas-Relief Elements
The bas-relief figurative elements are raised and textured in a way that begs to be touched, even those elements that aren't tiled. This makes the mural more interactive in any environment but especially so in a center devoted to autism, where people are particularly drawn to tactile surfaces.
Materials and Methods
Marilyn says she used Morjo Vitreous Glass Tile for the background and Iridescent Morjo Recycled Glass Tile for the sunflower. Some elements of the mosaic were laid up on fiberglass tile mesh using white PVA glue in a session Marylin did with the staff of the center. Marilyn made the ceramic tiles with some of the older autistic children.