At Mosaic Art Supply, we have always tried to promote contemporary mosaic as a fine art and help people of every skill level create original work instead of selling overpriced craft kits for making cliche designs. This may have hurt us some financially, but I have never regretted taking the high moral ground. After all, if I wanted to help people mass produce junk, I could have remained an engineer in the corporate world.
One of the things that I have found particularly rewarding is seeing great art made by ordinary people with no formal training in art. I have also enjoyed seeing the range of styles that professional artists have been able to execute in mosaic, proving that the medium is as versatile as oil painting, perhaps even more so because of the found object and textural elements that mosaic can incorporate.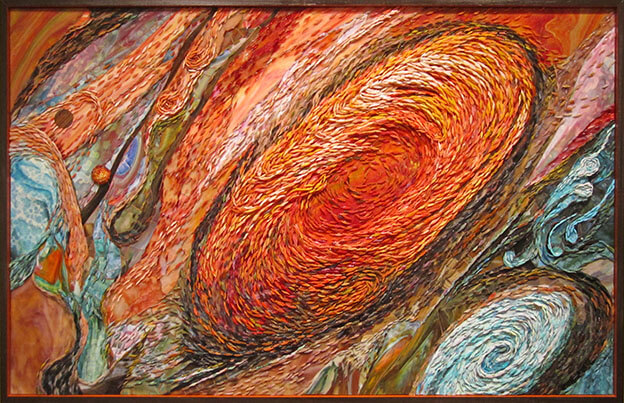 Recently one of my employees showed me the work of artist Yulia Hanansen, and I was intrigued for several reasons, and not merely because of the stylistic range of her work, which is impressive in itself.
It would be difficult for me to say which piece is my favorite, but I particularly like the kitchen backsplash with the paleolithic cave painting images from the epic period of human prehistory known as "The Great Hunt." I like how its cool cyan color scheme complements the warm wood cabinets. It is not only an interesting and original mosaic. It is also a well-integrated part of the room's interior design.
Revising and Layering
One of the disadvantages of mosaic compared to painting is that you cannot merely paint over a less than satisfactory part of the composition. Yulia addresses this limitation by cementing tile on top of tile when needed to improve designs in problematic places. I have long thought about doing this in figurative work executed in glass tile, but I have only done it in a few places in found object work. I think it is a brilliant idea because it adds an additional "random" or abstract textural element in figurative mosaic.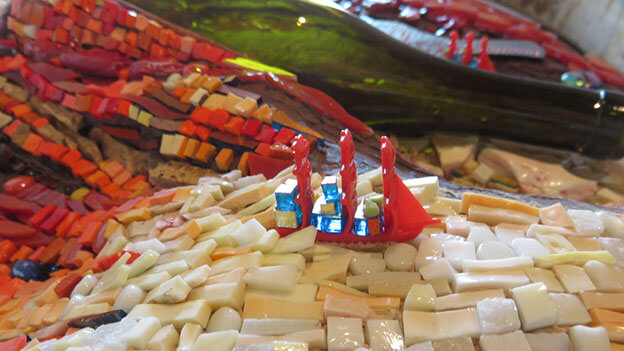 If this idea strikes you as inappropriate or a compromise in some way, you should remember that it only makes the art more interesting to viewers who don't know why it was executed in that way. It gives them something more to wonder and think about. You should also be aware that the famous mosaic in Chicago that was created by the great artist Chagall has places where he actually painted details and outlines on top of the tile.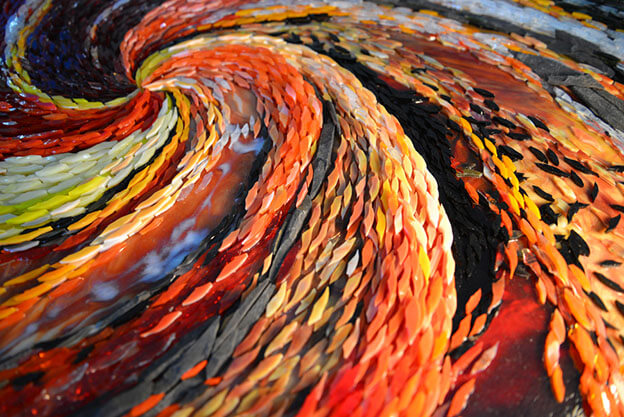 It has been said that everything is legal in art and that art is about cheating in an original or clever way. I agree with those sentiments wholeheartedly, and the only caveat I would make is that you should always be concerned with longevity and durability and not use scarce resources for something that will deteriorate quickly and end up in the landfill.
If a mosaic has been sealed with a tile and grout sealer, don't assume you can cement revisions on top of it without first scouring those places with a wire brush.
TIP: You can reduce the need to do this sort of revision if you first lay up the mosaic on a temporary surface before you actually mount it on a surface with mortar or glue.
Layering As Technique
Looking at Yulia's mosaics, you will notice that her use of layering isn't about revising problematic areas. Instead, it is a fundamental aspect of the design that is used throughout the work from the beginning to create texture and depth and complex colors.
I invented this technique awhile ago to allow myself to "paint" with glass like with oil paint, having brush strokes. It's lots of fun and quite liberating because there is no fitting of pieces next to each other.

-Yulia Hanansen
Yulia teaches an online class on this technique, as well as classes on other mosaic methods.
Mosaic Portraits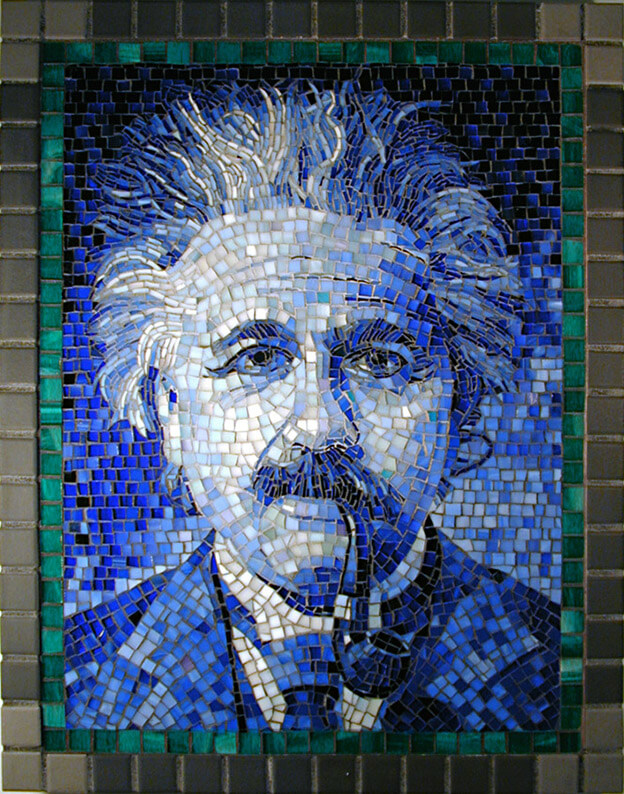 Yulia's mosaic portraits are as strong as her landscapes and abstracts.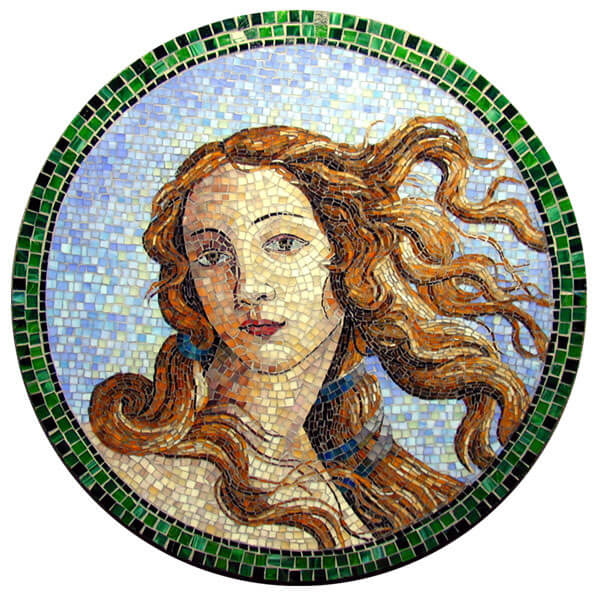 Floral and Foliage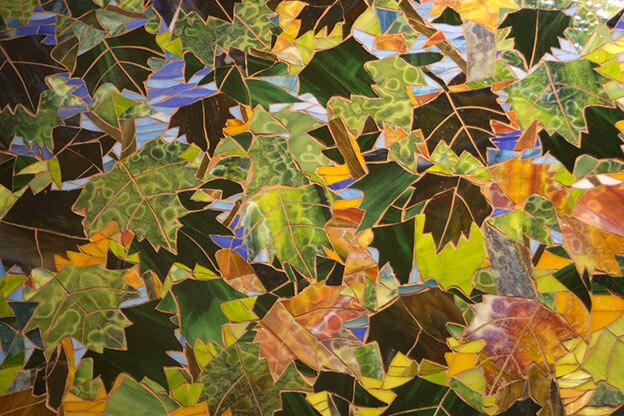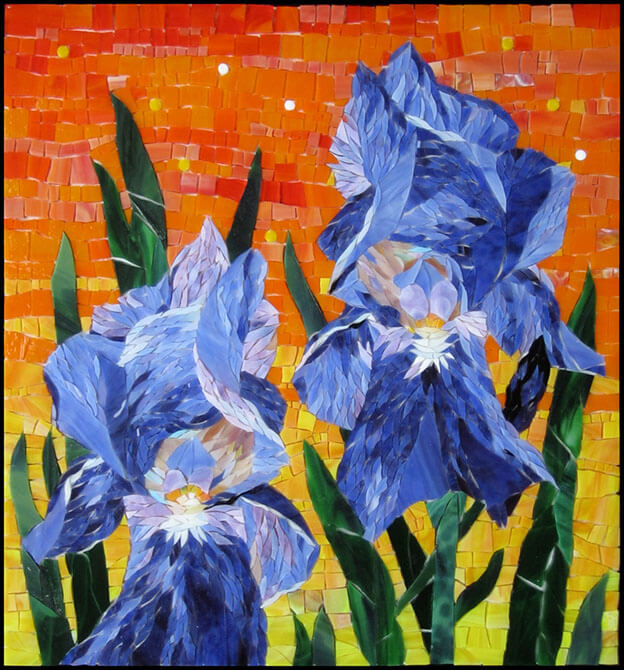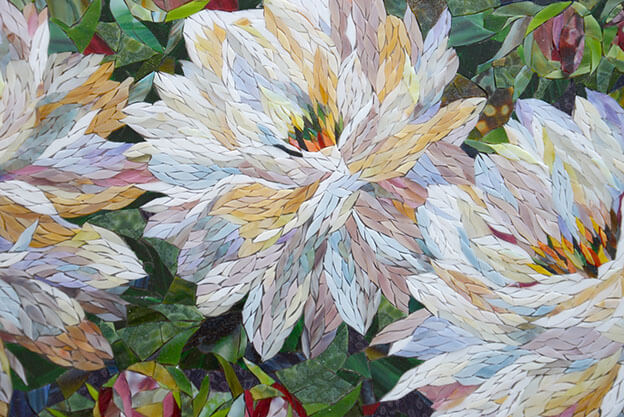 Motion and Andamento
Yulia makes insightful use of andamento to create a sense of motion, and the resulting textures beg to be touched.