One of the most well-executed mosaics I have ever seen in terms fine details wrought in slivers of glass came to me in photos in an email last week from artist Irene Clifford.
As Natalija pointed out, " Most people would throw away tiny pieces like that as scraps."
The mosaic is excellent work in several ways.
The andamento of the mosaic as a whole is instinctive, and it fits the details and curves being rendered naturally (instead of being rows to cover space without much regard for the shape of the color field).
The size of details relative to tile size is optimal for creating visual interest. That and the andamento impress me more than the exceptionally well-executed details with glass slivers.
Most people could make multiple mosaics without ever coming close to this level of instinctive andamento or being able to work with tesserae that small, being more or less a sliver.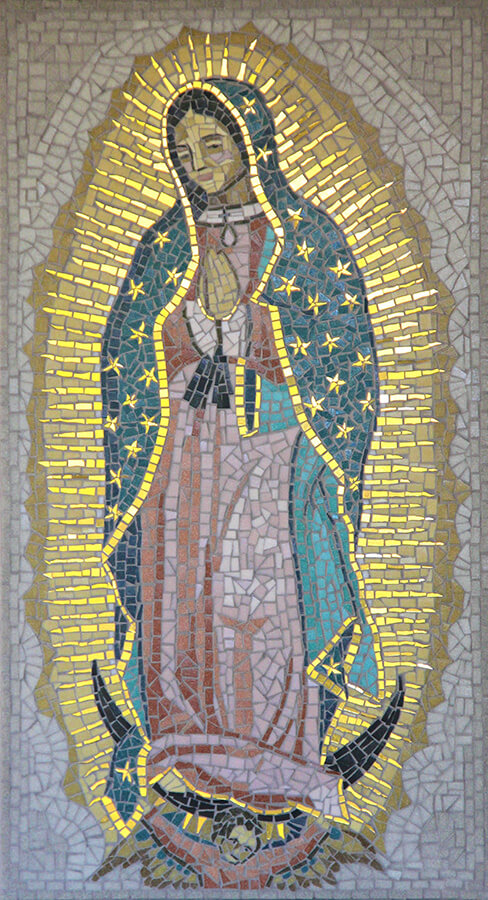 Emails from Hell
Here is another thing about the Madre de Guadelupe mosaic:
When people ask me what I do for a living. I sometimes tell them, "I send and receive emails." I can get a little burnt out during tax and inventory season, and some of the CS emails can be draining, to make an understatement.
But some days you get the good ones, the good emails that make you think you might be helping people find and express passion or learn something new or actually be accomplishing something.
Here is the one I received with the pictures of the Madre de Guadelupe Mosaic:
Hello there,

I can not tell you how grateful I am for your blog and website. I ordered tile and nippers three or four weeks ago to try to make a mosaic for my children's school crab feed auction, and it turned out so much better than I hoped it would.

I have never done a mosaic before, but thanks to your amazing site and blog, I was given the information and inspiration I needed to complete it. Thank you, thank you, thank you.

May you be blessed ten fold for helping people create amazing art. I could never have done it without your detailed instructions every step of the way.

Here are a couple pictures of it. Not the best, but not bad for my first go.

Cheers,
Irene Clifford
My favorite line is, "Not the best, but not bad for my first go."
Natalija knew I was out on projects, and so she was monitoring emails that day. Natalija's response as an experienced mosaicist says it best:
Wow Irene!

You say this is your first? It looks amazing! I'm impressed that you were able to get the really fine details such as her eyebrows and nose if you've never done this before!

You also did great with the rays radiating behind her — having them slowly narrow like that takes patience to get them cut in consecutively smaller pieces. Also the use of the tiny curved reflective pieces around her hands. Most people would throw away tiny pieces like that as scraps.

Natalija
When I finally found the time to catch up on emails, seeing these mosaics and hearing that they were made for a school auction by a parent doing a first-time project made me laugh out loud.
Over the past 17 years we have gotten countless emails from people making mosaics for school auctions, and some were quite good, but if you were to create a gallery of only those made by first-time-mosaic-artist parents a few weeks before the auction, I think this one would stick out like Michael Jordan would in a pick-up game of basketball down at the park.
Materials Used
This mosaic is made from Morjo™ brand Vitreous Glass Mosaic Tile and Imitation Gold Mosaic Glass. That's another thing about this mosaic that makes it impressive: It was made with some of our most ordinary and affordable materials.