Artist Tanya Boyd emailed me some photos of her mosaics, and all of them were in wooden frames of different types. It reminded me that I am overdue to write up the ways of sourcing wooden frames for mosaics:
used frames from paintings or mirrors
frames made using molding and a miter saw
frames made from recycled wood
By the way, I forgot to get the names from Tanya, and so I made up names from my first impression. They are all happy mosaics and very well done.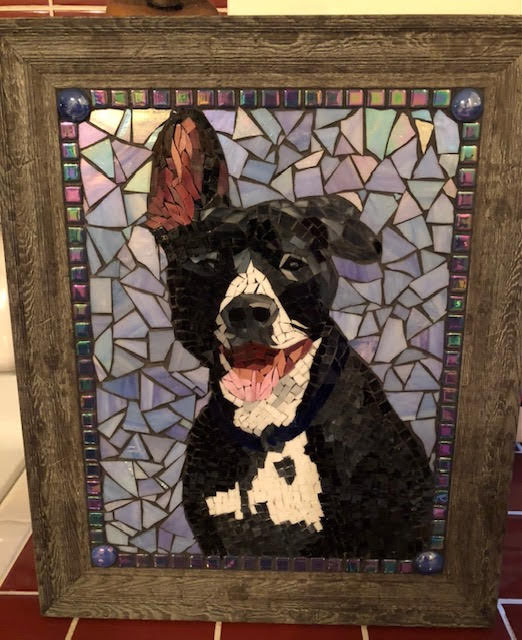 I particularly like the thematically-appropriate frame used for the mosaic I called Mosaic Poet Sunset. If you're making bohemian art, the frame has to match.
A reclaimed window frame such as the one Tanya used or boxy frame made from reclaimed wood is a much more interesting option than a conventional-style frame made from molding: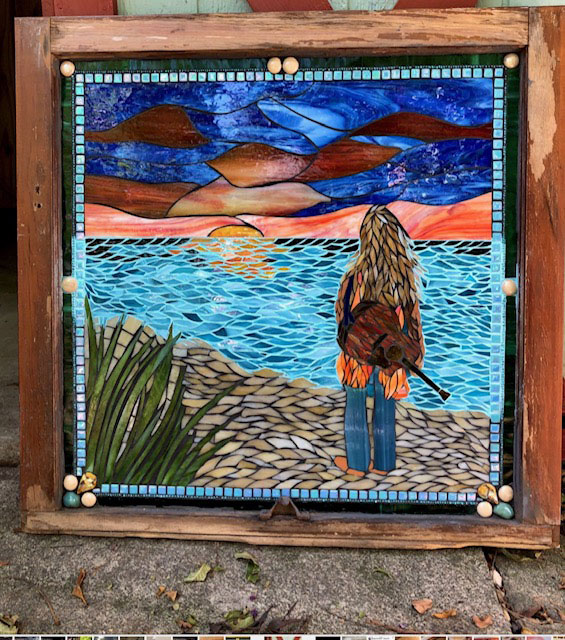 Hanging and Mounting
Mosaics are heavier than paintings and drawings. Make sure your backer is attached firmly to the frame. A combination of white PVA adhesive (such as Weldbond) and fasteners (such as tiny brads or screws) is recommended for mosaics over 10 or 12 inches.
Hanging wires should be attached by multiple fasteners, and french-cleat hanging systems are preferred for large mosaics.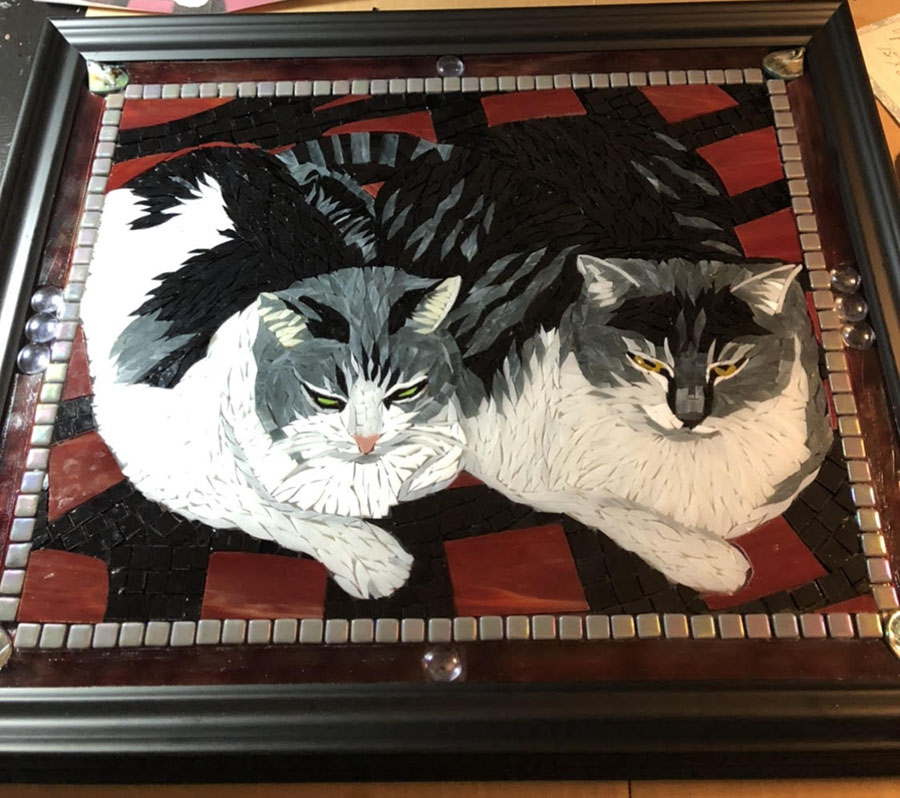 Photographing Your Art
Before you send your art to its new home, make sure you take the time to take a photo of it straight on with no foreshortening in good light. Keep in mind that most people will only get to see your art via the photo.
Avoiding Foreshortening
Foreshortening is when an object is viewed at an angle instead of being oriented so that it is perpendicular to the line of site. This makes one end of the object further away, and it appears to be more narrow than the end closer to the viewer.
You can avoid foreshortening by laying your mosaic or painting flat on the ground and standing beside it on a step stool or chair. Point the camera straight down and keep the artwork centered in the view finder with equal margins left and right, up and down.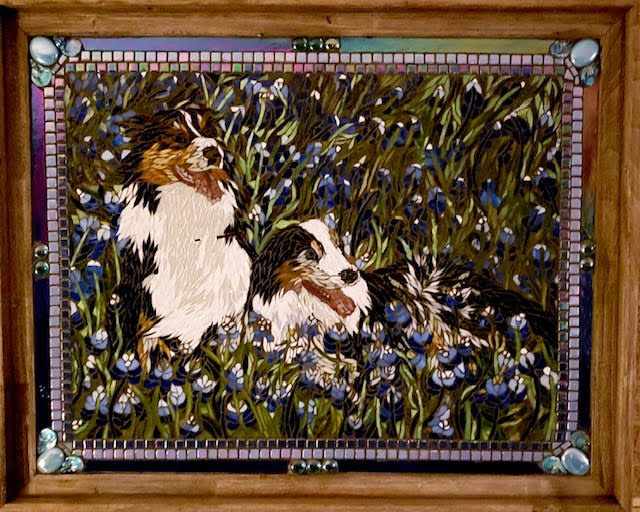 The Best Light
The best light for photographing artwork is an overcast day or late in the day on a sunny day. You want sunlight is that is diffuse and not a bright glare.
Extremely bright sunlight dulls the intensity of colors because of the glare on the glossy surface.
The color of the light source is also critical, and the lights in most people's houses are too warm (yellow) and deficient in higher frequency light (blue).
If there's no blue light to reflect, all blues and purples in your artwork will look duller and more gray than they would in daylight.
Daylight is best because it's full spectrum.
Borders
Notice how Tanya creates a mosaic border inside the frame.
On frames made from stepped molding, you can make mosaic borders on the lower steps and still leave the outer steps bare wood.
It's important to have part of the surface that can be grasped without touching the mosaic surface if the mosaic is heavy. It is possible to break tiles off.
That is why projects where the frame itself is mosaic-covered inside and out should be kept small enough to handle and sit on edge without damaging the tiling.