The best grout gap for mosaic artwork depends on whether or not the mosaic will be outdoors or in a potentially wet location such as a backsplash.
When Do You Need A Grout Gap?
If the mosaic might get wet or exposed to humid air, you can't have the tiles touch each other. You need a gap for the grout to fit into to seal out moisture.
Tiles that touch can never touch close enough to seal out moisture.
If the mosaic is a small indoor icon or plaque, you don't have to worry about sealing out moisture, and so you can fit the tiles tightly together and skip grouting.
TIP: You might want to grout anyway to fill in any small incidental gaps left by imperfectly shaped tesserae, especially if your mosaic is a "dry" tabletop or architectural surface. (If those surfaces are in the kitchen or bathroom, you should consider them "wet" and use a grout gap.)
Smaller Gaps Preferred
Smaller gaps are preferred because they make grouting easier, and they minimize the color impact of grouting.
A grout gap only needs to be large enough to ensure that grout can fill the gap all the way to the bottom and not just a smear across the top and hide a void underneath.
Smaller Than Recommendations
The standard recommendations for grout gaps for different size tiles is for whole tiles in grids as an architectural covering and not for mosaic as figurative art.
Our website's tile estimator page and product description have these standard grout gaps listed for coverage specs because the estimates are for large architectural projects of whole tiles.
The standard gap widths used in coverage estimates are larger than desired for most figurative mosaic images, especially those made from cut pieces of tile.
My preference is a grout line be just wide enough to ensure that grout can be worked into it.
A Great Teaching Example
Artist Keely Cone mosaiced a galvanized steel watering can to make a Mother's Day gift for her mom, and it is solid execution of a fun design. It is also a great example of the color impact of grouting a mosaic.
Keely used stained glass that her mother had given her and went to extreme lengths to machine each piece to shape using a grinder.
REMINDER: You can use irregular rectangles and triangles to render images, even complex photo-realistic images. Conventional mosaic doesn't require machining each tesserae to the shape of a figurative element, but it can be done that way for certain styles.
I think the significance of the gift and the materials may have motivated Keely to chose a carefully machined design for this mosaic.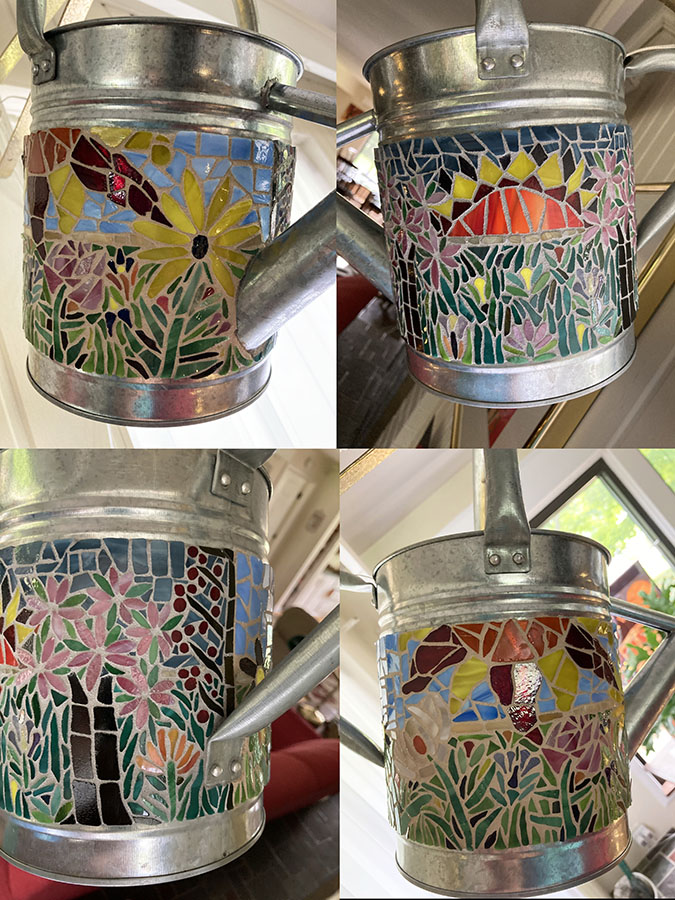 The Color Impact of Grouting
Keely noted that the light grout color made the colors of the glass less vibrant and "washed out."
We recommend a medium warm gray for grout color as a minimum in darkness.
I like black grouts and prefer grout lines that are kept fine like pencil lines in a watercolor.
I want to be able to dump wet concrete on the face of my mosaic with confidence. I want to know that I can have the same image as before as long as I wipe away the excess.
Fortunately, you can always change the grout color of a decorative indoor mosaic such as this by "staining" the grout with acrylic paint.