The following method is only recommended for dry indoor mosaics. Artist Megan Adams recently used it to save a mosaic that had been compromised by white grout, which makes tile colors look less intense and the mosaic as a whole "bleached out" in appearance.
We put white grout in bathrooms because it is used as an indicator of cleanliness. It's use in mosaic art is limited to making your project look like a summer camp project. Avoid it. Consider black or dark gray grout instead to make your colors look intense.
Also keep in mind that traditional sanded grout is lighter in color when it hardens, and so sometimes a light gray or light brown grout can turn out looking like an off-white and cause the same problem as if you had used white grout.
To minimize the impact of grout color on your mosaic, use a small grout gap, (For wet and outdoor mosaics, you must use a gap wide enough for grout to fit into so that water cannot seep into hairline cracks between tiles.)
I originally wrote these instructions as part of an article about using "test swatches" of tile glued to pieces of plywood to see what different grout colors would look like with all the tile colors of a particular mosaic.
Here is Megan's mosaic after grouting with white grout: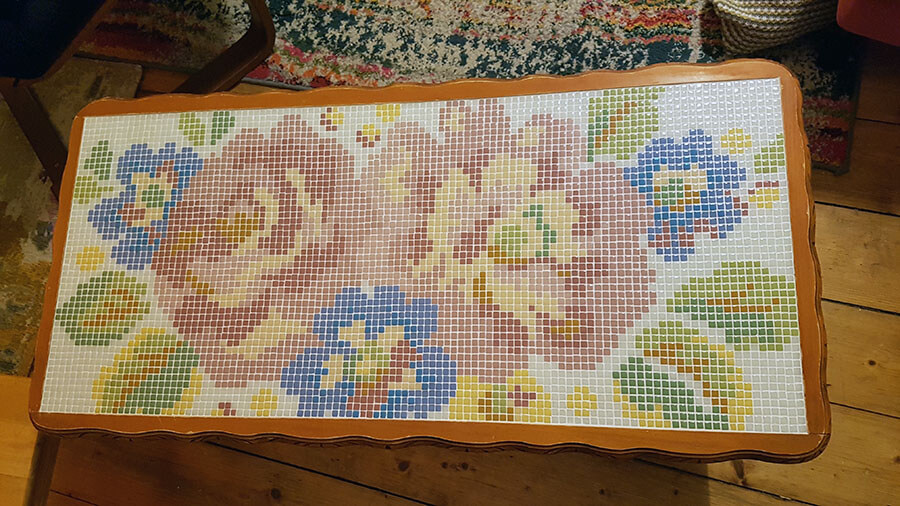 Notice how the grouted mosaic above is less intense in color than the ungrouted mosaic .
The following is the mosaic after darkening the grout with a wipe-on/wipe-off "stain" of acrylic paint. Note that the photo was taken in saturated sunlight, and so that it looks more "bleached out" for that reason compared to how it would look in the more normal lighting used for the previous photo: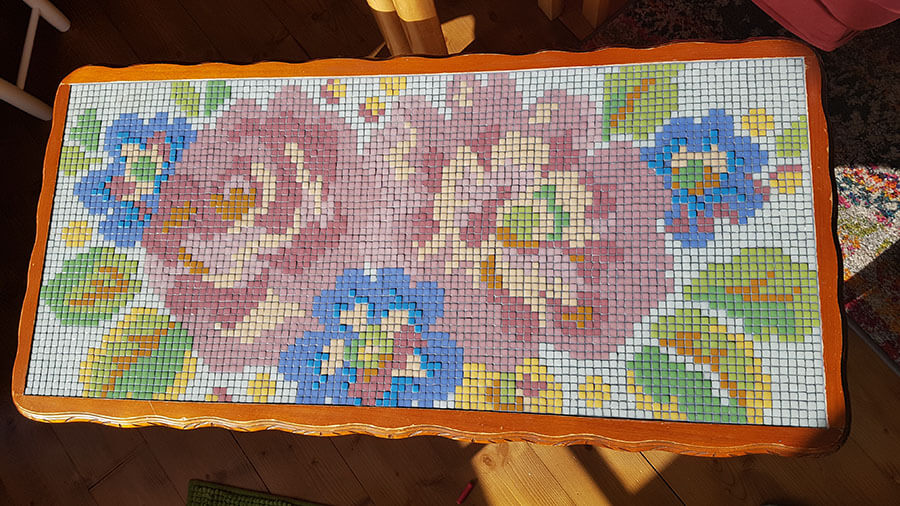 Method for Changing Grout Color
If you want to change the color of a grout line in a finished indoor art mosaic, you can do that with artist's acrylic paint applied via wipe-on-wipe-off using a rag. You get it applied and wiped off quickly before the paint can dry on the glass. The paint sticks in the porous grout so that it doesn't wipe off.
I recommend diluting the paint with acrylic media to make a water-based "grout stain." You can also apply undiluted paint for a more opaque covering of the existing color, which might be simpler for most people.
I recommend experimenting on any piece of scrap material to figure out colors and dilutions.
I recommend testing on a grouted tile swatch before applying to the mosaic to see how it actually looks on the grout.
I recommend Yellow Ochre and Burnt Umber. Both are UV resistant mineral pigments and considered non-toxic. They also make great stains.
You can also use Ivory Black and Titanium White to make hue-neutral grays of every shade, but a wide range of colors are available, and you can make more interesting grays too.
I would avoid toxic Cadmium Yellows but Nickel Yellows are considered safe.
I would avoid making my grout paint more intense in color than the tile colors.