Artist Laura Adams emailed me for advice on selecting a grout color for her glass-on-glass mosaic, and it is a good case study for several reasons.
First, the sky of the mosaic is a whitish gray.
Second, Laura made sure to photograph the mosaic with two different lighting regimes: backlit from behind and regular lighting from the front.
Given that a glass-on-glass mosaic looks very different when backlit, it wouldn't be possible to make an informed choice without taking both situations into account.
Grout Gap as Preview
Many times the appearance of the unfilled grout gap gives you an idea of what the mosaic will look like with grout of a certain color.
For example, in the photo below, we can see what the mosaic will look like with darker grout in the sky area because the shadows in the narrow grout gap look like dark grout: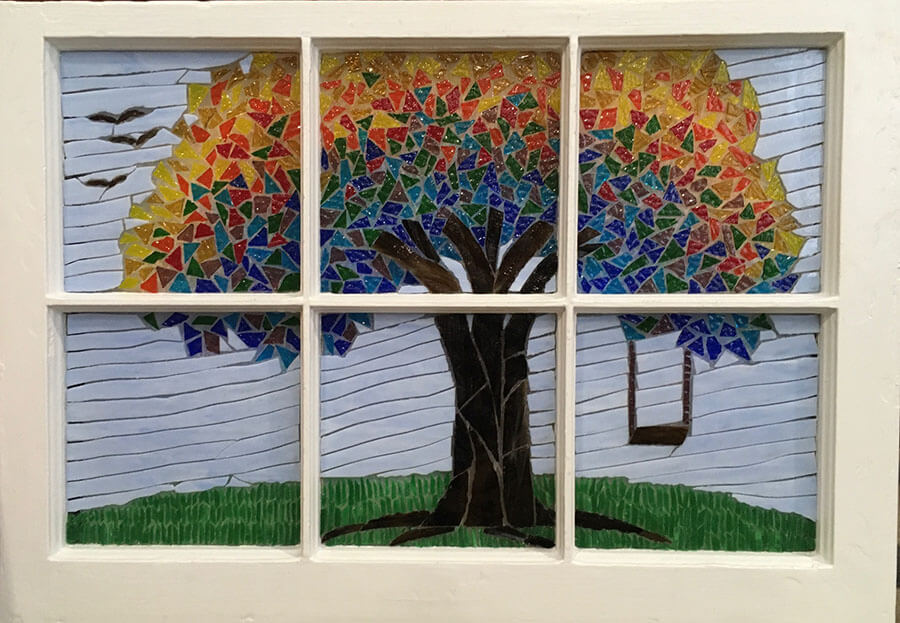 Limitations
When does grout gap NOT give you a good idea what a mosaic will look like when grouted? The answer is: when you use a wide grout gap.
In an un-grouted mosaic with wide grout gaps, a lot of the color you are seeing in the image is from the sides of the tiles. Once you grout that mosaic, all the color from the sides of the tiles is covered up with dull concrete, and the mosaic is less colorful.
That is why professional mosaicists use narrow grout gaps. Novices tend to use grout gaps that are wider than they realize, and then they are shocked and unhappy with their mosaic after grouting.
TIP: Mosaics with narrow grout gaps are easier to grout, and their images are less effected by grout and the choice of grout color.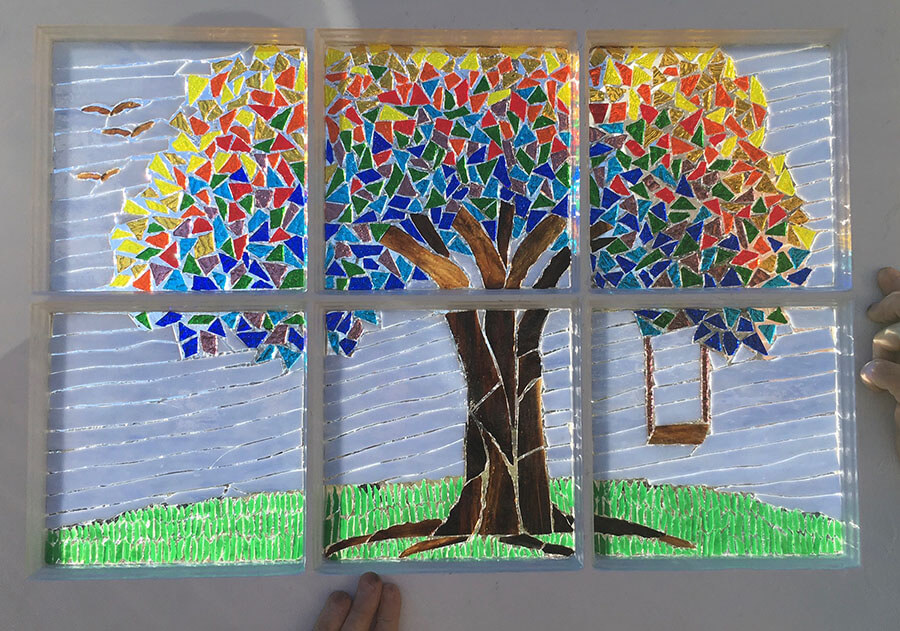 Backlit
In the above photograph, we can see some idea of what the mosaic would look like with white grout because the backlight coming through the gaps looks white grout. It is important to note that the translucent glass is also more vibrant due to the backlighting. Compare this photo to the previous one.
What this photo doesn't show is what the mosaic would look like with white grout when not backlit.
To visualize what this mosaic will look like with white grout when not backlit, you have to take into account that the glass colors will be less vibrant because the light will be reflecting off the surface instead passing through from behind and making the glass glow.
I have written quite a bit about the problems of white/light grout colors and the advantages of black/dark grout colors.
I don't think that Laura's mosaic would look very good with white grout or a light grout because the sky is a light color, but that isn't the only reason. The main reason for me is that whenever the mosaic isn't well lighted or backlit, a white grout will be more intense than the colored glass in the mosaic.
Exceptions to Rules
I will be writing an article about some mosaic photos sent to me by artist Jill Gatwood. Jill's photos are of mosaics grouted with white grout, and were submitted as counter examples to my recommendations against white grout.
Please email me counter examples to anything I recommend. That sort of dialog helps tease out the subtle details.
Materials and Methods
Laura made her mosaic on a repurposed window frame with grill-and-panes construction. Repurposed window frames of grill-and-panes make good backers for glass-on-glass mosaics because they satisfy several requirements:
The glass backer must not be too thin.
The glass backer should have a protective frame around it.
The grill provides support throughout the mosaic, keeping the ratio of width to backer thickness low.
Remember, glass can shatter on impact. It doesn't make sense to spend so much time creating a mosaic on glass that is too thin. Mosaic tile and grout are heavy.
Sometimes glass-on-glass mosaic can break from their own weight during handing if the backer isn't thick enough or there isn't a frame adding support at the edges.
For this reason, repurposed window frames of grill-and-panes construction are a good choice for backer for glass-on-glass. You also reuse something instead of sending it to the landfill.
You should put a coat of paint over the frame and grid to cover any old lead paint. (Many old wooden window date from before the 1978 ban on lead paint in the U.S.)
A coat of paint also reinforces old hard window putty and helps it stay attached, which is an issue with the older frames, especially the interesting ones with all the weathering and decades of putty and paint repairs.
Adhesive for Glass-on-Glass
The adhesive we recommend for glass-on-glass mosaics is GE Silicone II Clear or a comparable brand of clear silicone adhesive.
We don't recommend our conventional mosaic adhesive for glass-on-glass mosaics because Weldbond and other water-based PVAs cannot fully harden and turn translucent when sandwiched as a thin layer between sheets of glass.