For dry indoor mosaics, areas can be built up to support thinner tile next to thicker tile by mixing sand or sawdust to Weldbond adhesive to create a heavy paste. You can also fill holes in mosaic backers using this method. Sand is best for minimizing the contraction that happens as the glue dries, but sawdust can be used when weight is an issue.
For outdoor and wet mosaics, thinset mortar can be mixed with clean pea gravel to make a concrete. The pea gravel must be washed clean and dried to avoid contaminating the mortar, and we recommend screening the pea gravel and using only small pieces. Note that you cannot use sand because too much sand will overwhelm the mortar and make it crumbly.
Case Study: Stained Glass Mosaic Coffee Table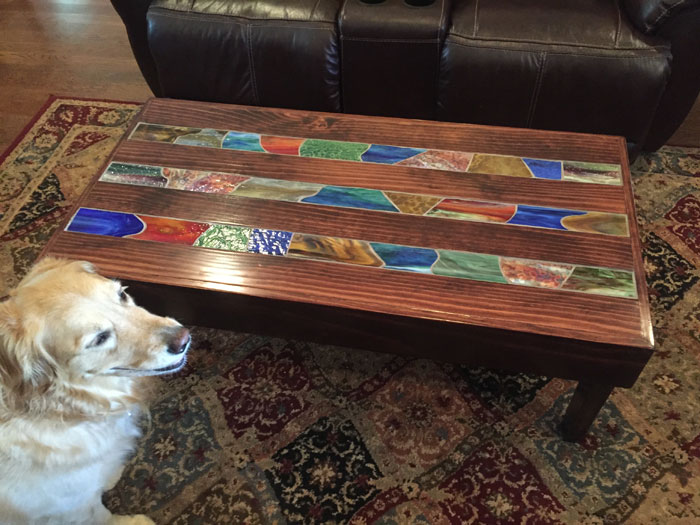 Recently our customer Holly LaBarre emailed us asking how to build up areas between wooden slats of a mosaic coffee table she was making. The design concept for the coffee table was to make it look like it was made from pallet wood or wooden planks and put stained glass mosaic between the planks. The problem was that the planks are significantly thicker than the stained glass, but Holly wanted the stained glass to flush with the planks so that the coffee table had a flat surface.
The solution was to put a piece of 1/2-inch plywood on the underside of the table top and then build up the area to be mosaiced using a paste of Weldbond and sand.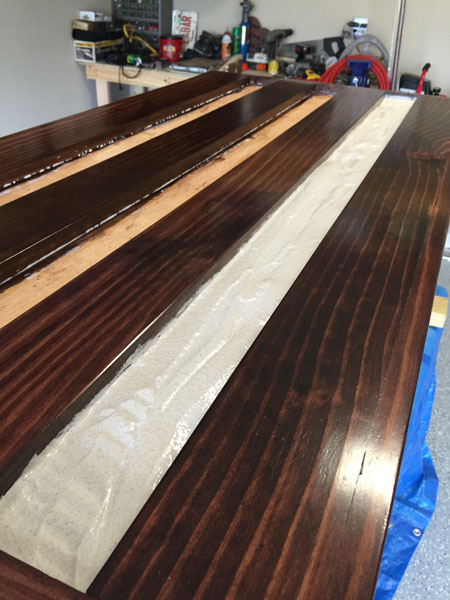 The catch is how to build up the area to the right height so that when the stained glass is applied, it isn't too high or low. To figure this out, Holly made a simple gauge from a straight edged piece of wood that rests on the surrounding planks and has a small piece of stained glass glued to its bottom edge.