This article is about how to incorporate mosaic art into the design of your tiled bar top and is less about the basics of how you mount the plywood, cut a hole for the sink, etc. If you need that type of basic construction information, there is an article on HGTV's website about how to tile a countertop.
However, I noticed that the HGTV article didn't specify the thickness of the concrete backer board to use. For a floor, you must use 1/2 inch concrete backer board, but for a countertop, you can use 1/4 inch and probably should because it makes it easier to cut a whole for a sink with a jigsaw. You can't cut plywood and concrete board at the same time because the blade gets dull too rapidly from the concrete, and then it rips the plywood instead of cutting it cleanly.  Make sure you have holes in your plywood before laminating.
Back to mosaic art and how to incorporate it into tiled countertops:
Recently a customer emailed me with some photos of a bar top she had mosaiced for her home, and I thought they were worth showing off for several reasons. Not only were the execution and color choices well done, but the design complemented the color scheme and decor of the room as a whole, yet still managed to have its own merits as mosaic art and not be mere tiling.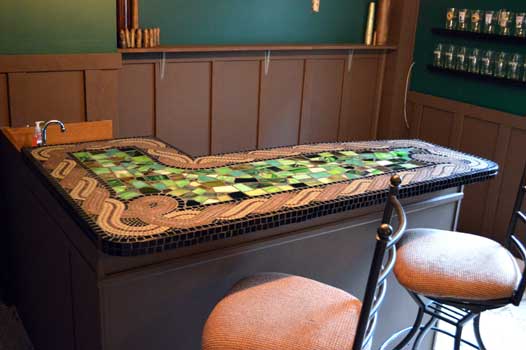 I think it is important to promote successful examples of architectural art because contemporary tastes have tended to converge on "basic black" and Bauhaus clean functionality in a monolithic way, especially when home remodeling is concerned. I certainly understand the reasons why: who wants to spend money to make their home less sellable? Who wants to customize their home in a way that most potential buyers might find unattractive?
Even if we have confidence in our own artistic and design skills, those of us who have lived in tight real estate markets have seen too many houses in "up and coming" neighborhoods where the previous owner may have had little money, but apparently had even less sense and spent $15 to $20,000 to add a room or porch that made no design sense at all or cut windows and doors where they made no sense or bricked them up with equal indifference. After being forced to consider such houses merely because they were the only thing on the market within budget, no rational person wants to even risk the possibility of spending money in a way that makes the largest investment of their life lose value.
And so we err on the side of caution and dismiss any individualistic ideas about home renovation and go for simple clean designs that lean toward the generic.
But that sort of thinking is why 9 billion houses have black granite countertops, and that is why those same black granite countertops will one day be the most despised, dated feature of those houses. If you doubt this, consider how many landfills full of real heart-of-pine paneling that you have seen ripped out of houses on HGTV home renovation shows. The wood paneling is rich-colored natural material (just as the granite countertops are rich-colored natural material). We just don't like it anymore because it is so indicative of decades past because it was so widely used at the time.
The good news is that things like mosaic countertops and mosaic fireplace surrounds are easily replaced if the next owner or potential owner doesn't care for the design. Unlike many forms of home renovation, these projects are relatively low-cost yet have maximum visibility and design impact. In short, mosaic countertops may be one of the few personalized home renovation projects you can pursue without jeopardizing the "curb appeal" of your house.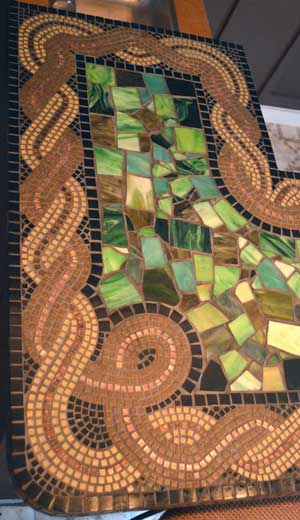 Inserts In Regular Tiling
Note that you don't have to mosaic the entire bar. The side edges can be regular bullnose ceramic tile, and mosaic art can be an insert in the middle of the regular tiling. All you would need to do is leave an un-tiled space in the middle of the bar (or instruct the building contractor to do so). Then you could put your own mosaic design in that space. Glass mosaic tile (typically ~1/8″ thick) is slightly thinner than ceramic tile (typically 1/4″ or 3/8″), and so you may need to build up the un-tiled space slightly with mortar before you mosaic it, but that isn't difficult.