Religious icons make heavy use of gold leaf glass to represent halos and divine light but also to adorn the figures and to communicate the preciousness of the image. Of course we carry 24 kt Gold Leaf Glass for use in icons and other mosaics, but the material is expensive for obvious reasons, and so the question becomes what do you use when you need to make something larger, such as an altarpiece or a life-size icon?
The answer is the silver-foil glass product known as Imitation Gold Mosaic Glass, which has an epoxy coating over the silver backing to prevent oxidation and blackening by adhesives.
Artist Nicholas Vasco emailed us some pictures of a couple of his recent projects using Imitation Gold Glass, and they are impressive. Both the altarpiece and the mosaic inserts of the chapel entrance way are very well done and worth talking about for several reasons.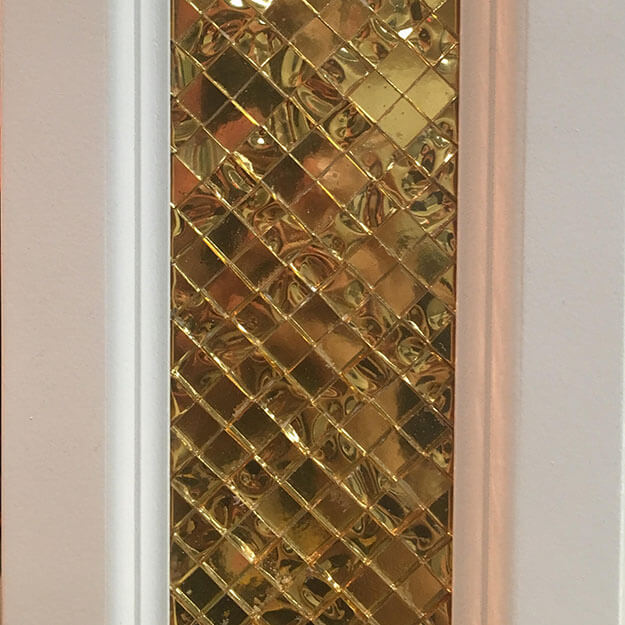 No Grout
Grout is put between the tiles of wet and outdoor mosaics to keep water from getting to the cement beneath the tiles, and that is not a relevant concern for indoor icons.
Dry indoor mosaics do not have to be grouted, and classical mosaics and mosaic icons were never grouted. Instead, tiles were placed together as closely as possible.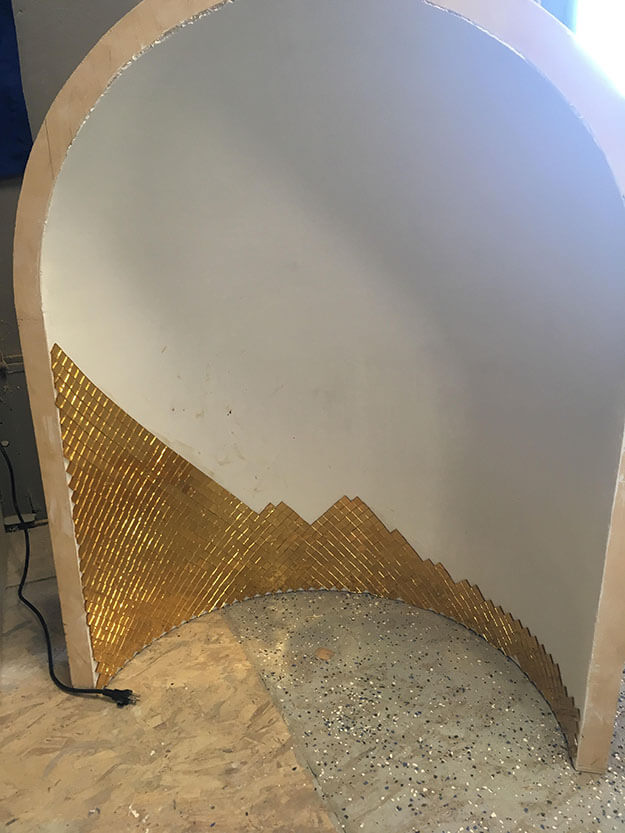 Curved Surfaces
When you put reflective tile on a curved surface, light will be reflected at different angles for a dazzling effect. In the domed alcove niche shown above, Nick used the smaller 10mm tiles to increase the number of facets. The smaller size also makes it easier to follow the curved surface.
Note the orientation of the tiles as "diamonds" instead of as "squares" also made it easier to follow the complex curve of the dome in a way that is more visually appealing than the usual grid.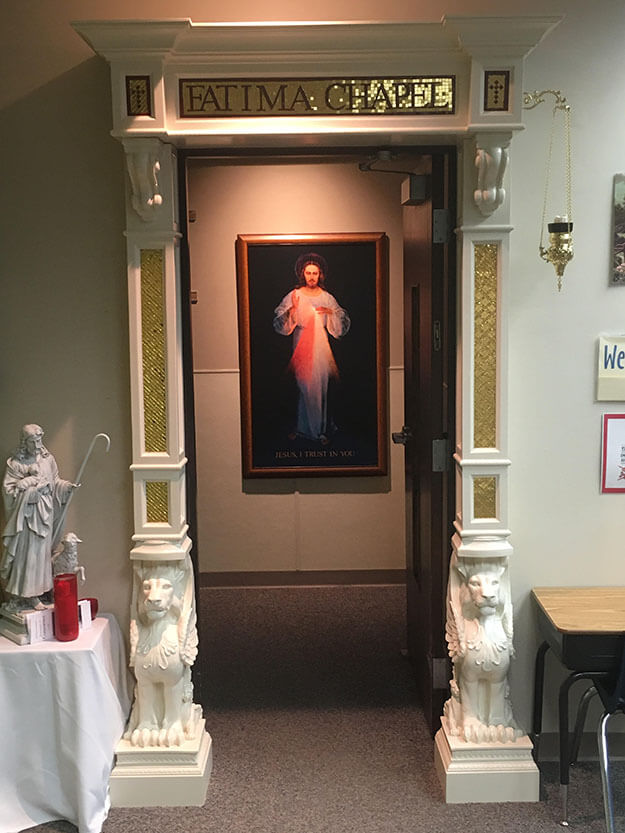 Reflective and Non-Reflective
In the photo of the chapel entrance above, notice how well the non-reflective lettering stands out in the field of reflective gold. Notice how each gold tile is a facet that can reflect light at a slightly different angle as the observer moves.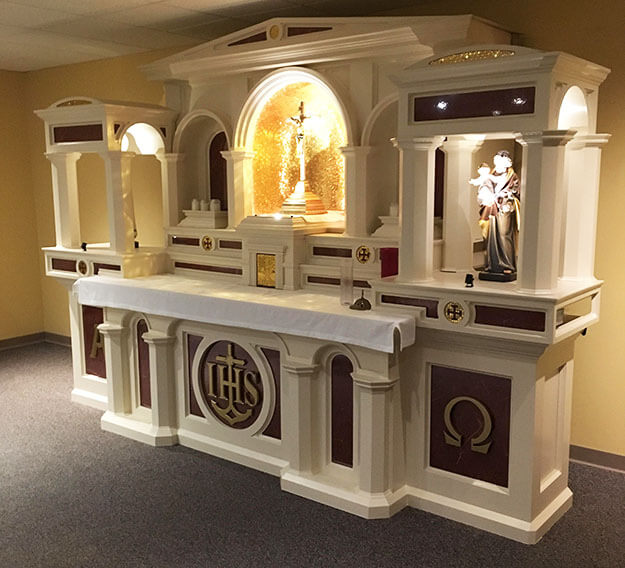 In the photo of the completed altarpiece above, notice how "less is more" in that reflective gold glass is not used everywhere but only in select insets and niches. The matte painted surfaces provide contrast and put the focus on the crucifix and crosses as intended.
Other Colors Available
Artists wanting to make something other than a gold religious icon can get similar reflective effects in other colors using our 15mm Colored Mirror Tile, which has a proprietary epoxy coating over the silver to prevent blackening.

Artists could also use this colored reflective glass selectively in religious icons for stunning results. For example, the Sacred Heart of Jesus or some iconic element of a larger image could be rendered in the Colored Mirror Tile while the rest of the image was rendered in conventional glass tile or smalti.
I have long wanted to promote this product for those type projects just to see what people made with it. I expect to see some amazing work given the nature of the material.
Warnings about Mirror Mosaic
Note that our Colored Mirror Tile is light reflective but not image reflective because it has crazing (random streaking, waves, or bubbles) to increase visual interest. That is a good thing. Here's why:
The idea of using ordinary mirror in mosaics is exciting, but the results are usually dull because reflecting a tiny piece of an image is not nearly exciting as color provided by ordinary tile.
Mirror Adhesive Warning
Ordinary adhesives will oxidize and blacken pieces of mirror, which require a special adhesive. Note that our Colored Mirror Tile and Imitation Gold Mosaic Glass have an epoxy coating to protect the silver backing, and so you can use regular mosaic adhesives on them.