Artists Angela Bortone and Natalija Moss have discovered a new way to do huge amounts of extreme physical labor in an unheated loading dock. They call this latest folly the Knight Park Mosaic Sculpture.
I know from past experiences with my own large sculptural projects that Angela and Natalija have doubted their own rationality if not sanity many times while working on this.
The Agony and the Ecstasy
Why do we as artists gladly do massive amounts of labor in conditions normally experienced only by construction workers and farm laborers?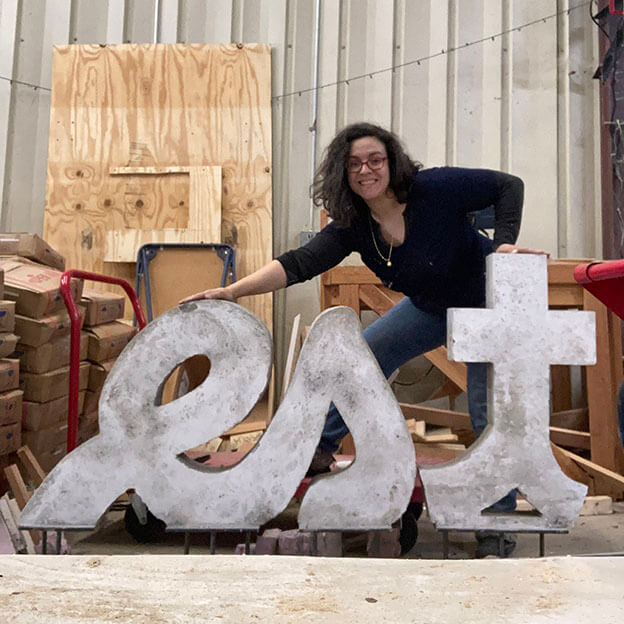 By angels led, by demons driven. We are the lucky ones. We experience purpose at all levels in our creative process.
The physical labor and rough working conditions are often part of it, at least for me. I have only pushed myself harder during survival campouts in wilderness areas.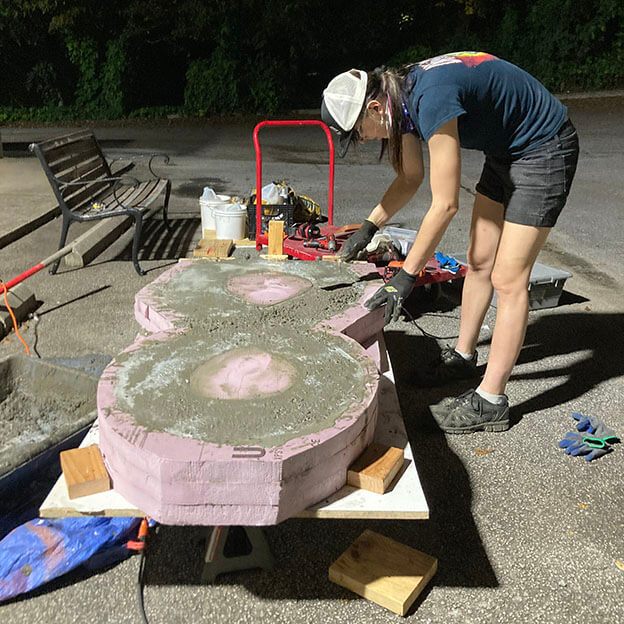 Even when I do an art project that doesn't require a lot of heavy lifting or tedium, I still tend to do it in an extreme mode in which I lose myself. I mean that in a literal way: I lose the very awareness of my person and physical needs.
For example, I often find myself painting and realize I haven't eaten in over six or eight hours or more.
Imagine having that much passion for what you do. Never having to worry about dieting is just the beginning.
We know how lucky we are.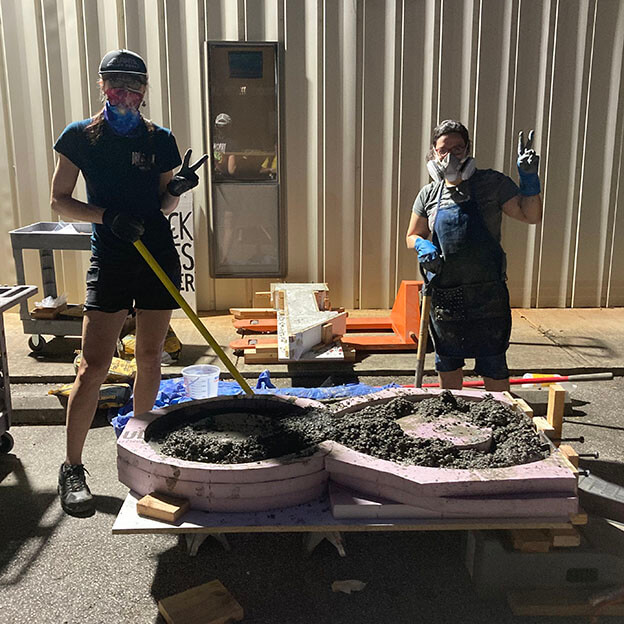 Anyway, here are some work-in-progress photos of Natalija and Angela's latest project. It's a mosaic-face concrete sculpture in the shape of "est 1893" for Atlanta's historic Knight Park.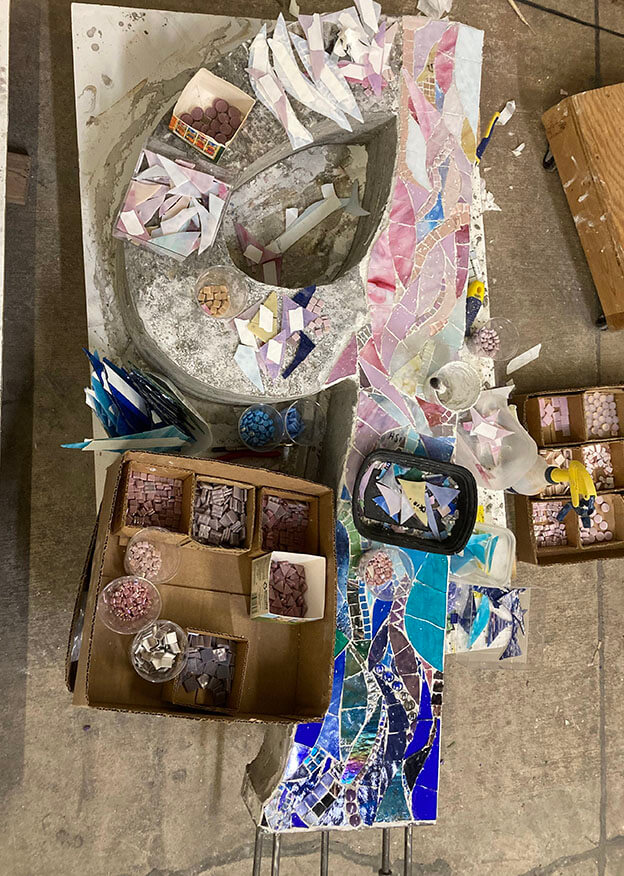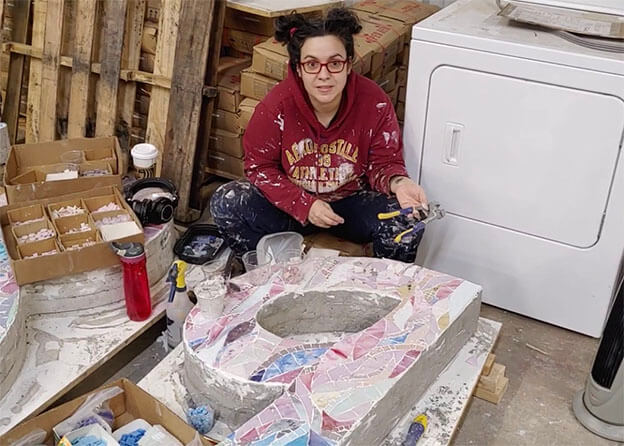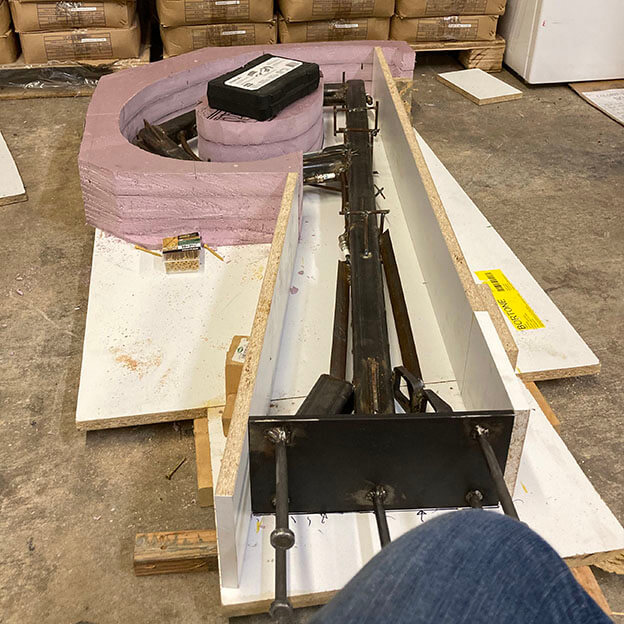 Skeleton Evaluation
Natalija and Angela had to get architect's drawings made because the project was for a city park. The original drawings called only for central columns of 4-inch square tubing with unspecified additional steel reinforcement.
I explained to Natalija and Angela the most likely failure mode was concrete cracking off the steel tubing and that something was needed to encouraged them to wrap the tubes in a couple of layers of hog wire to sheep/goat wire to create a mechanical interface.
I also recommended adding steel of some kind in any concrete more than 2 or 3 inches below the surface, and that my preferred frame would be a box frame with 4 columns made out of or 2 inch tubing.
The reason I would go with a "distributed" skeleton of 4 columns instead of 1 central column is to help integrate steel and concrete and minimize cracking due to differences in material properties like thermal expansion and flexibility.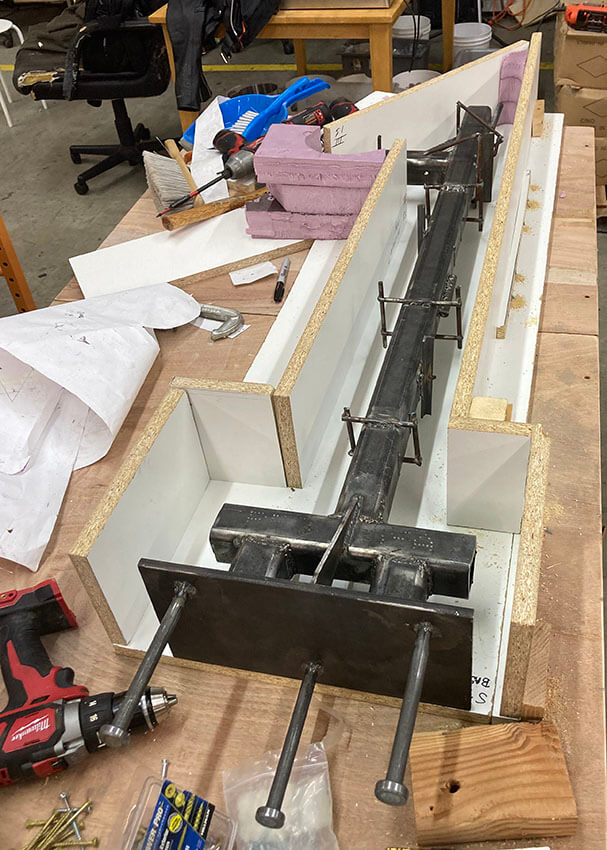 Natalija welded steel rods to the tubing column and created these Terminator skeletons. I think wire of some kind was added when the concrete was poured.
I'm a big fan of wrapping hog wire around a stick frame or box frame and packing in the modified concrete from all sides.
Natalija and Angela used a mold technique with concrete poured from the top, and so they felt they needed a more precisely built frame to keep the steel away from the surface of the concrete.
It's important to make sure the steel is thoroughly encased in concrete, else the frame starts rusting at any exposed points
For my sculptures, I use Versabond thinset mortar mixed with pea gravel to make and indestructible "special concrete" that takes many hammer blows to destroy and does not chip cleanly from steel rods. Anyone who has been require to chip hardened thinset mortar off an old steel trowel can swear to that.