Most artists are aware of how much personality a work of art can assume during the process of creation, especially when the piece of art requires a long period to complete. Artist Peter Vogelaar says he often spoke to his "Rebirth" mosaic matryoshka sculpture while working on her and referred to her as Natalija.
A matryoshka ("little mother") is a traditional Russian doll made from painted wood and hollowed out for a series of smaller wooden dolls inside with the same design. These recursively-nested dolls symbolize fertility and the continuity of life and the family.
Peter made his mosaic sculpture Rebirth in the shape and styling of matryoshka dolls but clothed her in illustrations of the forest's power of renewal instead of traditional costume.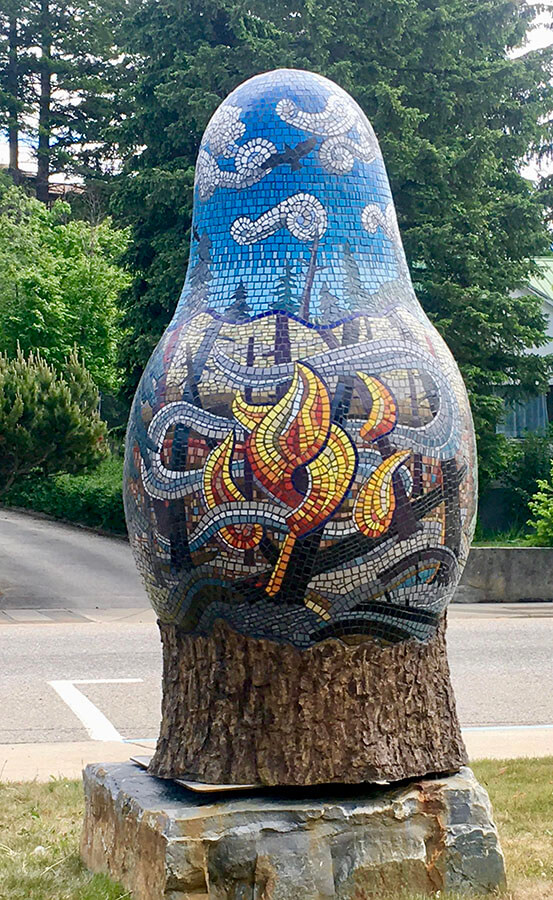 On the back of the sculpture, we see flames consuming the charred trunks of dead trees, while the surface of the matryoshka's bulging womb shows a tree seedling emerging from the dark soil of a burn scar.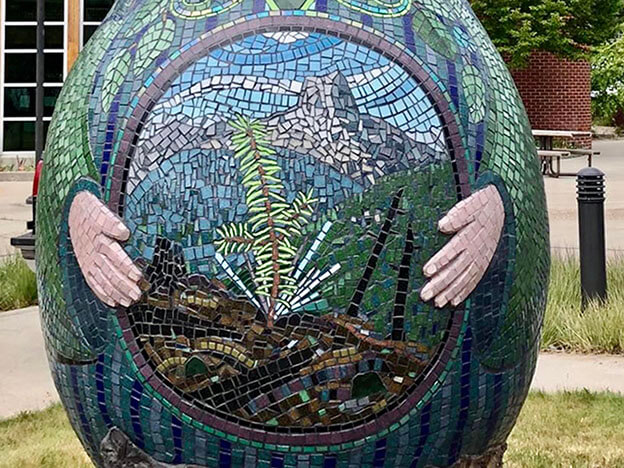 Wasting no opportunity to develop his theme of the forest's power of renewal, Peter made the base of the sculpture in the form of a realistic tree stump.
The Definition of Artist
One definition of artist is a person who can take ordinary materials and make something that is extraordinary.
The lifelike "tree stump" base of the Rebirth sculpture is made from hand-sculpted concrete that was then painted an umber brown with variegation.
Look at the photo below and study how realistic the dead stump is in appearance. Notice how the top edges of the stump extend over the bottoms of the lowest tiles. Notice how the dead bark looks like it could be knocked off quite easily with a stick or boot kick.
Would you know it wasn't a real tree stump if someone didn't tell you?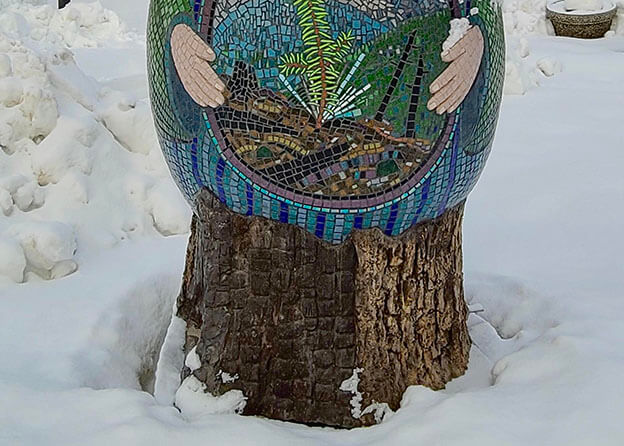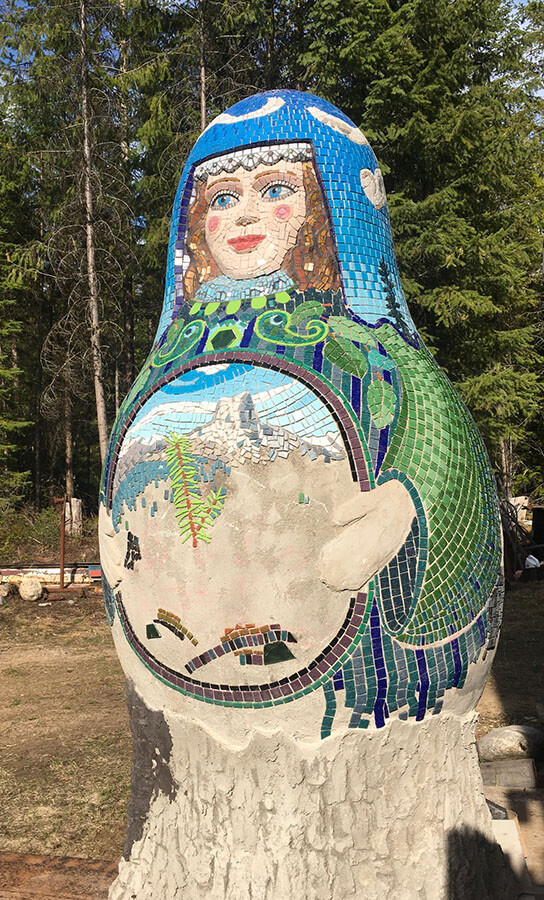 Local Art Contests
When Peter emailed me that Rebirth had won a People's Choice Award at the Castlegar, British Columbia annual Sculpturewalk, I was pleased, but I didn't know how impressed I should be. Given that many local art contests don't really have entries that could compete with a large well-executed mosaic sculpture, I thought well of course Rebirth won.
Then I noticed that it wasn't just any local art festival, but I still wasn't surprised Rebirth won.
Rebirth affirms local themes and universal aspirations. The forest depicted is the evergreen forests of British Columbia, the land where the sculpture is located. Peter tells me there is a local Russian population. Of course Rebirth would be a logical choice for winner of a contest to select public art.
But what actually happened is even better.
It turns out that Rebirth only tied for the award, and Peter's email explained that both winners had been selected for purchase for Castlegar's art collection.
Check out the other winner: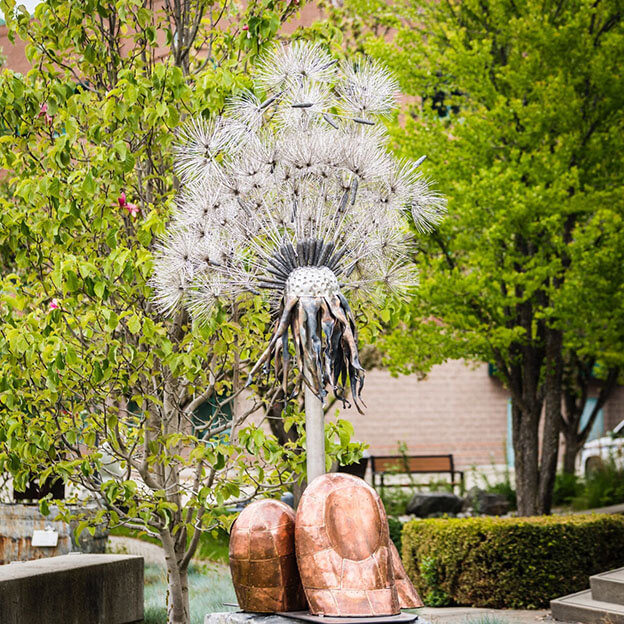 It's one thing to win an art contest, but Rebirth won in a contest with real competition.
Congratulations to Peter and Natalija! And to Kyle!
Congratulations also to Castlegar, BC, Canada on the success of their annual Sculpturewalk.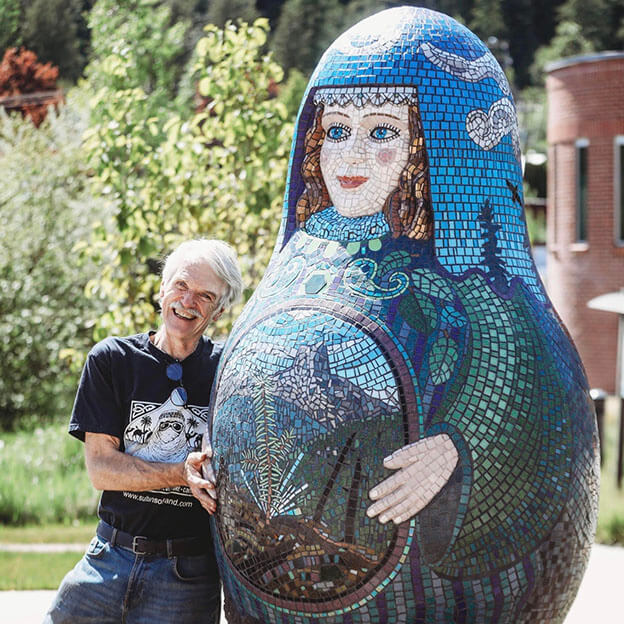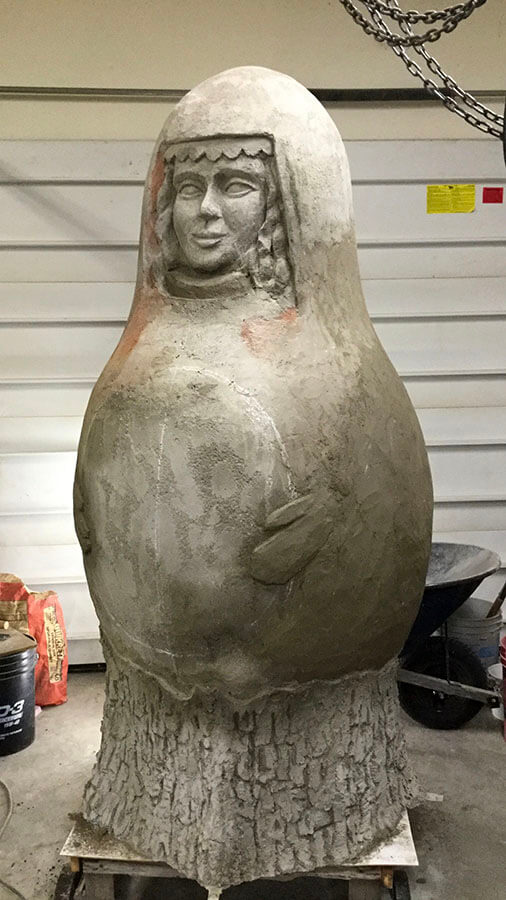 Concrete Bases for Mosaic
Here are my instructions for making wire and concrete bases for mosaic sculptures.
You don't have to use as much steel as I did in that mosaic. Chicken wire and sheep/goat wire are better choices than the heavy-gauge expanded metal I used in that example.
You can use sheets cut from foam insulation board to make a void/hollow inside the sculpture to reduce weight. Filing the void with foam board or Styrofoam or similar materials is recommended because it allows you to pack the concrete into the wire skin from the outside without the concrete falling inside the hollow shell.