This method for altering a mosaic can be used before grouting, or grout can first be removed by scraping it out with a grout removal tool or screwdriver.
Why Remove Tiles?
Even experienced artists modify their designs as they work on them, and beginners can't help but use a trial and error approach. After all. it's hard to plan exactly what you will do when you are just learning a new medium.
With drawing and painting, revision is easy, but what about mosaic? How do you remove and replace tiles after the glue is dry?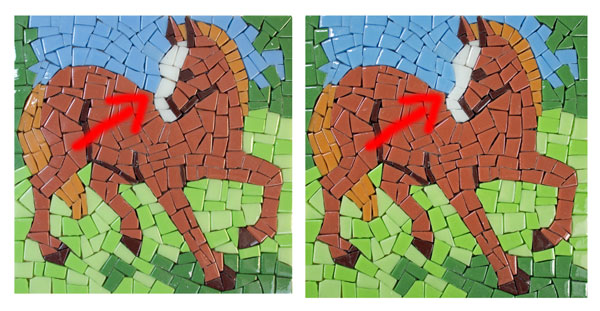 How To Remove Tiles SELECTIVELY From A Mosaic
The following method assumes the tile is attached to a plywood backer using a white PVA glue such as Weldbond. You could use the same techniques on an outdoor mosaic made with thinset mortar, but it would be very difficult if the mortar has cured for more than a few days. Mostly this method is used while you are working and see obvious mistakes, and the glue or mortar is not very hard.
Soften The Glue If Needed
OPTIONAL: If needed, apply a few drops of water around the tiles in question to soften the glue. If the surrounding tiles get wet and unexpectedly come up or look like they might, you can pull them up and reglue them too.
Cotton swabs are useful for applying drops of water to precise locations. Dry cotton swabs are useful for soaking up excess water and containing the spread.
Use A Metal Tool To Pry
Use a small screw driver or studio spatula to pry the tile up or lift it up with a dental pick.
VERY IMPORTANT: Use a ruler as a fulcrum to lean the metal tool on when you pry. If you lean the tool on the surrounding tile, you can split or crack the tile VERY EASILY without applying much pressure at all.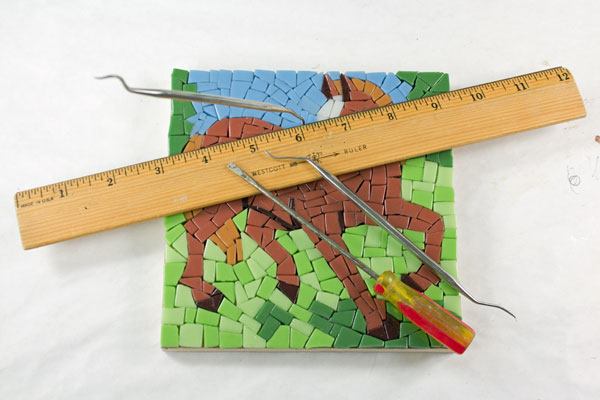 Scrape Off Broken Pieces
If the tile breaks into pieces, and some pieces are still glued down, you can scrape that off, but take care because the tool can slip, and then you can jam your hand into the razor sharp pieces before you are aware what is happening. Wear leather work gloves to avoid skinning your knuckles or cutting your fingertips open on broken tile.
Repairing Holes In Backers
If you gouge a hole in the backer while scraping or prying, it can be repaired with Weldbond glue or glue mixed with sawdust if the hole is deep. If a layer of plywood gets snagged and sticks up like a flap of loose skin, squirt glue under it and apply a heavy weight on that precise location to hold it down until the glue is dry.
Safety
Wear safety glasses with side shields RELIGIOUSLY when doing this work. Prying tile with a metal tool can shoot tiny splinters right at your face. Wear leather work gloves when scraping in case your tool slips.