Marine plywood cannot be used as a mosaic backer for outdoor and wet mosaic.
Yes, marine plywood can withstand the outdoors and wet days for many years, but it is completely unacceptable as a mosaic backer because it swells and contracts with changes in humidity in the outside air. That amount of swelling and contracting is tiny and might not be significant in construction projects, but it is fatal for mosaic. Absolutely fatal. It's only a matter of time, and it's usually not long.
People recommending the use of marine plywood as a backer for outdoor mosaics are not considering one critical detail:
The swelling and contracting of wood due to humidity isn't trivial where adhesives are concerned, and the displacement (movement) can be measured. Imagine rainy days versus dry days. The displacement is more than enough to work glass free from adhesive because the glass isn't swelling or contracting at all.
This is not speculation. I am an engineer and have worked in a materials testing lab.
Another piece of evidence I could bring to any argument about the use of marine plywood in mosaic is that I have received photos of tragically-damaged mosaics for 17 years, and marine plywood wins hands down as far as being the worst cause of grief, and the reason is simple:
Marine plywood SEEMS like a solid safe option because contractors will talk about the life they have gotten from it on certain jobs, and so the people who make the mistake of choosing it tend to be people who are making a design with a lot of work and care for the details. They took the time to choose a "good" backer because they knew they were going to put a lot of effort into their mosaic.
Seeing these mosaics damaged is much more painful than seeing some hasty work falling apart because the technical details were just outright neglected.
That brings me to an email I received from Monika Walter.
Artist Monika Walter
Monika Walter says she doesn't consider herself to be an "artist," but she has some solid work at her mosaic website, and she makes tables and mirrors and clocks for craft shows. They all look well-executed to me, and a couple of her mosaics make me jealous. More about that later.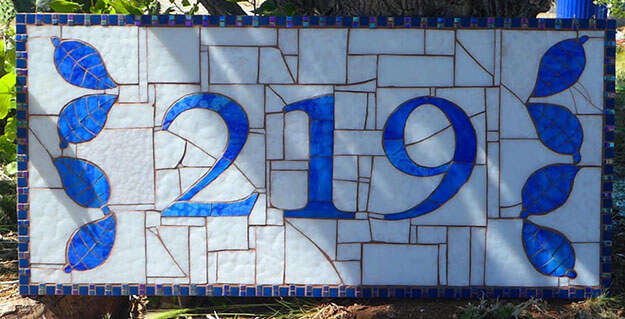 The first thing to know about Monika's work is one of the reasons why she takes so much care with her andamento is that her husband is blind, and he gets to appreciate her work by feel.
The worst part about it is that Monika's husband was the one who recommended using the marine plywood.
In his defense, they do live in a desert climate. And the thinset she used wasn't Versabond, and it might not have been sufficiently hydrated.
And contractors in the forums do talk about using marine plywood and just putting Versabond right on top or regular plywood for quick and dirty backsplashes and stuff like that.
But you have to remember that a backsplash isn't getting exposed to wet outdoor conditions from the backside like an outdoor plaque would, at least not until the house settles or the face of the mosaic gets damaged or a pipe leaks.
The benefits of using stone or tile backer board instead of plywood are obvious if you consider the mosaic below:
A Tale of Two Mosaics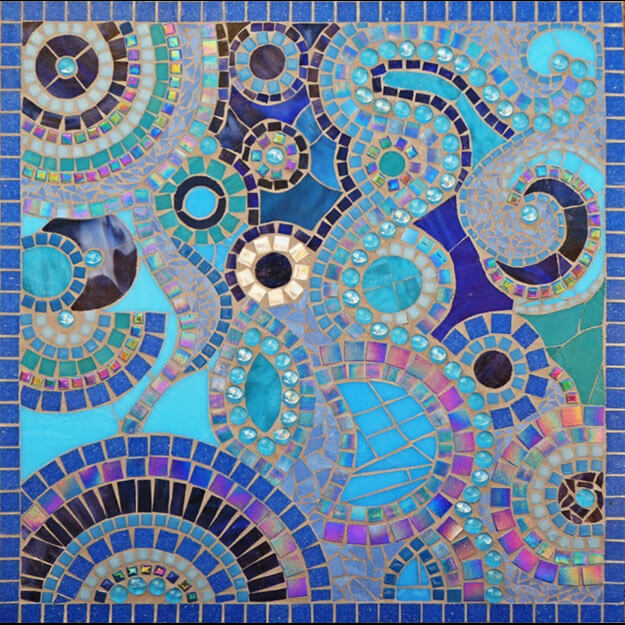 Monika tells us that the Dream in Blue mosaic above was made on concrete backer board and has been exposed to the elements of southern New Mexico (heat and relentless sun, torrential rainfalls during monsoon season, and occasional sub-freezing temperatures during winter) for years without even the slightest crack in the grout.
For the address sign that started failing, she used marine plywood, and the pieces of glass began popping off after only 8 weeks.
Note that the damage started at the bottom of the mosaic, a clear indication of water absorption being the root cause of the failure.
Color Family Harmony
I am jealous of the Dream in Blue mosaic above.
I am jealous of how Monika used a harmony of related hues and how they go from violet to blue to to cyan to turquoise green to the yellow highlights of the iridescence. I like how the iridescence expands the range of hues at both ends.
I also like how the stained glass shapes are incorporated with concentric swirls of smaller tile and how there is some figure-ground reversal going on. I'm a little jealous of that and how the stained glass composite shapes don't all use the same scheme size/shape for the pieces in it. Each is different. That makes the mosaic more interesting.
Monika says that all the materials in this mosaic came from us, except for the glass gems.
TIP: Many glass gems for crafting aren't meant for traditional mosaic because that are colored plastic on clear glass, and the grouting process is usually enough to scratch the plastic. You should test gems purchased at craft stores by cutting one up or scratching it on a rough concrete surface. Use gloves.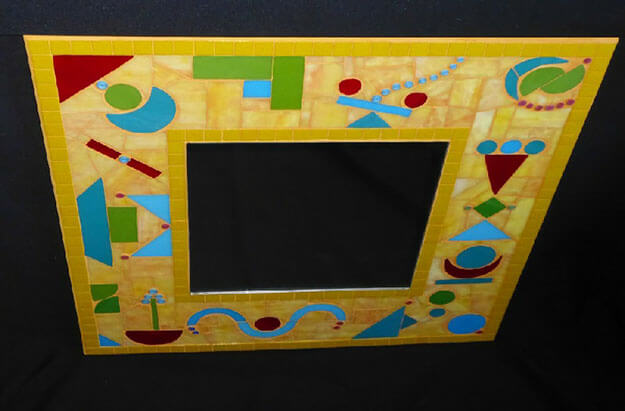 Joyful Reflection
If you wanted to make an abstract mosaic of archetypical shapes and borrow from ancient Egyptian hieroglyphs and their color scheme of gold, carnelian, turquoise blue, and green, and you wanted to make sure you kept it abstract enough, I don't think most mosaic artists could have done a better job than Monika's Joyful Reflection mosaic mirror.
The motifs in this mosaic aren't copies of hieroglyphs. Instead they are abstracted interpretations of the colors and shapes used in the hieroglyphs. Or at least that is what it looks like to me.
If so, this really is a good example of using traditional archaic art to inform and inspire contemporary art. It reminds me of how the art of Walter Inglis Anderson was heavily influenced by Adolpho Best Maugard's book Drawing Method: Tradition, Resurgence, and Evolution of Mexican Art, which explains the seven elements in drawing and discusses how archetypical shapes in nature (spirals, wavy lines, etc.) became the archetypical shapes in primitive art.
I like the flat colors of the shapes and how that contrasts with the mottling of the gold background. The happy bright colors that catch the eye, and the mosaic is aptly named.
My Recommendation
My recommendation for salvaging the street number mosaic was to dry it out thoroughly and repair it. I would then paint the sides and back with multiple coats of an outdoor paint (oil based). Then I would relocate the mosaic underneath a porch or better still inside.
Alternatives to Marine Plywood
For an outdoor mosaics, there are better alternatives ranging from light-weight foam-core boards to heavy concrete:
garden pavers (stepping stones) from a building material store
flagstones from a garden center or responsibly gathered
foam-core tile backer boards USG Durock, Schluter Kerdi Board, Laticrete Hydroban Board, Johns Manville GoBoard, and Wedi Board. (Note, some of these are for indoor use only per manufacturer recommendation.)
concrete sculptures from a garden center
The foam-core board would need something to cover the edge, but so would marine plywood.