Inspiring mosaic table tops with abstract geometric patterns were recently created by artist Risa Puno as part of her public art project Common Ground, an interactive sculpture designed to bring people closer together physically.
The concept of Risa's sculpture plays on the metaphor of multiculturalism as mosaic, but instead of the folk or children's artwork usually associated with that theme , there are cleaner abstract designs with color choices that ensure that each table has similar levels of intensity and contrast. The result is that the combined "quilt" is balanced and unified visually.
The different designs on the table tops were inspired by the mix of cultures in the Jamaica Queens neighborhood and patterns from historic King Manor Museum, home of Rufus King, an early progressive politician and anti-slavery activist.
Common Ground opens at King Manor Museum June 24, 2017.
Making Abstract Patterns From Found Designs
West Indies Flag
The featured photo for this article is one of Risa's table tops, specifically the one inspired by the Greek Key motif of the crown molding of the Rufus King Manor Museum and the West Indies flag. Risa has several great photographs of the inspiration for her patterns above the abstract geometric design she created from them.
Dominican Republic Flag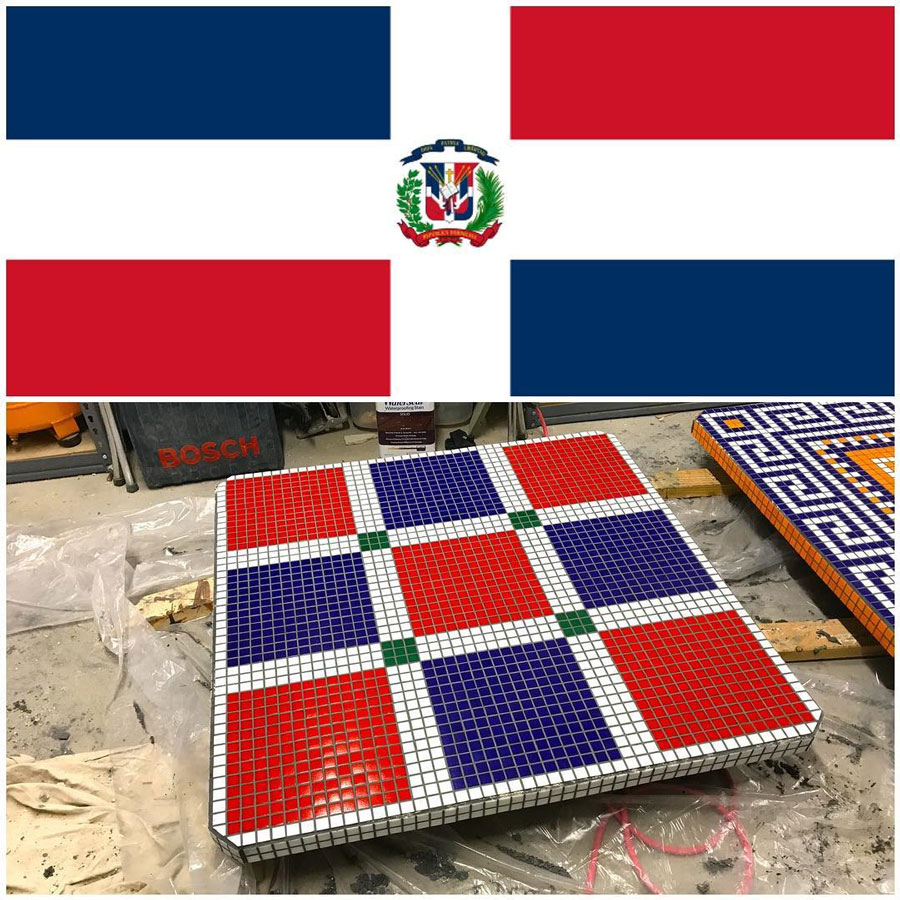 Risa's salute to the Dominican immigrant community of the Jamaica Queens neighborhood is interesting because of how each intersection represents the Dominican flag no matter which direction it is viewed. Take the green square at each intersection to be the coat of arms in the flag and look at each one from either left or right or up or down and see that the orientation of color fields is the same as the flag.
Dhaka Star Mosque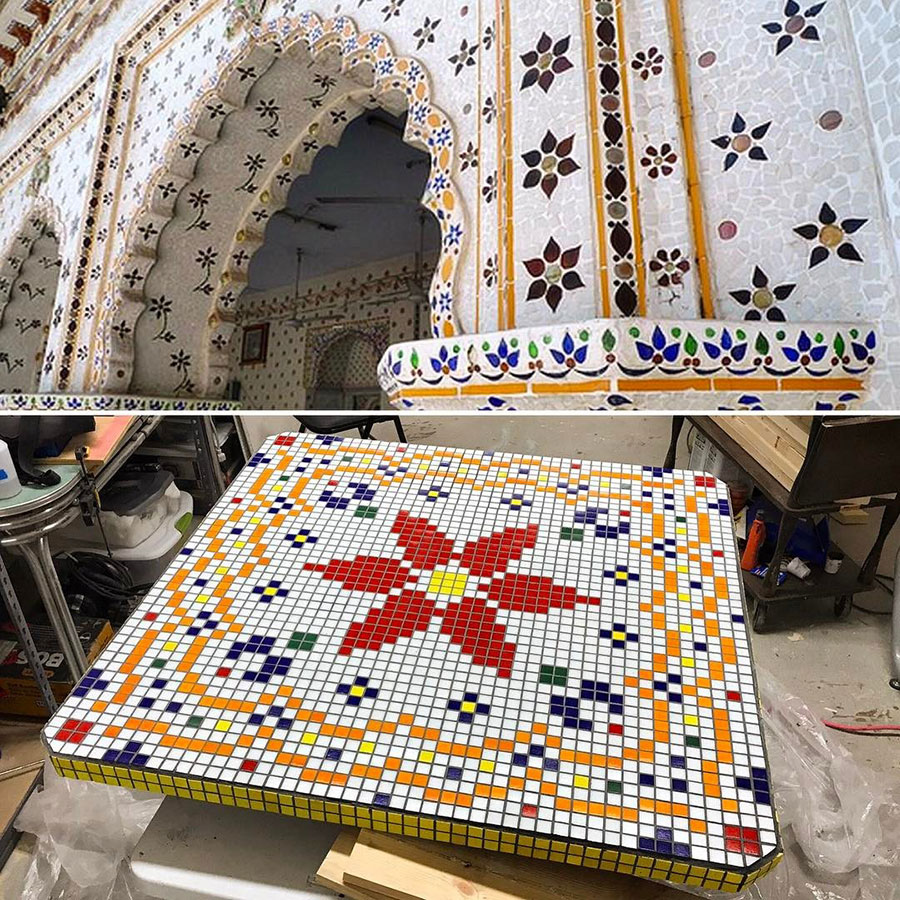 Selecting geometric abstract patterns from Islamic architecture can actually be more difficult than it would seem because you are so overwhelmed with choices, especially if you start considering how many different ways the small patterns make big patterns. You start seeing wheels within wheels and patterns within patterns in something approaching an infinite regress, which is the intent of that type of sacred architecture.
Risa derived this pattern from the Star Mosque in Dhaka, Bangladesh, and it is great shout out to our Muslim neighbors and how much they have contributed to our country in general and those New York City neighborhoods in particular. This table's design could also be seen as a reference to the early Dutch settlers of New Amsterdam because its pattern looks similar to those seen in antique Dutch folk art.
Interactive Sculpture Concept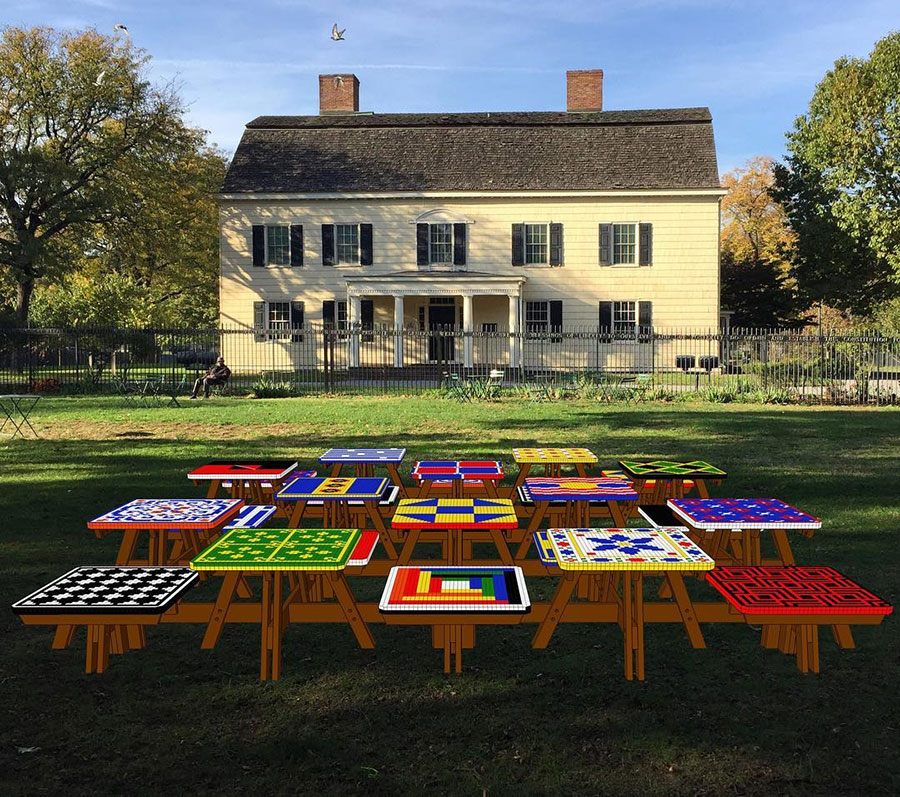 In the Common Ground interactive sculpture, the square table tops are staggered at different heights on common frame of linked support and serve as much as steps or benches as they do table tops. Risa's concept is for the sculpture to be a place of sitting and talking.
Not all of Risa 's work is sculptural, but it is all interactive and interesting in concept. Risa is featured in an article in the current issue of American Craft Magazine.
I will write a separate article explaining the materials and methods Risa used for this temporary installation and how you could modify her processes to make something even more durable.