If you like the cut-face look of smalti but don't like the price, remember that you can cut recycled glass tiles in half and mount them on edge to get the same look and feel as smalti.
Since your "halves" of tile won't be perfect halves, they will all be slightly different heights when turned on edge. The surface formed by these tiles make can't help but have an interesting texture.
The slightly uneven surface emphasizes the tiles as individual pieces, and the mosaic "effect" of the image is enhanced: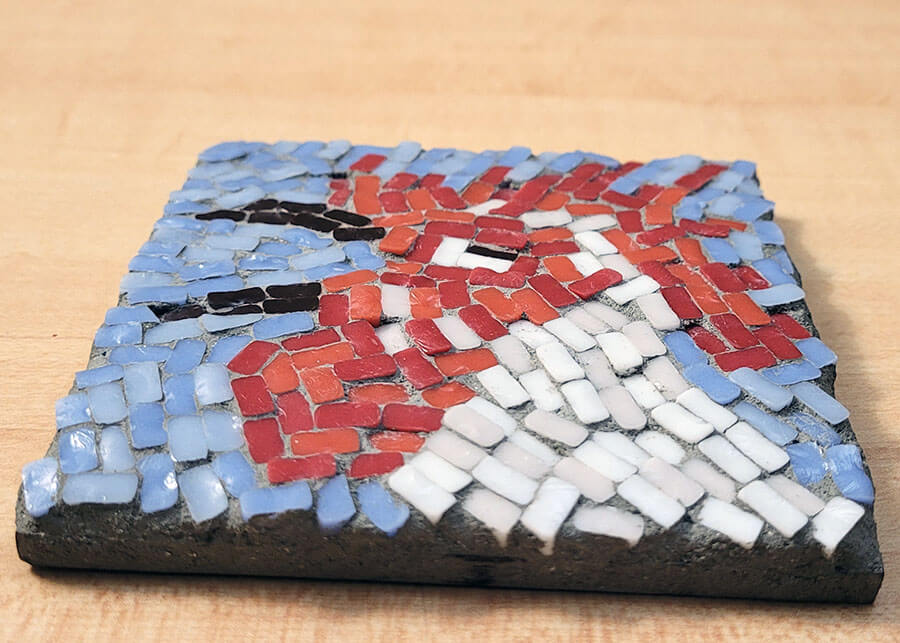 Cleaving Tile
The Mosaic Glass Cutter with the wheel-shaped blades is the recommended tool for cutting glass mosaic tile. In the photo above, I made a color study with whole tile and then cut about 20 to 40 of each color in half. Cleaving just means to cut by splitting instead of sawing or grinding abrasively.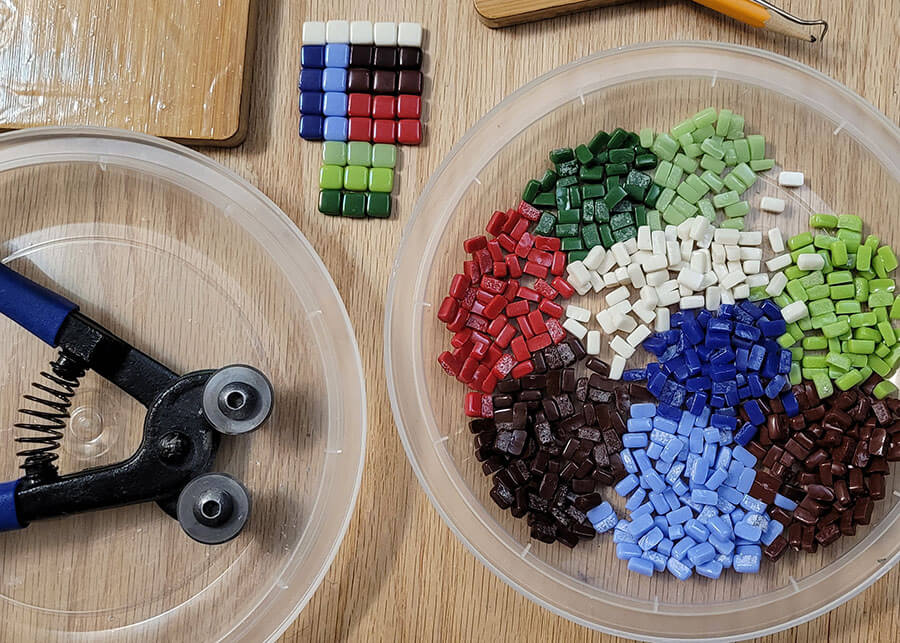 TIP: Don't use your Mosaic Glass Cutter to cut anything except glass. Using them to cut hard materials such as porcelain dulls the blades and ages the precision of the pliers pin.
Color Study
My color study for the heart mosaic was the grid of whole tiles placed next to each other in the picture above. The color study is needed to make sure the colors work together.
Complimentary colors from opposite sides of the color wheel work best. Also remember that you can get some good contrasts using light and dark also.
Recent Mosaics
Here are some mosaics I've made in the past few days using 8mm Morjo Recycled Glass Mosaic Tile. I used the new Square Bamboo Coasters as backers for all of these except the rooster.
I am liking these coasters as mosaic backers because they are thick enough to prevent warping, even a little bit, from what I experienced. They also have rounded corners.