Rolando Jose made a mosaic of his favorite cartoon character Doraemon using broken pieces of glazed ceramic tile obtained locally in Panama and our black 12mm recycled glass tile for outlining. Rolando Jose made a video of creating and installing the mosaic and used Doraemon's theme song for the soundtrack. Doraemon is a Japanese manga character.
The Birth of (Rolando Jose's) Doraemon
This mosaic seems to have been what I call a "passion project" for Dr. Rolando Jose Rodríguez De León, who is a media and communications professor specializing in animation at the University of Panama. Like many passion projects, Rolando Jose's results are impressive in spite of the lack of experience.
Passion Projects
"Passion project" is a term I use to describe one of these art projects where people have spent years or most of their lives thinking that one day they would finally make a mosaic mural or a sew a quilt or do some other big project in a medium of art they have never done before. Usually what happens is one day they can't put it off any longer, and suddenly they have started the project. For this reason, there usually isn't a lot of preliminary research beyond finding basic tools and methods, but any lack of knowledge is more than compensated by the artist's willingness to figure things out as they go along and experiment as needed.
Many times these new mosaic artists work without knowing all the basics or the most efficient ways of doing things, but they don't fret if things take much more time and effort than what they had originally anticipated, and they often work around difficulties and setbacks that would discourage a more experienced artist. Their passion for what they are doing bears them up and keeps them happily moving forward.
I love it when people email me pictures of their passion projects. It reaffirms my faith in the mosaic supply business and humanity in general!
Humidity Warps Plywood
Rolando Jose mounted his mosaic on a sheet of marine plywood so that it could be taken with them if they move. Hardiboard and concrete backer board are preferred outdoors and in wet locations. Humidity makes plywood warp and delaminate. If you do use plywood outdoors, use marine plywood and paint the back side and edges with three coats of exterior paint (oil-based preferred). Don't paint or seal the face of the plywood with anything except the same type glue you will be using because you want the tile attached directly to the backer. The finished grouted mosaic should be sealed with a tile and grout sealer from the building material store.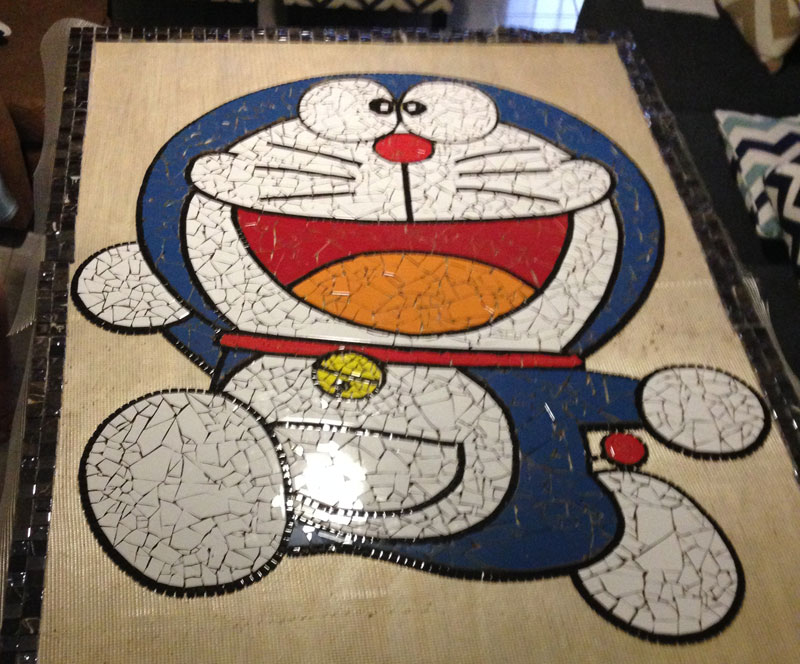 Should You Use Fiberglass Mesh?
Fiberglass mesh is used to lay up mosaic designs as sheets of tile in advance of the final installation. If you are mounting the mosaic on a panel or table top, then you can skip the mesh and glue the tiles directly on the panel or table top. To do that, you first need to transfer the pattern directly to the surface, and that isn't difficult. I wrote instructions for enlarging and transferring mosaic patterns using only a ruler.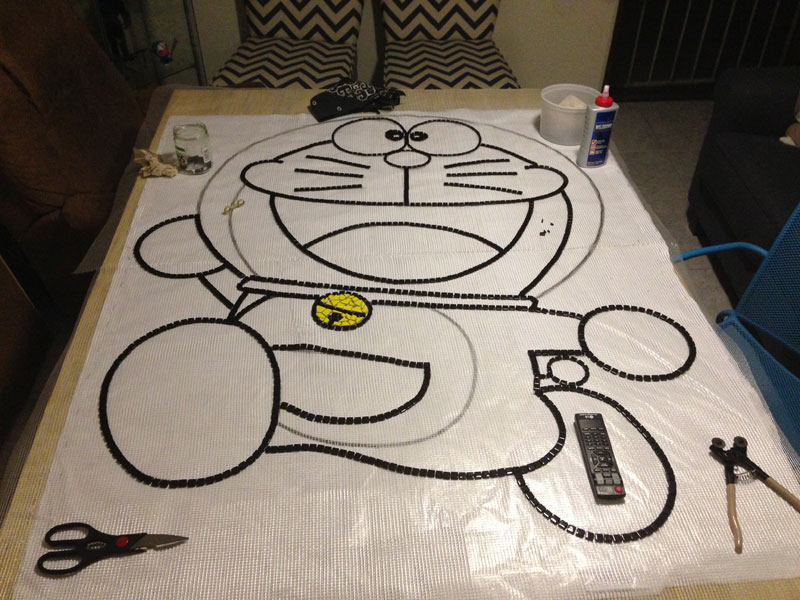 Rolando Jose laid his mosaic up on fiberglass mesh. To so this, he first taped his pattern to the work surface and covered it with clear plastic so that the mesh would not get glued to the pattern. Then it was just a process of outlining the image by gluing black tiles along the lines of his pattern and filing in the monochromatic color fields.
The Right Tools for the Job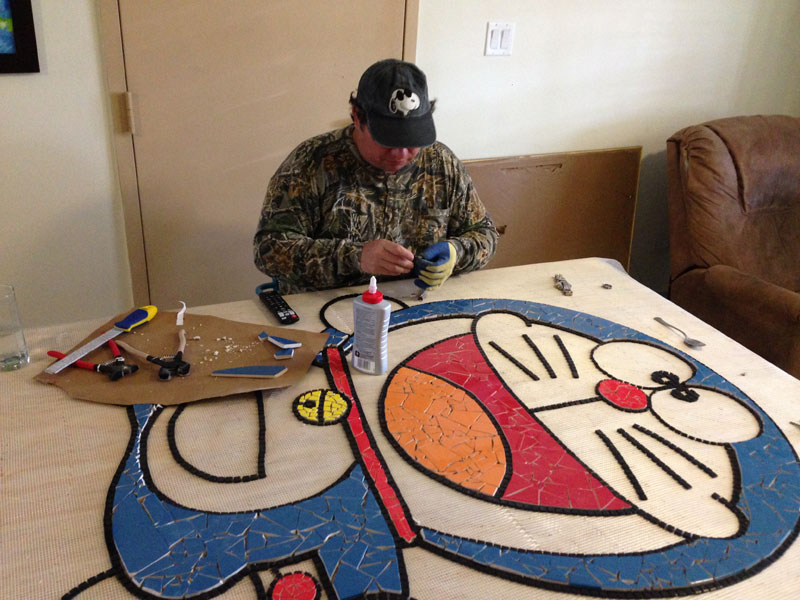 Grouting A Large Mosaic
We sell convenience-sized tubs of dry sanded grout for use in small indoor art projects. If you think you need more than one of these 2-pound containers, then you should be buying your grout at your local building material store. For large mosaics murals, you need to buy the 60-pound bags of grout. You can buy it much cheaper in these large bags, and you also save on shipping.
If your mural is large enough to require more than one large bag of grout, you should also consider buying a mixing paddle, the kind that fits in an electric drill. Even with a powered mixing paddle, it is still a lot of physical work to mix up that much grout.