Ceramic tile can be used for outdoor mosaic patio tables provided you live someplace warm year round, but otherwise glass tile should be used because it is impervious to moisture and freeze damage. There are other reasons to use glass tile explained later in this article.
Concrete Patio Table Set
Artist Naomi Haas recently completed a mosaic patio table set that included concrete benches, and I really liked it for several reasons. For starters, the table base and benches she had were sturdy and stable and appropriate for an outdoor mosaic (and not wood or rusted light-gauge metal or some of the other junk people email us about using).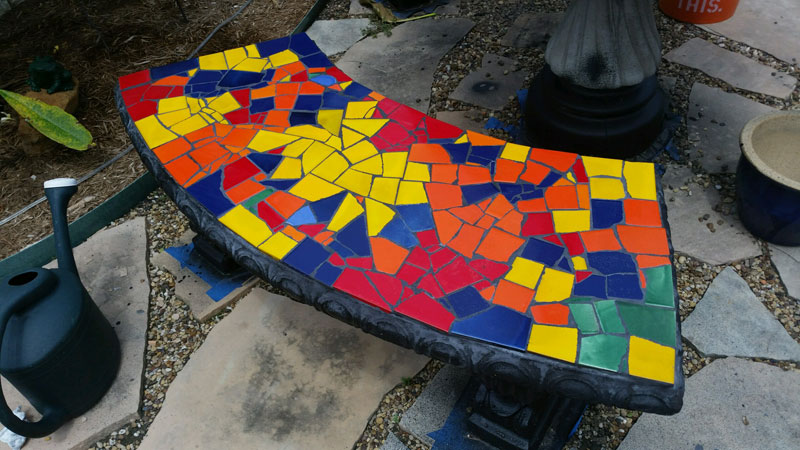 I also like the color scheme. Naomi colored the un-mosaiced surfaces black and used black grout to make the bright festive colors of the Mexican Talavera tile stand out. To make the concrete black, Naomi used a product called Flex Seal, but black spray paint could have been used. Another thing that draws me to this project is that Naomi made a different design for each bench instead of making them the same.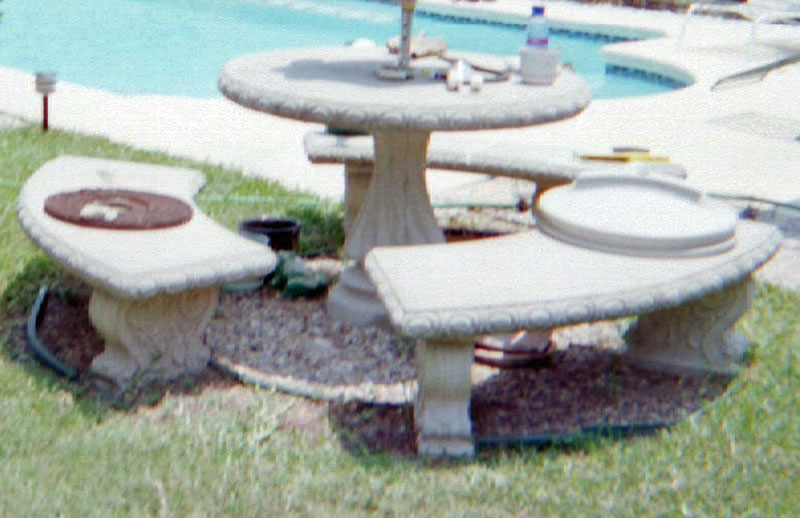 Scour Don't Seal
You don't want to seal a concrete surface before you mosaic on it because you want the thinset mortar to bond directly to the concrete. I recommend using a stiff wire brush (such as used for cleaning welds) to scour away any paint or invisible sealers of the surface to be mosaiced. Keep in mind that concrete sealers and grout sealers are invisible pore sealers, and so there may be something there even if you can't see it. You can test it with a few drops of water. If water beads on the surface like a waxed car, then you need to scour the surface. If the water soaks in, you are fine.
Of course, this only applies to the surface to be mosaiced. You do want the other surfaces to be sealed, but you can seal those at the same time as you seal the finished grouted mosaic.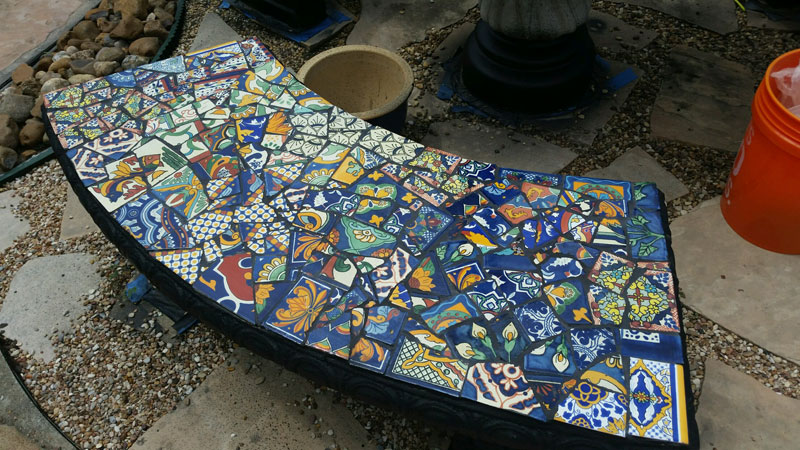 A Caveat About Talavera
Talavera is some of the softest glazed ceramic tile made, and so it is particularly vulnerable to freeze damage. Also, you should not let Talavera weather or crumble to pieces in a fashionable way like some people do. There are heavy metals in the pigments and glazes, and so you don't want to be adding these to your garden soil even if it is just a small amount.
All that being said, you can make some beautiful stuff with Talavera, and you can keep it safe and sealed. Naomi got her Talavera from a company called Tierra y Fuego in San Diego, but I have seen assortments sold on Amazon and eBay and other places.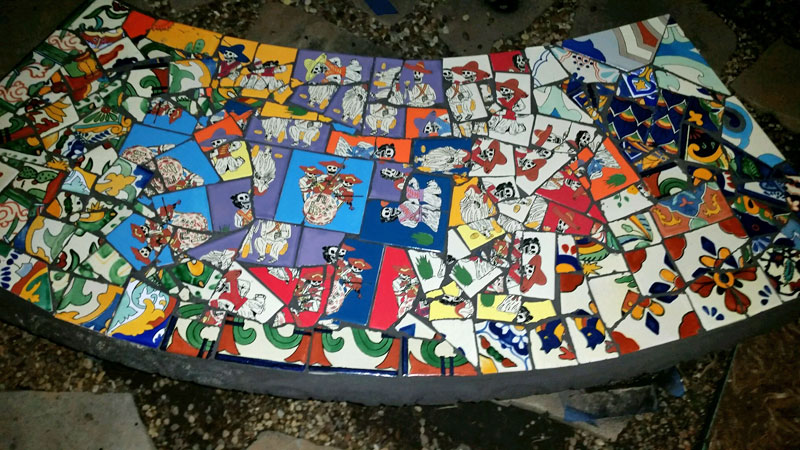 Reasons To Use Glass Tile
If you doubt what severe freezing can do to glazed ceramic tile, see my article Gaudi Mosaic Bench Freeze Damage. That same article also explains how to seal ceramic mosaics to prevent freeze damage. I recommend cleaning and reapplying tile and grout sealer each fall.
You should stick to one material or the other instead of using both because small glass mosaic tile is typically 1/8 inch thick, while glazed ceramic tile is usually 1/4 or 3/8 inch thick.  If you do want to mix glass with glazed ceramic, use the traditional hand-cut glass known as smalti, which is thicker than molded glass tile.
If you have a metal patio table, you really should use glass tile because it is much thinner and thus lighter. You can create a safety problem by making a table that is top heavy and prone to falling over.
Reasons to use glass tile for mosaic patio tables:
not vulnerable to freeze damage
thinner and lighter weight
economical
wide range of colors available
cuts easily for detailed designs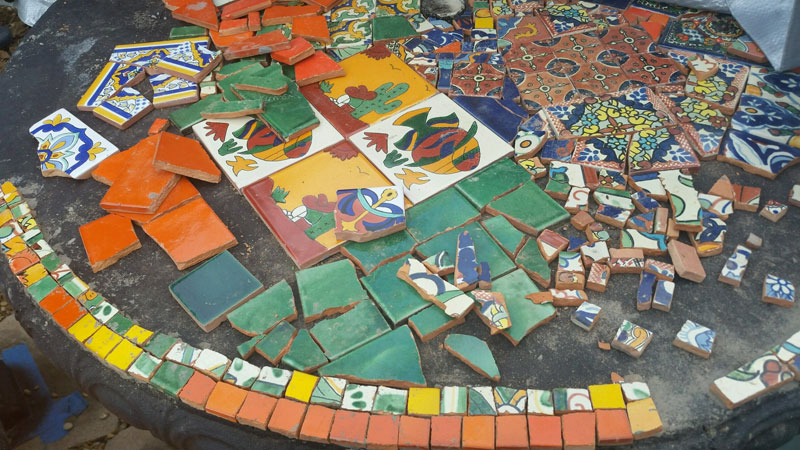 Use Thinset To Attach The Tile
Whether you use ceramic, stone, or glass tile for your mosaic patio table, you should use thinset mortar instead glues and adhesives.
Seal The Finished Mosaic
Tables and benches are horizontal surfaces that don't drain water very well. The mosaics won't last very long if they aren't sealed with multiple applications of a tile and grout sealer. A good practice is to clean and reseal the mosaic each fall.