The Four Seasons mosaic by Marc Chagall in Chicago was originally installed outdoors in the 1970s but has since had a glass canopy installed over the top to protect it from the elements.
Part of the reason for the canopy is Chicago's harsh freezing weather, which is hard on all mosaics, but another reason for the canopy is that Chagall painted additional details on top of the tile in places where his artist's eye saw that that something more was needed.
Everything (except being boring) might be legal in visual art, but in mosaic, not so much. When you are making something to withstand the elements or to function as an architectural surface, you really have no choice but to use best practices and standard methods and materials. Otherwise, the artwork won't last.
Environmental Costs
Things like grout and glass tile require a lot of fossil fuels and minerals to produce. The environmental costs are too high to squander these materials in a project that won't last more than a few years merely because it wasn't executed correctly.
That is why I don't answer technical questions in the typical touchy-feely way or fail to give people real feedback. I am all about art as self-expression, but if you propose inappropriate methods or materials for a project, I will tell you. You can't use cardboard or fabric as a backer for a tile mosaic. I simply grew up too poor and spent too many years working as an engineer to encourage that sort of waste.
Mixed-Media Artwork
What might not be appropriate for a mosaic exposed to the elements might be perfectly fine an indoor mosaic icon or piece of mixed-media artwork.
The key words are "might be." For example, tile cannot be glued to a canvas painting without the canvas sagging over time. BUT, you can paint of a plywood panel and glue tiles on top of that. Or you could laminate your canvas painting on a plywood panel and glue tiles on top of that.
Most "mosaic sins" can be accommodated merely by deciding that the mosaic should be an indoors and not a functional surface. For example, a mosaic table top might need to be grouted and level and free of sharp edges, but a mosaic icon in a frame can skirt all these requirements.
Deciding that your artwork is more mixed-media than mosaic opens more options, such as painting on top of tiles, adding plastic and other non-durable elements, etc.
Brooklyn's Mosaic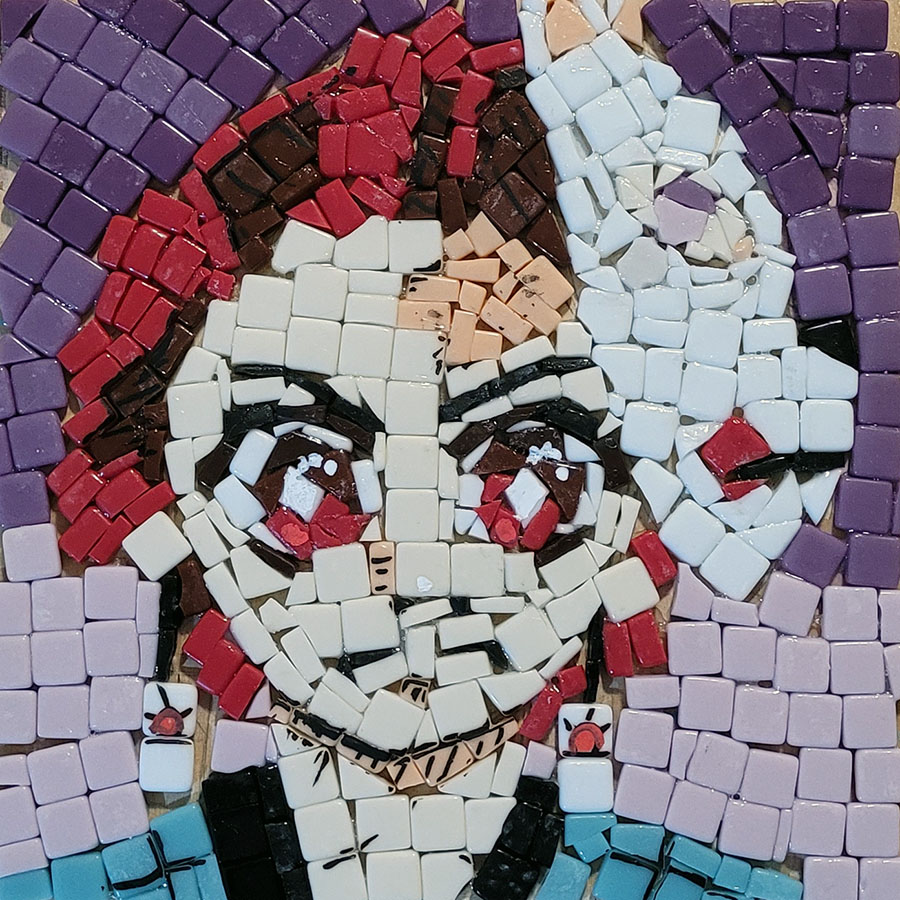 What got me thinking about all this was a first-time mosaic made by my friend's 14-year-old daughter Brooklyn. The mosaic is a reproduction of an image of Tanjiro, the protagonist of the Japanese manga series Demon Slayer: Kimetsu no Yaiba by Koyoharu Gotouge.
Brooklyn is a natural artist driven by visual concerns, and so it was perfectly reasonable for her to grab her paint pens when she decided the image needed additional details. Note the earrings and the black stitching and the white and red highlights on the eyes.
When I saw the finished mosaic, I explained to Brooklyn that she could have added some of this detail with tile and revised things as needed if she worked on a temporary surface such as sticky contact paper over a pattern and then picked the mosaic up with Mosaic Mounting Tape.
Laying up your mosaic on a temporary surface and then transferring it with Mounting Tape is so much easier and faster than gluing each tile individually. Being able to revise your mosaic before gluing it down is just an added bonus!