Artist Cherie Bosela has some mixed-media mosaic sculpture that you really should see, especially if you are considering making some of your own. Cherie's body of work is incredible, and it includes bas relief mosaics (flat panel with raised elements) and figurative sculpture encrusted with glass beads and found objects such as seashells.
I absolutely love her stuff and how well material choices resonate with the subject matter, specifically the use of beads to create insects and flowers. (The ancient Egyptian word(s) for jewelry translates literally as "artificial flowers and animals," if I remember correctly.)
Bas Relief Mosaic Sculpture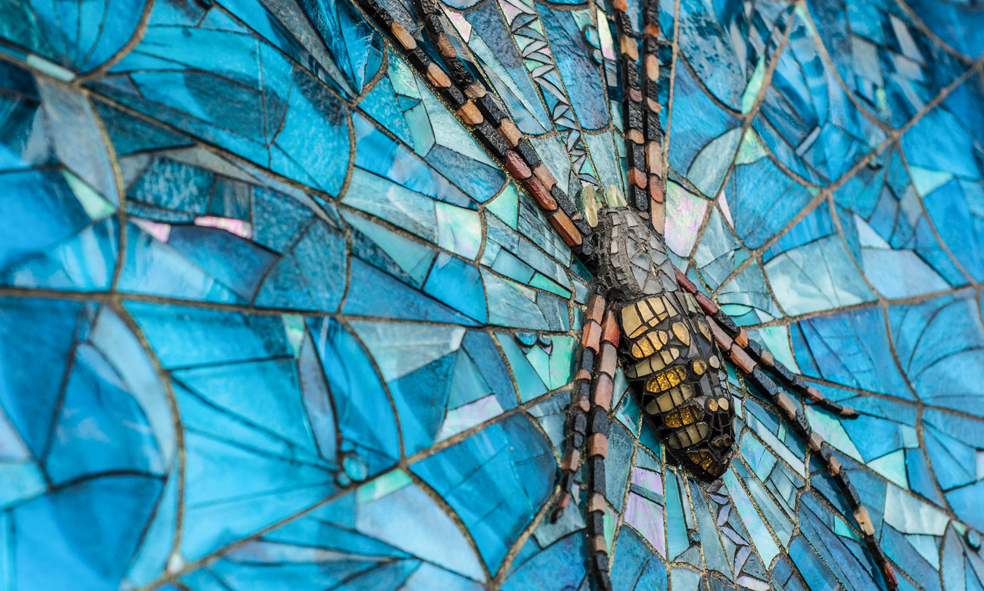 Notice how the garden spider's leg and body are raised above the flat surface of the mosaic, which makes the viewer want to reach out and touch it.
Note how the web is made interesting in every way possible: Cherie uses a great combination of curved and straight lines (created efficiently by the grout line), and she uses multiple related colors (15 in all) instead of one monolithic color field. Attention to mosaic backgrounds often makes the difference between a mediocre mosaic and a great mosaic.
Glass Beads For Visual Interest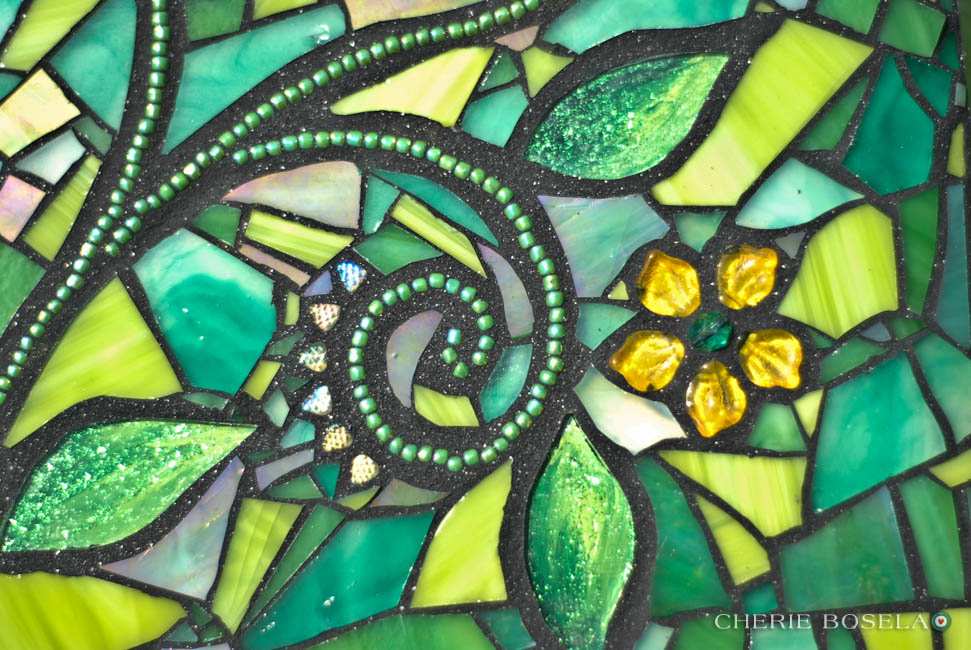 The photo above is a detail shot of mosaic covered chair of the straight-back type. Glass beads are not only a convenient material for creating long thin elements (such as the tendril of a vine), but they also increase visual interest by adding textural contrast to the flat tile.
TIP: Notice how the background above is not a monolithic color field but is instead a mixed field of related colors. Think about how simple and uninteresting this design would be had Cherie used a background of one color.
Since Cherie used a variegated background made of the same colors as the vegetation in the foreground, the use of a different material (such as beads) was critical for making the foreground stand out from the background.
Day Of The Dead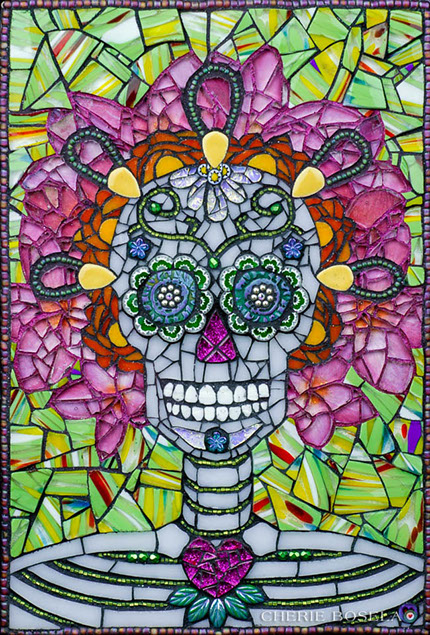 The more you look at the Lolo Day of the Dead mosaic, the more different types of materials you notice. In addition to beads and millefiori of different types, there are different types of glass tile and stained glass and what appears to be fused glass made in a kiln.
[Cherie tells me that the striped green pieces that I thought was fused glass is actually the remains of a blown glass cup that was dropped and broken. Think about how much free material that one cup provided and how much money and material would have been required to make those same pieces by fusing.]
Love Is In The Air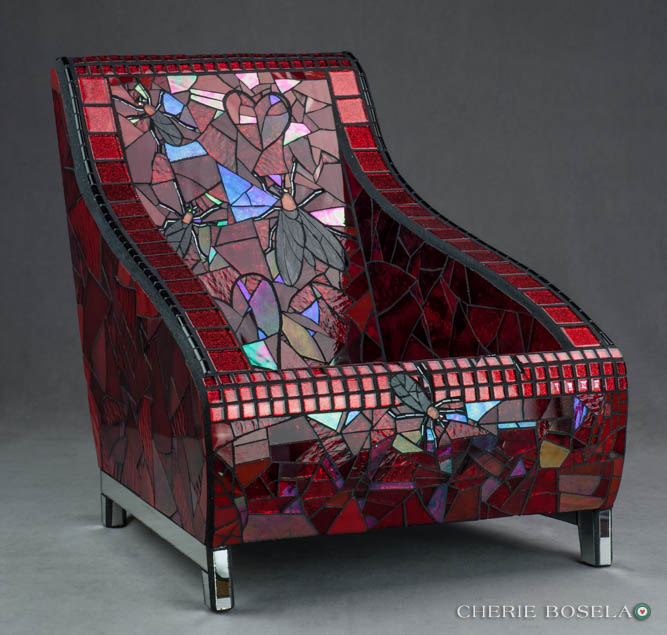 Cherie tells me the chair above is not a mosaic covered piece of furniture but is instead a miniature she made modeled after her favorite chair.
Shell Cross: A Teaching Example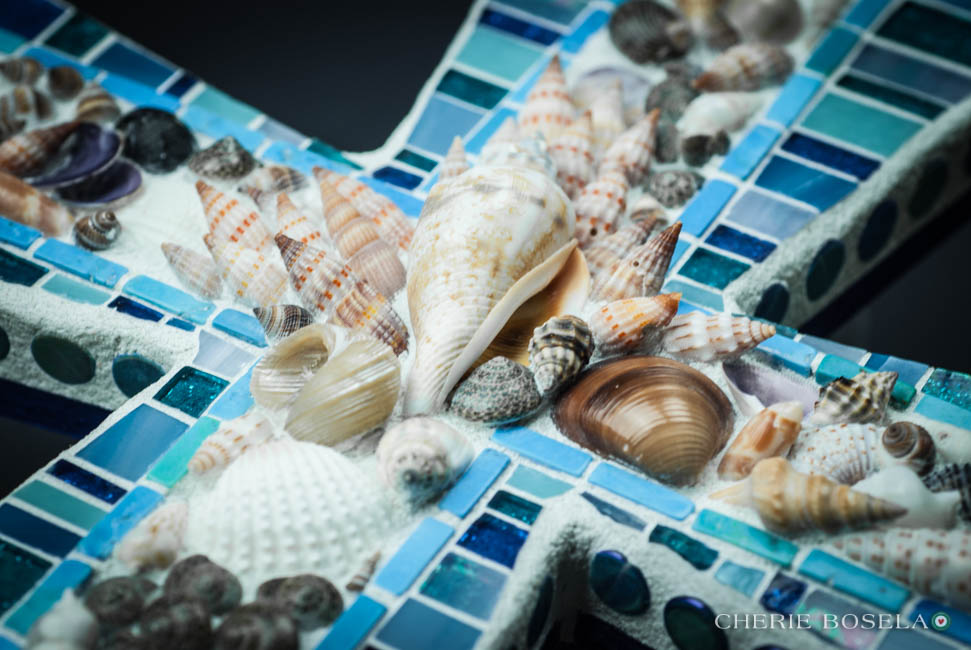 This is a good teaching example of how to use found objects in thinset mortar and maintain some degree  of consistency in grout gap size with other regions of rectangular tile
Dry Indoor mosaics are not required to have a grout gap. You can put the tile so close together that they touch. However, if you will be using irregularly shaped objects and round objects in part of the mosaic, that part of the mosaic will have an irregular grout gap (which is most likely filed with mortar that the objects were pressed into).
Other parts of the mosaic that are tiled with regular tile look better to me if they have a grout gap too. The result is that it all looks like pieces pressed into wet concrete instead of only certain areas looking like pieces pressed into wet concrete.
Note: Cherie says that she didn't use thinset mortar for this piece. Instead, she made an analog of thinset by adding Weldbond to traditional grout. I'm not sure how well this version of mortar would last in an outdoor or wet location, but I'm certain it would make a tough and durable "mortar" for dry indoor mosaics, and you would handle and apply it in the same way as mortar.
How To Make Mosaic Sculpture
If you would like to make your own mosaic sculpture, make sure you read my comprehensive page of instructions for using thinset mortar, which includes specific recommendations and tips for using mortar with found objects.