Frederic Lecut's "Opus Pixellatum" Mosaic Class was a lot of fun, and I think the mosaics were very successful, especially with the improvised tweaking and colorization that students did in phase two of the process. In the photo above, instructor Frederic Lecut kneels in front of the class.
When people are in position at the end of the video, here is who you are looking at from left to right:
Robbintina Harrison holding her adorable granddaughter's portrait.
Joanne Remppel holding her rescue dog's portrait.
Kate Carroll holding her friend Martha Barton's portrait.
Daniel Adams holding his self portrait.
Amy Galbavy holding her self portrait.
Apryl Howard holding her self portrait.
Daniel Baxley holding his self portrait.
Stephanie Cosenza holding her son Danny's portrait.
Sandra Atherton holding her self portrait.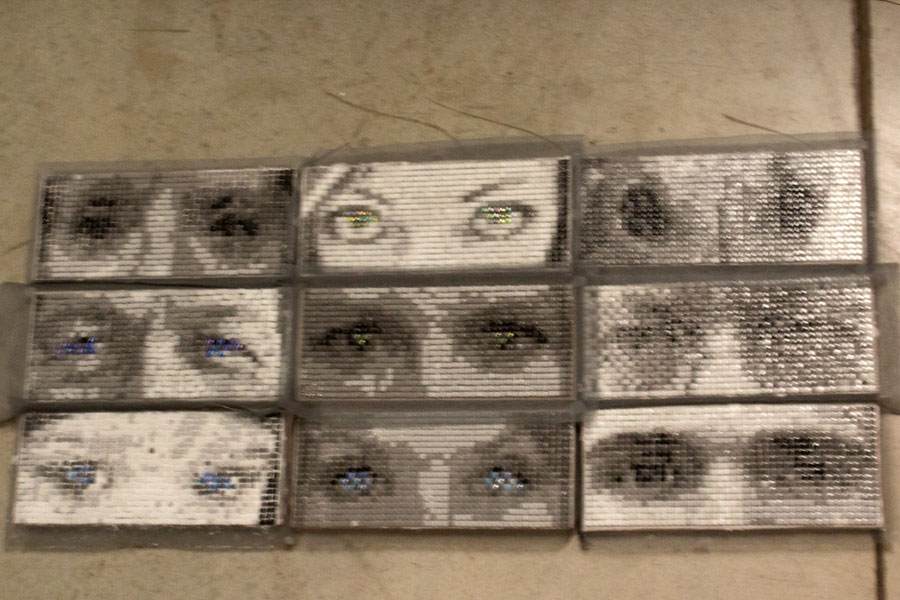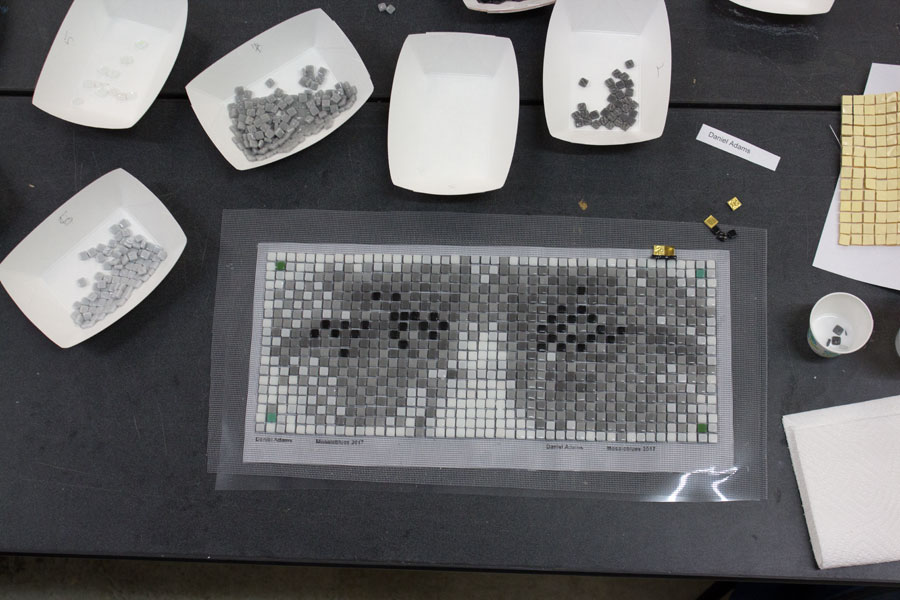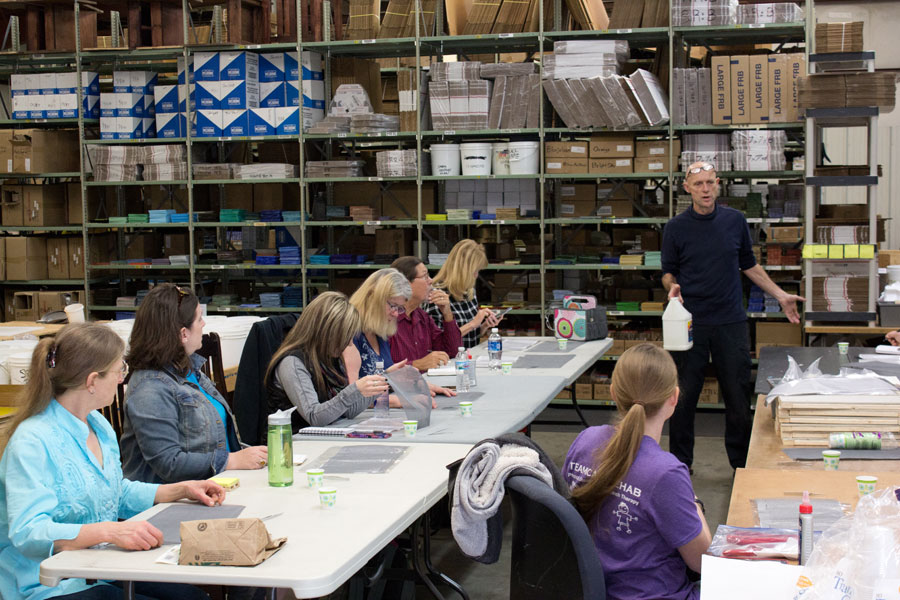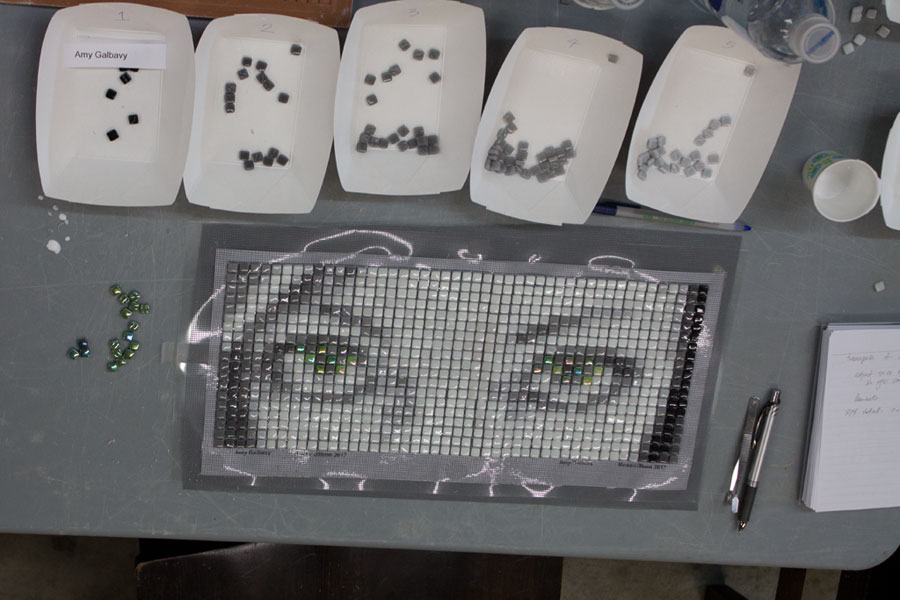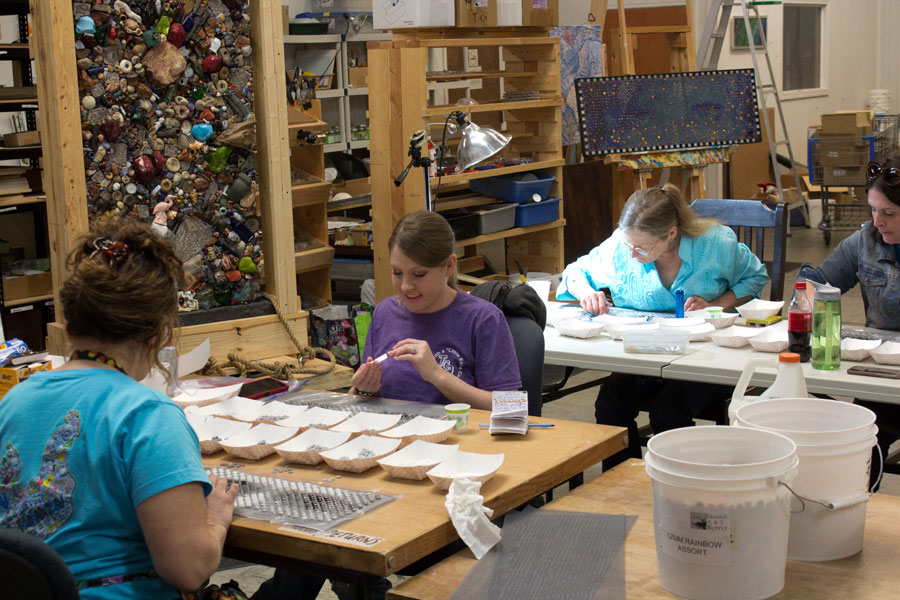 Value Maps As Mosaic Patterns
In this video, Artist Frederic Lecut talks about using photo editing software to make a value map of an image, and how the process is more complex when colors are represented. I think that is because Frederic is talking about creating zones of different value in each color (i.e. three different tints of the same color) for a naturalistic image where colors exhibit shading (like real life).
Mosaics As Limited Color Palettes
I am thinking about color and value in a different way. Instead of trying to model the shading of each color, I would use colors to represent value. In other worlds, instead of a gray scale image of white, black, and 5 shades of gray, I would pick 7 different colors to represent the 7 different values of the gray scale. That is what Roman artists had to do in order to render images using 7 or 8 different colors of stone. The Roman mosaics were also more stylized, but I'm thinking you could use the same color palette but use it in an impressionistic way like Frederic's value maps.
The person Frederic is talking to in the video is printmaker and muralist Daniel Adams, who is a professor of Art and Design at Harding University. The class was an interesting group with a range of skill levels, and the discussions were good, at least the ones I caught when I wasn't being anxious about logistics or hosting. 😉