A common mistake made in first mosaics is a variation in the width in gaps between the tiles which results in the details of some areas being "lost" in concrete once the mosaic is grouted. The problem is a little sneaky because it isn't visible until the mosaic is actually grouted, and so an artist can be experienced in other media and still get caught by this. In my opinion, it is one of the most subtle points in the mosaic learning curve.
Consider the detail in the photograph below: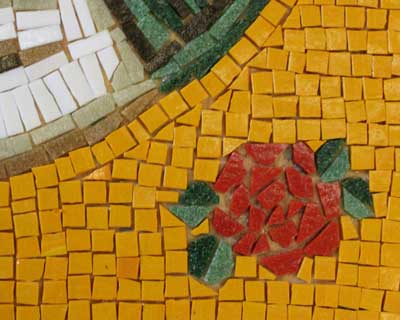 The artist wishes to depict the angularity and variability in the shapes of the rose petals, and has done good job in doing so. However, some of the gaps between the petals are almost as wide as the tiles. This means two things in terms of how the mosaic will look once grouted:
The rose will not be as colorful because once the gaps are filled with concrete, about 50% of the surface area of the rose will be dull concrete at the same height as the red glass and just as visible. Gaps don't look nearly as wide when unfilled. That is the crux of how the problem sneaks up on experienced artists.
The rose will look conspicuously different from the tiling around it because it will be the only place where the surface area contains so much concrete.
The good news is that the problem is easily fixed. I have written an article about how to remove and replace glass mosaic tile to change a design before grouting.
Another relevant point is the importance of displaying and studying your mosaic before you grout it.