Artist Sherri Grasmuck created a mosaic facade of Guatemalan women on her house in Philadelphia that is the perfect case study for choosing a grout color.
Previously Sherri had installed a mosaic of a Haitian-Dominican woman on a different house, and she noticed that the mosaic did not look as intense or as vibrant after grouting, and she wanted to make sure that the same thing did not happen on her next mosaic. For this reason, she was considering using extreme colors such as charcoal black or perhaps different colors of grout in different areas for her mosaic of Guatemalan women.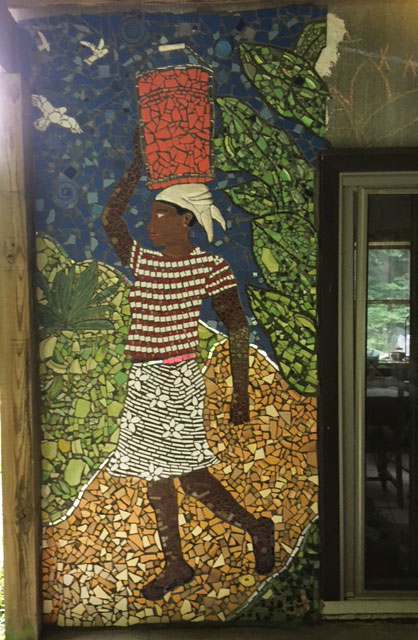 Why Less Intense After Grouting?
Sometimes the decrease in intensity after grouting is due to inadequate hazing, and it is simply a matter of more cleaning is needed, but that was not the case in this situation.
Mosaic will sometimes look less intense after grouting because there is suddenly dull concrete at the same level as the colorful tiles, and this problem is particularly acute when the grout gaps are wide. As a general rule, mosaics with thin grout gaps are impacted less by grouting for the simple reason that there less grout per unit surface area.
TIP: To minimize the visual impact of grouting, make sure that your grout gap isn't too wide when you mount the tile. The standard grout gap for 3/4-inch tile is 1/16 inch, which is about 8% the width of the tile. That means you should probably use a grout gap that is about 5% of
The Ungrouted Mosaic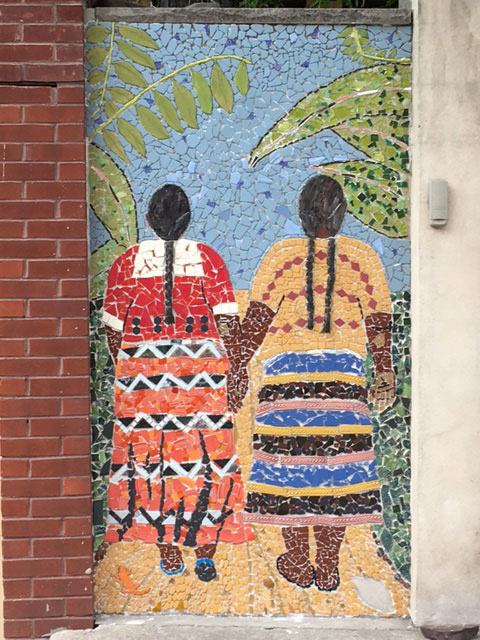 Here is my response when Sherri emailed me for advice:
The mosaic still to be grouted will be impacted visually by the grout in the same way as the first mosaic because the grout gaps are similar. Right now, the mosaic has off-white showing through the gaps, and so one way to minimize any change would be to use an off-white grout, or at least it would seem. From my experience, it is still a matter of suddenly having concrete at the same level as the surface of the tiles, and concrete isn't as colorful.
If this mosaic is installed in the same place as the first mosaic (where they were both visible at the same time or close together), my choice of grout color would be driven by continuity, and I would use the same or similar color. I think a darker gray or charcoal would be more in keeping with the first mosaic, while an off-white would look drastically different.
[This latter concern turned out not to be relevant because the mosaics were not installed side by side, but if they were, the continuity would have been the deciding factor in my opinion.]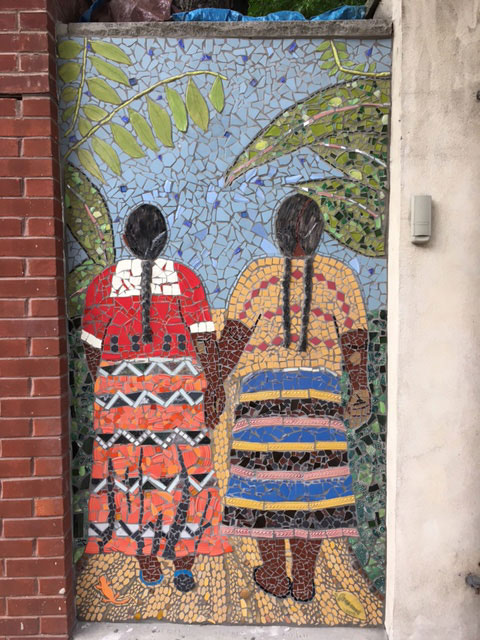 Why A Medium Gray Worked Best
The medium gray contrasts enough with tiles of the sky blue so that they still look like individual tiles, and that area was the most problematic as far as potentially not having enough contrast with a gray grout. If Sherri had used a dark gray or charcoal, the grout line might have been too severe and made the sky background too busy visually.
From my experience with my own work and with customer projects, I think of grouting in terms of not screwing up instead of enhancing with some intense choice of color (which usually backfires), and so I believe Sherri made the best possible choice.
TIP: Think of grout colors in terms of not detracting from the colors of the mosaic instead of being an opportunity to add color to a mosaic. If this seems unartistic or uninspired, then come help us answer panicky emails from people who are upset over their ambitious choice of grout color. The word "ruined" is commonly used in these emails.