Choosing a grout color is more of a situation where you want to avoid making a mistake that causes the tile to look wrong than it is an opportunity to tie in the room's color scheme by selecting some optimal color.
A Case Study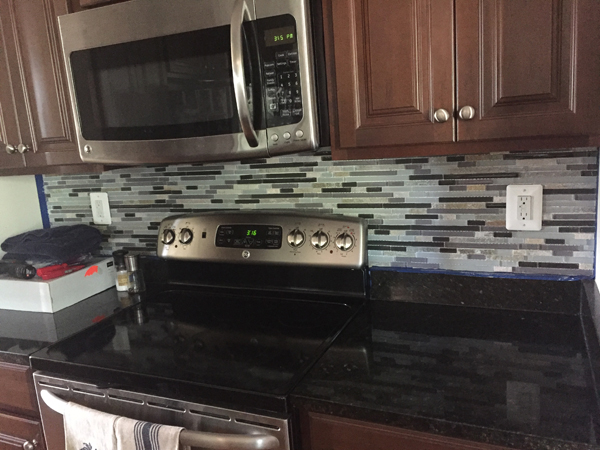 Recently a customer emailed us the photo above and asked for advice on how to match the grout color to the room's color scheme, which includes rich gunstock brown cabinets and paint that is pale green or taupe and a black counter top. The mosaic backsplash itself is made from long gray and black tile in varying lengths.
Choosing By A Process of Elimination
Grout colors should always contrast tile colors enough so that each tile is visually distinct. If you were to use a gray grout on this mosaic, the gray tiles wouldn't stand out as individual tiles. If you used black grout, you would would have the same problem with the black tiles. Since the mosaic is a gray and black color element, a white grout of some shade makes sense. A pure white grout is likely to be too bright, and so an off-white grout that is more or less the same color as the exposed backer between the tiles would be a safe choice.
Too Clever for Your Own Good?
What if you still thought that you needed to tie in the grout color to the room's color scheme? Then you might consider using some sort of terracotta or brown grout in either a light or dark shade. The problem with that approach is that there are many different hues of gray, and not all of these will look good with a particular brown, even if that brown is optimal for the room.
If you are bent on using some sort of brown or other color for a black-white-gray backsplash such as this, then make sure you take some of the tile with you to the building material store and actually hold the tile up to the grout swatch. That way you can see if the hues look odd together. Avoiding that mistake is much more important than trying to match the other colors in the room.
How You Know This Is Good Advice
Notice how the counter top is black, and the stove and microwave oven are black and silver in color. They don't have any brown or taupe color elements, but they are perfectly at home in the room's color scheme. Similarly, the mosaic backspash is a black-white-gray color element that needs nothing extra to tie it in.