The following picture of 24kt Gold Leaf Mosaic Glass Tiles mixed with Faceted Glass Jewels is the best evidence I can point to for our renewed commitment to finding exciting new products for use in mosaic artwork: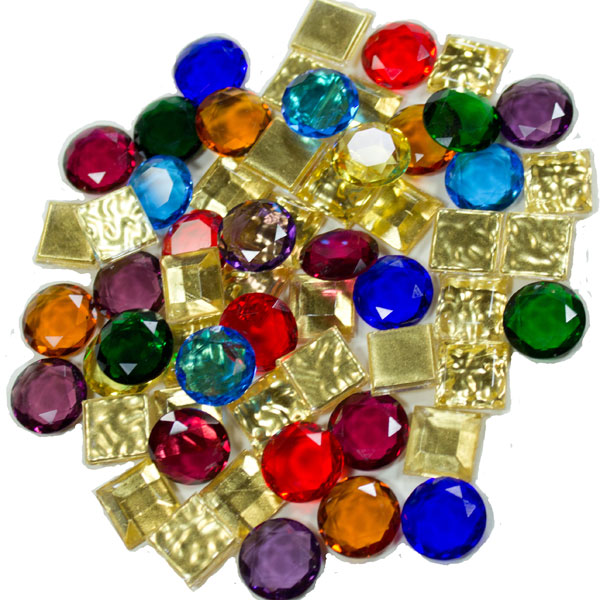 Ancient Treasures
This stuff is pure treasure. It is hard to look at it without thinking of old kings and dragons and pirates and chests and treasures hidden in the earth. The look and feel is that of a jewel-encrusted relic like a Byzantine crown or a medieval book cover or an icon looted by Vikings.
I can't wait to see the great pictures of customer art that are sure to come in!
Architecture Quality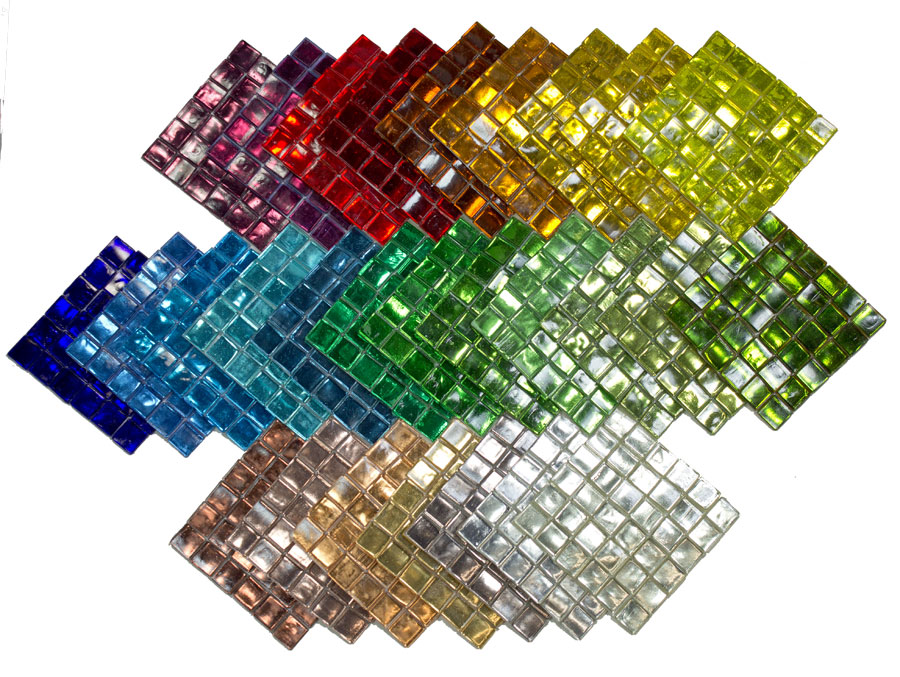 Our new Colored Glass Mirror Tile is architectural quality because it is colored glass (for non metallic colors), and it has silver bonded onto the bottom of the glass. The manufactured certifies these for indoor use in mosaics not subjected to chlorine or sulfur. You can cut these into small pieces because the silver does NOT fall off when nipped by a Mosaic Glass Cutter.
What's Wrong With Competitor's Mirror Tile
The metal plates on the bottoms of the cheap crafting mirror tiles sold by our competitors falls off the glass when you cut them. There is another type of cheap colored mirror tile on the market, the type cut by hand from colored mirror stock, but they are no better. The thin silver on the back of these is the same as ordinary mirror stock, and so those products require special mirror adhesive to avoid oxidation, and the glass is probably clear with a thin layer of plastic color.
Good Old Blue and Gold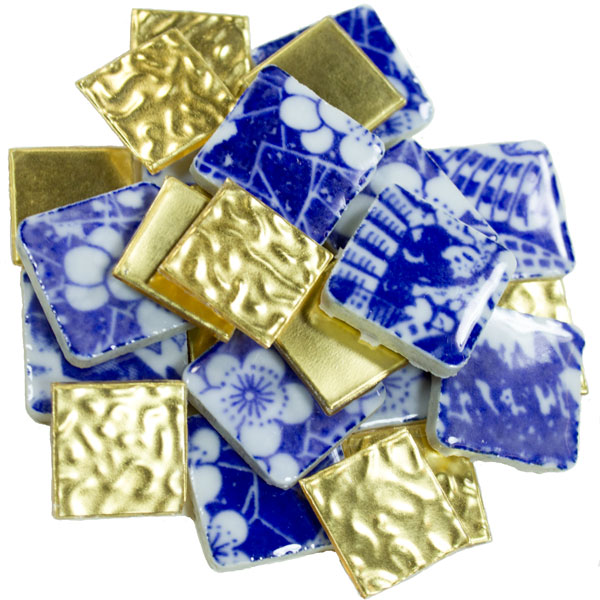 This blue and gold color scheme is the cover of a 1970's Book of Mormon and the blue and gold of my high school mascot all in one. I want to use these to do some mosaic-encrusted mosaic chairs or cabinets that blends traditional pique assiette (china dinnerware mosaic) with veins of gold and other gold elements.
The Emotional Significance of These Beautiful Things
I was not able to focus on my mosaic supply business for about two years because I had several family members pass away in rapid succession. Of course I kept the business operating, but I could barely keep up with the day-to-day tasks of my employees because all my time was taken up by estate issues. I had no time to find and add new products or even pay attention to what was was going on with my competitors and their products.
When I finally got my head back above water, I started looking around the Internet at online mosaic retailers, and was angered by what I saw. I felt like unscrupulous people had been kicking me while I was down:
Competitor's Cheapo Crap
To the west, I saw that I had a competitor selling cheap clear glass that is colored with thin coatings that scratch easily and age quickly and terribly. Would I have to introduce a cheapo product line of my own just to stay competitive? The angriest emails I received in over 13 years of business came from people who used poorly-made tiles like that, and so I couldn't even consider selling them as a budget or cut-rate product. (No coincidence that this is the competitor that now sells their brand at Mallfart.)
Rape o' the Sea Tile
To the east, I saw that I had another competitor selling natural mother-of-pearl tiles produced in Asia, where the sea is not harvested but instead is strip mined in the most unsustainable way possible, nothing less than environmental rape. Why would anyone with even the least amount of social or environmental awareness use that in their art?
That competitor is also selling powdered metal-oxide paint pigments for tinting grout, which is one of the last things I would want to sell to the general public or send in the mail as far as the potential for health hazards and lawsuits from improper handling. I was so shocked by what all the cheap questionable products and what they might do to our share of the market, that I even considered selling these powdered pigments for a while before coming to my senses.
But here is the worst of it:
Pretending to Be Mosaic Art Supply
Not content to ruin their own business reputations, these and other competitors had started taking out paid advertisements in Google that used "Mosaic art supply" in the headline of their ads. This was obviously a deliberate attempt to create confusion between brands and fool unwary shoppers into thinking they were at the right website. If these ads weren't an attempt at deception, they would have used a more searched for phrase like "mosaic tile" or perhaps their own business name.
Delayed by Website Work
My competitors' unethical practices made the need to find new and exciting products more urgent than it already was, but when I finally found time to focus on Mosaic Art Supply, I learned that the work most urgently needed was to rebuild the website in a new type of software that was mobile-ready. The rebuild was a large project that would take at least 6 months of intense work, but it was absolutely necessary to avoid losing rank in the coming Google updates. Our content and product names were way out of date too, and so it would require rewriting at the same time.
Even if I wanted to throw a lot of money I didn't have at the problem, no web developer could write the content that I could, not after 13 years of consulting on hundreds of public mosaic art projects and answering a gazillion customer emails about projects and products and what confuses them on the website. Either I would have to talk with the developers so much that I might as well do it myself, or leave them alone and then be furious at how wrong their "expert" decisions were. I couldn't get out of the website work even if I wanted to burn money. Yuck.
Finally Fighting Back
The website update delayed me in finding new products for a few months, and then there were the two months required for the goods to be delivered by sea freight, but when the first wave of new products arrived, I knew I was finally fighting back. The knock-out looks and the quality of the products I had found make me feel confident, downright righteous even!
Tell Gog and Magog that my house is set against them…