Artist Frederic Lecut's "Pan's Head" mosaic has a style that matches its theme, and it is a great example of using classical elements in a contemporary mosaic.
The face of the "goat-footed god of Attica" or Pan is the subject of Lecut's mosaic, and consequently the artist incorporates several aspects of ancient Greek mosaic in his design.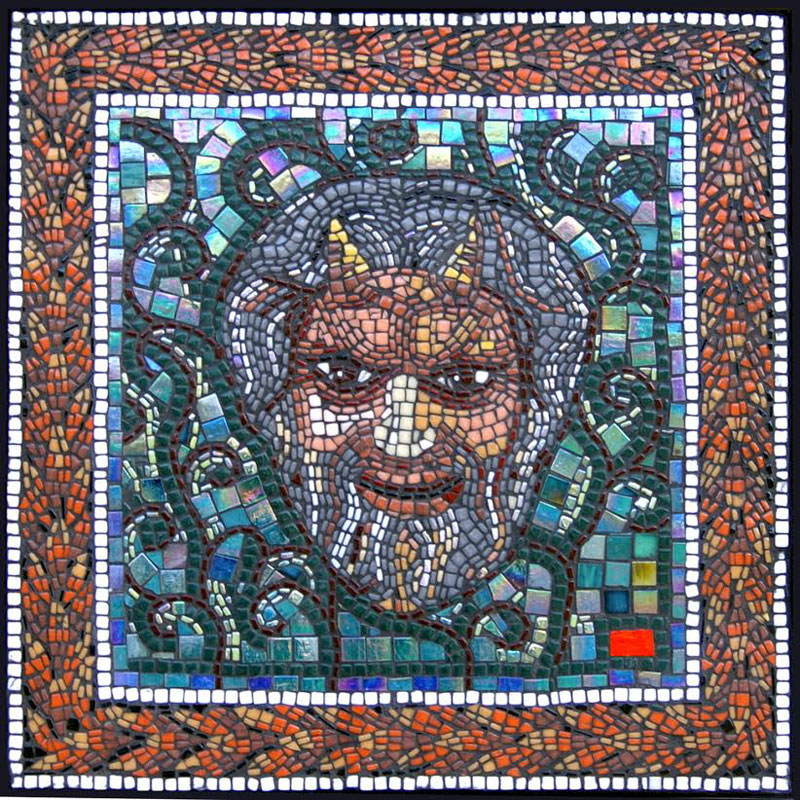 Using Tiles Set on Edge for a Pebble Mosaic Effect
The first Greek mosaics were pebble mosaic, and more often than not, the flat rounded river pebbles used in these mosaics were wedged in sideways instead of being laid flat, which made it difficult for stones to be dislodged, and so it produced a stronger surface. Lecut simulates pebble mosaic by cutting molded tile in half and mounting them on edge. Look at the gray and white areas of the beard to see what I mean, and much of the border was also executed "pebble style."
Greek Mosaics Included "Frames"
Most ancient Greek floor mosaics included built in "frames" that were part of the mosaic design. These frames had repeating patterns in them such as floral motifs and the well-known Greek key.
Lecut's frame is a filigree border outlined with single rows of rustic white tiles and is very much in keeping with the style of classical mosaic.
In my opinion, the slightly shaky alignment of the single row of irregular white tiles may be THE crucial feature in this work for evoking the look and feel of an ancient Greek mosaic, but I also like the fact that the rest of the mosaic is NOT executed in the same way. This mosaic is about sampling elements of classical mosaic to create an original work of art, not attempting to reproduce a particular mosaic.
Backgrounds Make or Break Mosaics
Backgrounds should never be thought of as space to be filled. Why would you carefully render a figure with curving rows of tiles and other interesting shapes only to surround it with a plain gridded background or one that was monochrome or otherwise boring? If you are tired of working on your mosaic, take a break. Don't kill whatever spark your project had by rushing it to completion. Take time to think about the background and how it works with the figures in the foreground.
Tendrils
Pan is an ancient god, a deification of the powers of nature. What could evoke that better than writhing tendrils of vegetation? The background of Lecut's "Pan's Head" mosaic is not only visually interesting, it is also relevant to the theme of the work.
Other Work
If you would like to see more mosaic by artist Frederic Lecut, make sure you check out his mosaic eye portraits.
Materials
Most of this mosaic is executed in 8mm recycled glass tile that we sell, but Frederic says he also brought back some glass tile and ceramic materials from France.