The new SPARDUSTER™ Small Parts Dust Remover looks like a simple vacuum attachment, but it is actually nothing less than a revolution in studio and workshop cleanup. With this simple tool, cleaning up a work surface covered in mosaic tile goes from 45 minutes of tedious sorting to a few minutes of casual effort. You can remove the glass dust from all your storage jars in a matter of a few seconds per jar –without sucking up and loosing any pieces.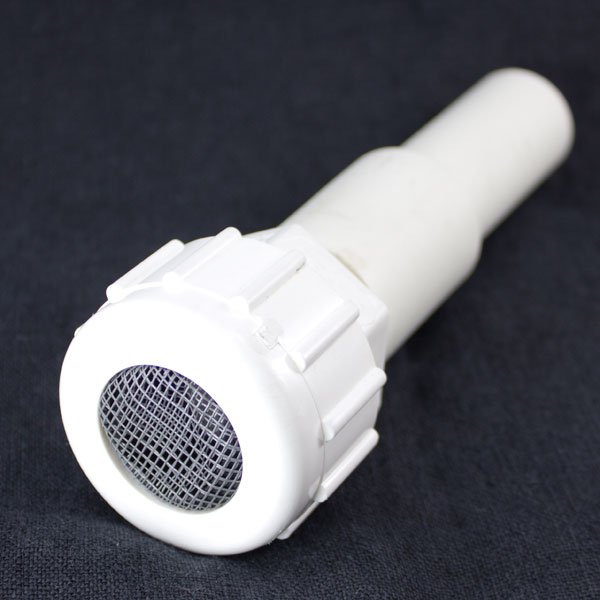 SPARDUSTER™ Small Parts Dust Remover Vacuum Attachment
I had to clean up a room full of Legos and kept putting it off because it would take hours and hours to wash all the cat hair and dust out of it. I created a small prototype that eventually became the SPARDUSTER™, and with that simple tool, I was able to clean all of those boxes and boxes of Legos in less than 30 minutes and did not suck up a single piece!
Fits Most Vacuum Cleaners
This attachment works on household vacuum cleaners and shop vac with hoses 2 inches in diameter or less. The only restriction is that the attachment's 1-inch diameter insert tube must be able to fit inside the hose.
For Tiny Parts
The openings in the mesh screen are 2mm, and the mesh is double ply, so you can clean some very small parts with this.
You can also pick up spilled containers of beads and screws and similar items quickly with this attachments.
Durable Construction / Replaceable Screen
These are made from heavy duty PVC plastic for long life. The fiberglass mesh screen is replaceable, and the unit ships with enough spare mesh to make 10 screens.
Simple Cleaning
Pet hair and lint will accumulate on the screen. To clean it off, simply pull the attachment out of your vacuum hose and vacuum it off. You will be surprised how quickly the filth builds up. The good news is that this attachment will have you living and working a lot cleaner because it takes so much of the tedious labor out of cleaning up after a studio session.
I still can't figure out how managed to work in my mosaic studio without it. This simple attachment makes clean up so much easier!