Recently Doug Harris of Elementile sent me some photos of a mosaic rendering of Vincent Van Gogh's 1889 self-portrait, and it is definitely worth seeing. I think some of the best examples of how to use adamento in mosaic to convey a sense of motion are actually demonstrated in Van Gogh's painting, and this self-portrait was a natural choice for mosaic interpretation. I have a photo of the painting at the end of this article.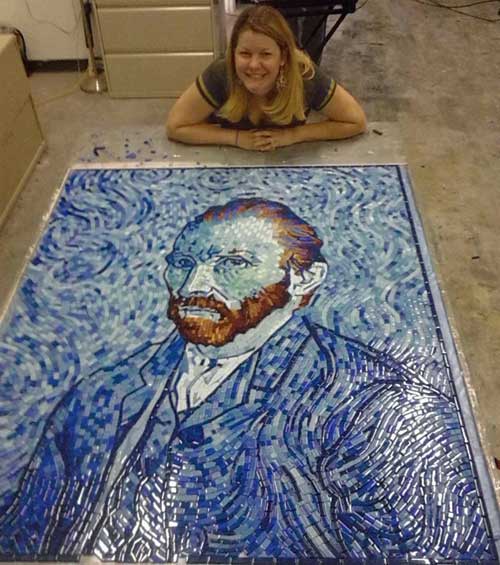 Note how more than one hue of blue are used in the same field of color: Phthalo blues (cyans) and ultramarine blues (French blues) in multiple shades are combined in differing proportions to render both the clothing and the background. Notice how well the reddish and yellowish browns of the beard work together to create the image of a Dutchman's red hair and how well these colors contrast the blues.
Color Contrasts And Color Mood
Van Gogh's original oil painting on which this mosaic is based made use of more complex and subtle color fields (after all, he was working in oil paint not glass tile), but I think Carly's choice to use more blues and more intense blues was a stroke of genius. The blues make a more striking contrast with the beard than the colors of the original painting, and the emphasis on blue is so in keeping with Van Gogh's work as a whole and his mood and how we think of the artist. I am thinking of both the lonely genius who painted "Starry Night" and the painting itself.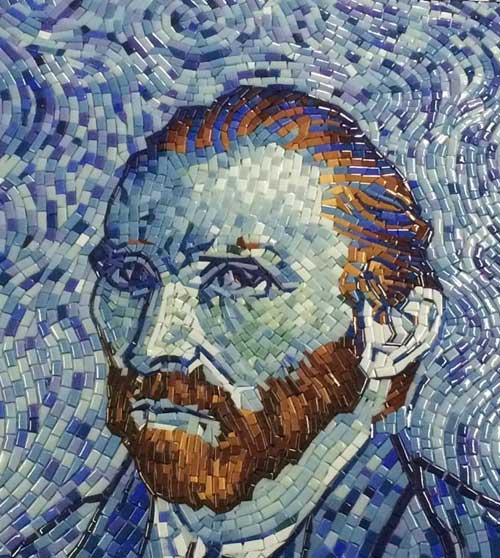 Art Happens
The last picture Doug Harris sent me was of the work in progress, and it is my favorite because to me it says a lot about how art happens, at least for most people, including many of the great masters.
Whenever I see advertisements for art retreats and classes in places like Big Sur and Sienna, I am enticed by the idea of going to these picturesque places, but I am also perplexed by the idea of having studio sessions there. I don't think I could spend any length of time focusing on art while I was in a place of such natural beauty unless I had at least several weeks there. Instead, I would be hiking and exploring with what little time I had available, and I would probably be too busy even to take photos. Keep in mind that someone like me has to check out the local geology, the creeks, the fossils, the artifacts, the indigenous plant life, signs of old home sites, signs of how the land has changed over the years, etc.
Not only that, my mind is already overflowing with creative ideas that I don't have enough time to pursue. Do people really have to go to some place with over-the-top natural beauty to be inspired to create? For me, it is sometimes difficult to walk outside and check the mail and not spend the rest of the day thinking about landscape painting, especially if there are low rolling gray clouds and yellow leaves shivering in the tops of the poplars.
I like Doug's photo of such great art being made in a crowded busy warehouse because that is where and how most of my art was made in the past decade or so, and before that it was usually on the floor or dining room table of where ever I was living, even in tiny apartments and hotels during business travel. Some people have to create. It is a need, and they will pursue it where ever and how ever they have to. No trips to Sienna or Rome are required.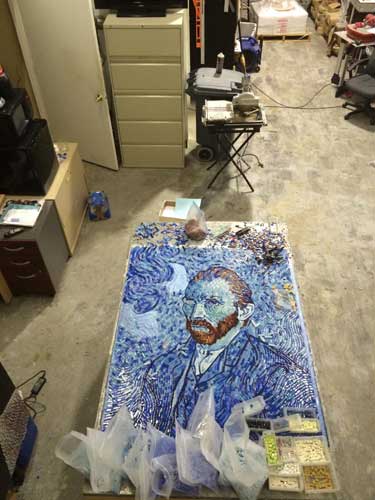 Best Mosaic Artist: Vincent Van Gogh
To my knowledge, Vincent Van Gogh never made a mosaic, but I think many of his paintings offer great examples of how to use andamento in mosaic to create a sense of motion and add more visual interest to the artwork. Notice how Van Gogh uses flowing brushstrokes of different colors to build the folds of fabric in the artist's clothing and how this same technique makes the background dance.