Found objects can be used as mosaic tesserae based on their color and texture and shape, as another form of tile more or less, but found-objects of symbolic value add a whole new dimension to mosaics, one that is as cerebral as it is visual.
You do not have to choose between making a found-object mosaic or a figurative mosaic. You can create visual interest in figurative mosaics by using found-objects in a spare and selective way.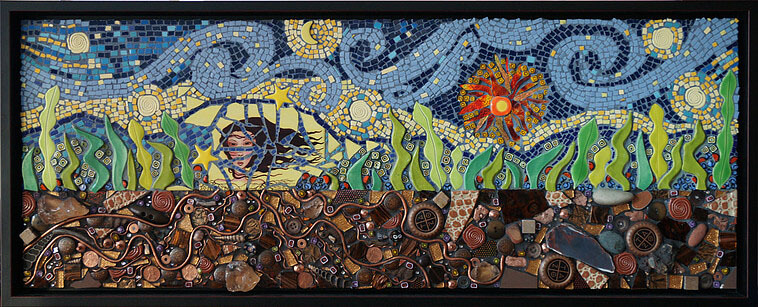 I wanted to show off and discuss artist Janet Sacks' mosaics because she has some great examples of using found objects in figurative mosaic, both in the sense of improvised tile for texture and color and in the sense of symbolic value. Janet's work is particularly strong in my opinion because she does not overuse symbolic found objects.
Janet also has a couple of mosaics that deviate from practices that I recommend as a general rule, and I wanted to talk about why they still work.
Continue reading