Artist Sondra Jonson recently completed a mosaic baptismal font for St. James Catholic Church using our gold glass mosaic and metallic glass tile and vitreous glass tile, and it turned out really well. Religious architecture is supposed to be instructive and inspiring, and so Sondra used a spiral galaxy motif for the bottom of the font and a night sky with stars for the insides of the walls to convey the cosmic significance of the sacrament of baptism.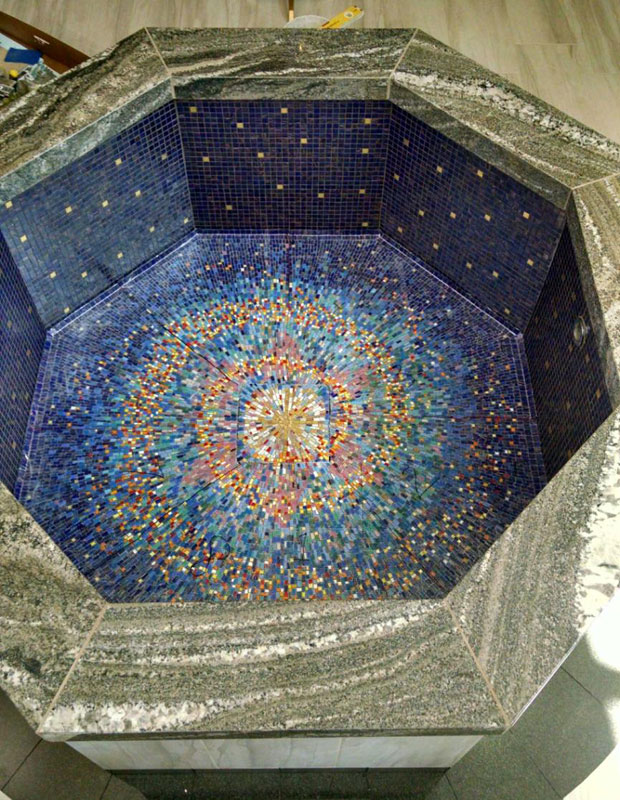 Laying Up The Mosaic Design
Sondra laid up the mosaic design using mosaic mounting tape, which is recommended instead of fiberglass mesh for outdoor and wet mosaics because glue is used to attach tile to mesh, and glue is vulnerable to moisture. If you use mosaic mounting tape to pick your design up by the faces of the tiles, then you can press the tile directly into the thinset mortar. If you would like to know more, I wrote some instructions for laying up mosaic designs on contact paper and then picking it up with mosaic mounting tape.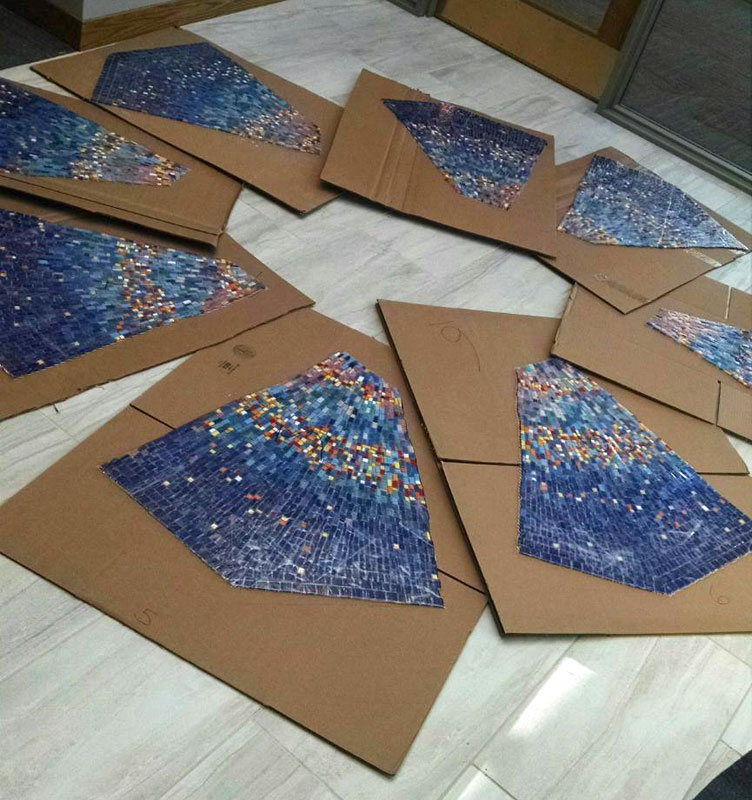 Square Sheets?
Whether you use mesh or mounting tape, you need to minimize the amount of bending and flexing because that can make tiles pop off the sheets. You can use cardboard or plywood panels to lift and transport the sheets. Note that Sondra's sheets aren't square for the simple reason that radial sections made more sense than squares because the area to be covered was hexagonal.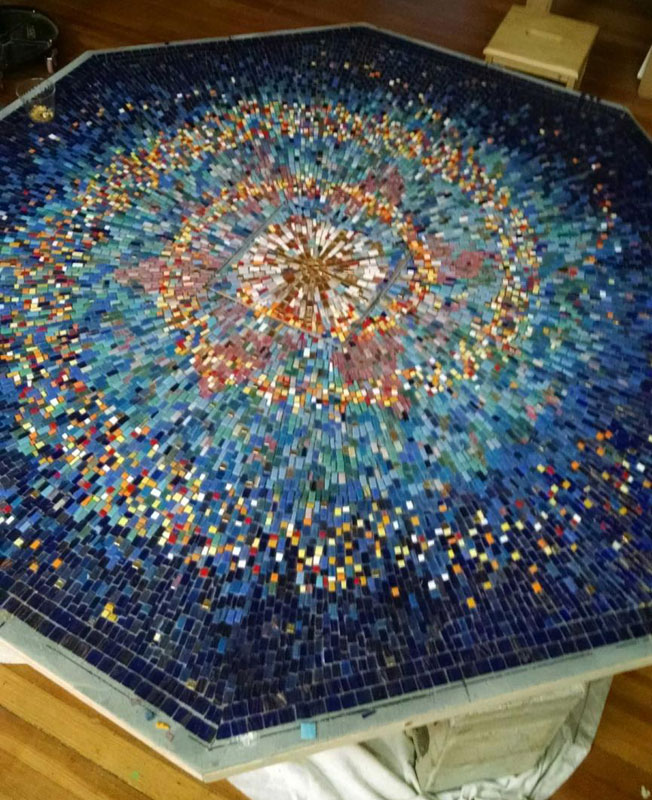 Write Down The Names Of Your Tiles!
We recommend that artists save their invoice and glue a small piece of tile next to each product listed on the invoice. That way, you know what you used and where you bought it and when. The date of purchase is as important as the color name and supplier because tile varies by batch, and manufacturers revise their products all the time. Sondra wisely made a sample board for the materials used in the baptismal font in case it ever needs to be repaired or a future client wants to use some of the same materials,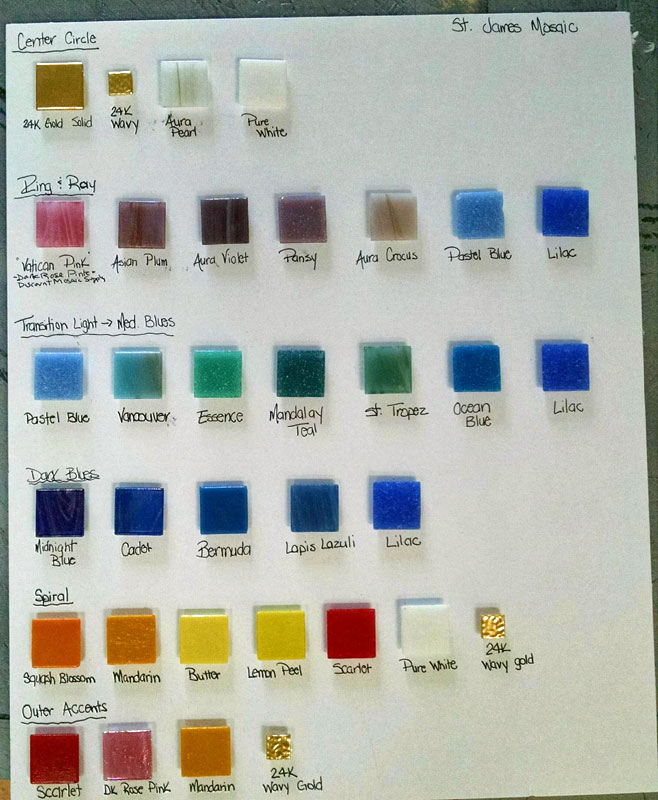 I cannot imagine installing a large public art project without documenting what materials and sources you used. Even if a product is discontinued or revised, which does happen, you or your client will still have the name and the brand and samples for a photo if you make a board like this on for the project. That is a better starting point for finding a replacement from a different supplier than blurry detail shots cropped from photos of the project, which is what people email us all too often.
Mosaic Installation
This mosaic was installed using thinset mortar, which is recommended for all mosaics in pools and fountains and other wet locations. I wrote some instructions for using thinset mortar for detailed mosaic artwork if you need to know more for your project.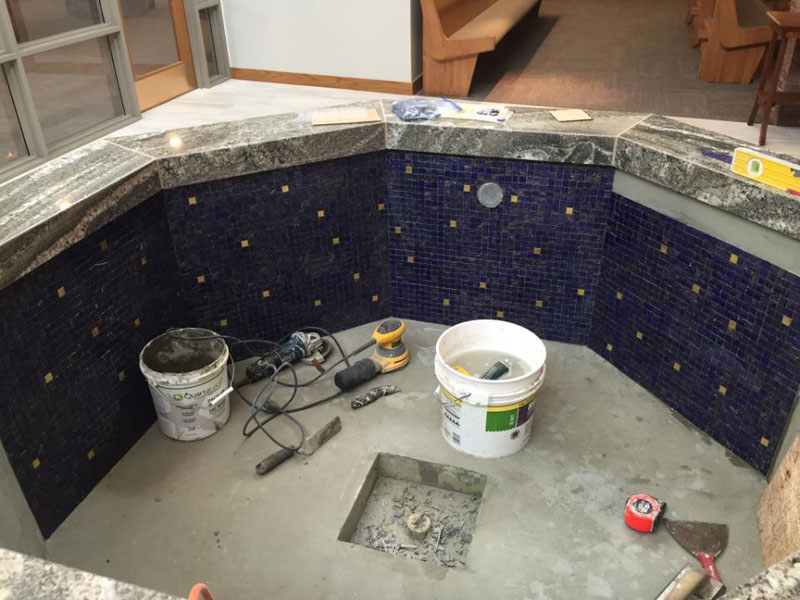 The Artist Surveys Work In Progress