Mosaic is a great medium for beginners because it is accessible for people who don't have much confidence in their ability to draw. Images can be rendered merely by arranging tile by trial and error until you like what you see.
Of course it helps to have a simple outline or pattern of the image you want to create, but you can easily create mosaic patterns without drawing, and you can easily transfer the pattern by tracing. You can also enlarge a pattern using only a ruler and pencil to draw grids.
Artist Debbie Watson emailed me some photos of her work and described herself as a newbie, saying that she has only been doing mosaic "since about February," but it is fair to say that she has spent some time looking at mosaic art and thinking about what she would like to make.
Debbie's mosaics have interesting elements and personality in spite of being relatively simple designs, and that is no small thing.
Natural Talent?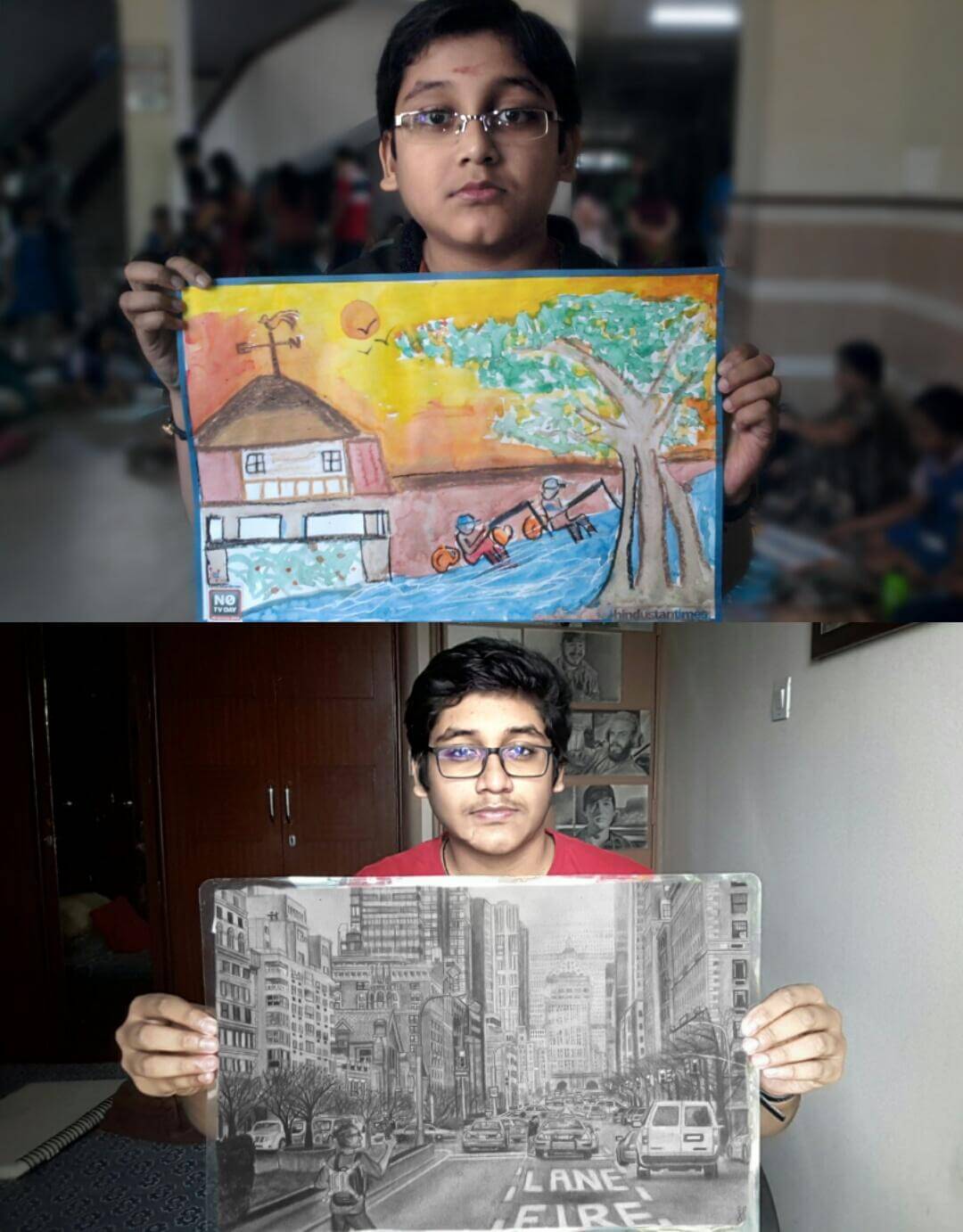 Growing up, I thought that the most important factor in whether or not a person should pursue art as a career was the innate ability to draw naturalistic images by hand quickly and easily.
After spending some time working in art, I realized that the ability to draw naturalistic images is a skill that can be learned with mere practice and that this skill isn't nearly as important as some other skills such as imagination or an eye for quirky details or the ability to capture emotion or personality with just a few lines or elements.
Debbie's mosaics all have elements that make me look twice, elements that are worth sharing with other beginners.
Mosaic Hot Air Balloons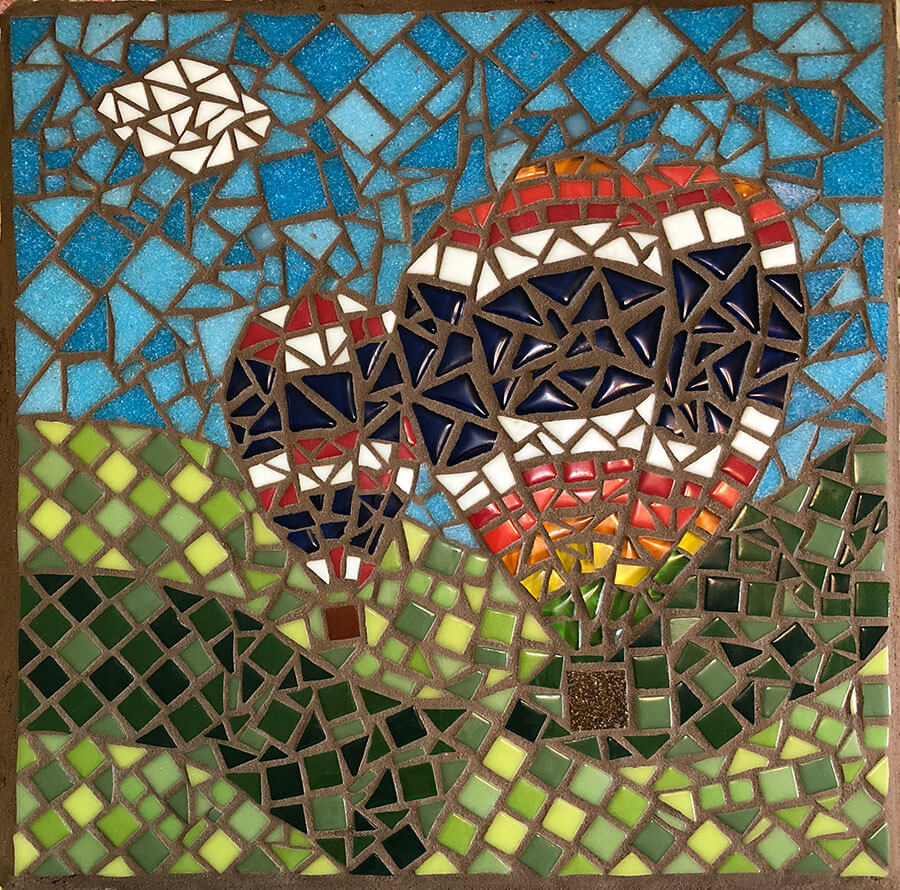 Notice how the hot air balloons aren't merely teardrop shapes. Instead, Debbie shows the creases made by the ropes holding the balloon. Think about how this one relatively simple detail adds so much to a relatively simple and stylized design.
Also note how Debbie made each color field in the sky and land from multiple related colors instead of one individual color. Think about how much visual interest is created by this one easy decision.
TIP: Debbie wisely decided to not use variegated colors in the stripes of the balloon because the balloon was already complicated enough by the creases of the ropes and the stripes. If she had used multiple related colors instead of one color for each stripe in the balloon, it would probably be too "busy" visually to be understood readily as a balloon, at least at this resolution/size of tile.
Mosaic Flip Flops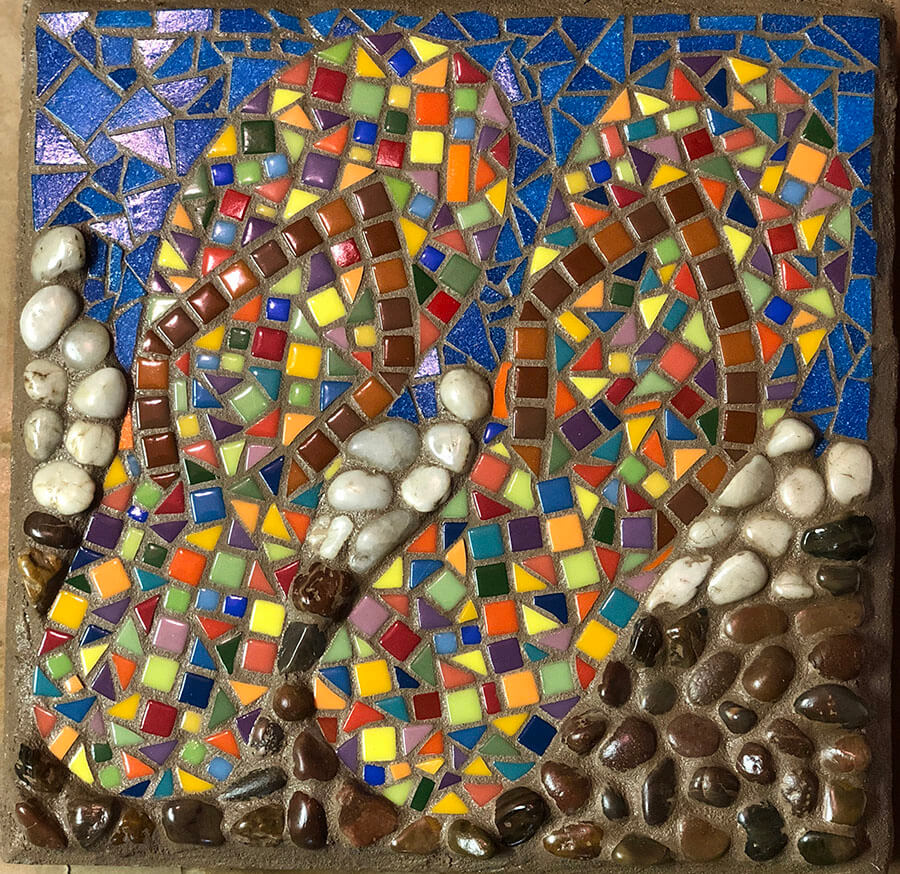 I love that the soles of the flip flops are made with a rainbow crazy quilt of colors and how this contrasts with the white and umber river stones. I think if the straps of the flip flops had been made out of a solid color such as black, they might have stood out better, but then again the contrast might have been too much. The bottom line is the piece works as is.
TIP: It's good to study your past work and think about how you can make the next piece better, but it's also important to not obsess over "flaws." Like most artists, I've never made a piece of art and not second guessed myself on some detail. I've also noticed that artists sometimes obsess over a particular detail that most people (including other artists) don't even notice .
Mosaic is tactile and begs to be touched. You can easily increase visual interest by using found objects with ordinary glass tile. Things like river stones and seashells and ceramic figurines work well for this, but they will increase the amount of work required for grouting because they are not flat. (The solutions is to use your fingers inside a rubber grouting glove.)
You also need to be aware the porous objects like unpolished stones can be stained by grout, and so you need to seal their tops with a little tile and grout sealer before grouting. Objects like sea shells are best left ungrouted. Instead, press these into a bed of thinset mortar because no amount of sealing can prevent grout from getting in all the larger pits and crevices.
Mosaic Fish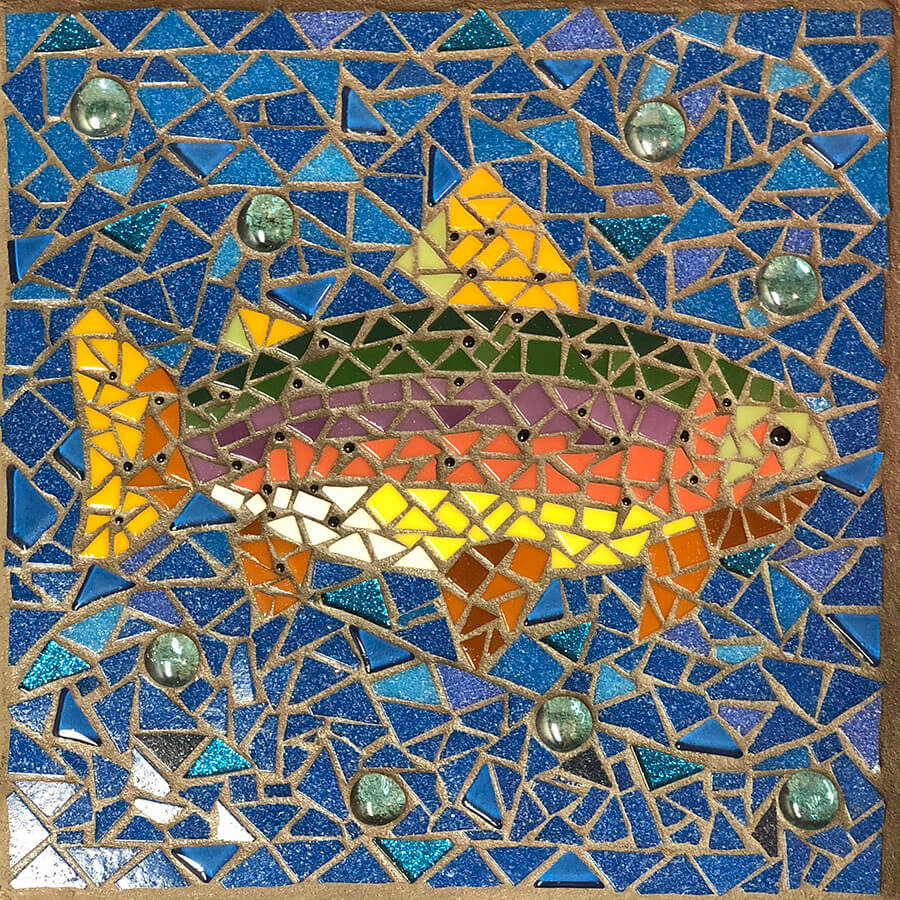 Notice that Debbie doesn't limit herself to one type or size of tile. Depending on what you are making, you might want to stick to one type of glass so that it has the same type finish, but for fun, bold, raw art, you don't have to worry about this.
That being said, notice how Debbie uses all recycled glass tile (smooth homogeneous) for the fish and doesn't use any of the grainy vitreous glass she used in the water. This helps the fish stand out from the  water.